I raided my husband's old photo album recently and dug up a number of photos from his childhood in South Korea to scrap! Here are a few of them!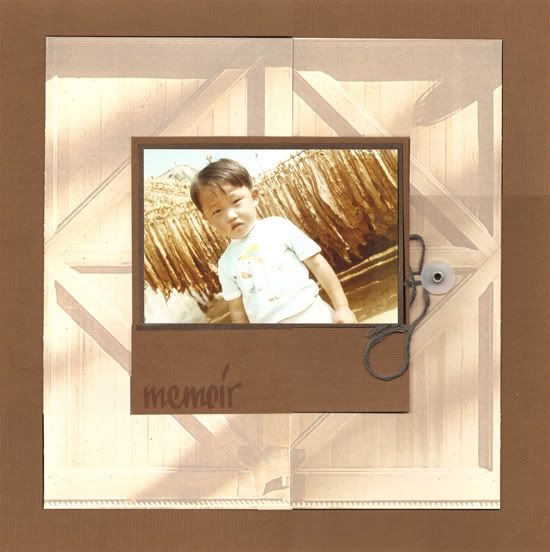 Club Scrap: Sparkle 12/07 - Brown Metallic; The Written Word 11/05 - Stenci;, Autumn Splendor 10/04 - Medium Brown, Dark Brown; To You With Love 2/04 - Halos Snap; Hearth and Home 10/03 - Door Print; Fibers;
Ranger: Adirondack Dye Ink Pad - Ginger; Ink Applicator Tool;
This layout actually opens up to show LOTS of room for hidden journaling or additional photos behind the barn doors! The photo is of my husband at his grandparent's tobacco farm where he was raised. When I finish scrapping all of his childhood photos this will be the cover page and he's got to fill the inside with memories!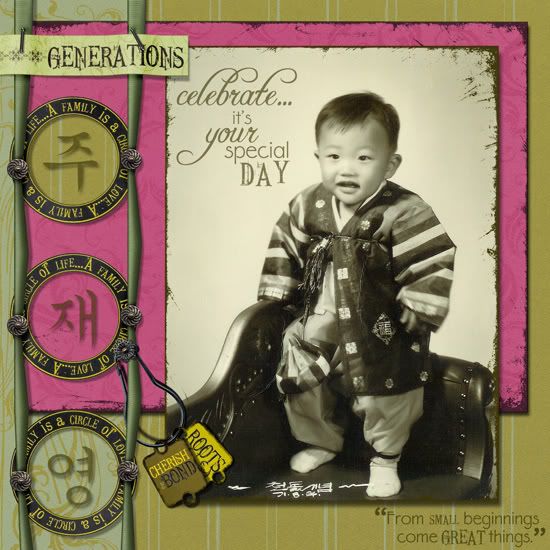 Club Scrap: Generations 4/08 Digital Kit - Paper03, Paper12, Exp01, Exp03, Trans25, Trans33;
Font: UnGungseo;
One Korean tradition is that on a child's 1st birthday, all children are dressed in traditional Korean clothing and have their photos taken. This photo is from my husband's first birthday! I also made use of two of the brand new DigiExpansion elements that Club Scrap is now creating for each new kit!
---
The next five layouts are digital layouts, all using the Classic half of the Centennial Kit, to see more, especially from the casual half, please click
here
! The digital kit is still available to order through me and, even though Club Scrap is sold out on the full original kits, I have a few that are still available for purchase or for a workshop! If you decide to ALSB the papers, you will get 26 gorgeous 12x12 layouts and have enough left over for an 8.5x11 layout or a few cards, plus embellishments and a large collage stamp for even more!
Also, I used some of the digital transparencies as a stencil to create a more stippled and antiqued appearance. To do so, apply a transparency, or even text, onto a new layer, then select the area that the image takes up and in another new layer, use the paintbrush tool to fill the image in. Choose a soft or stippled brush, or really any that you prefer, and you'll get a great effect! Then simply hide or delete the layer with the original transparency to let the background show through your stenciled work!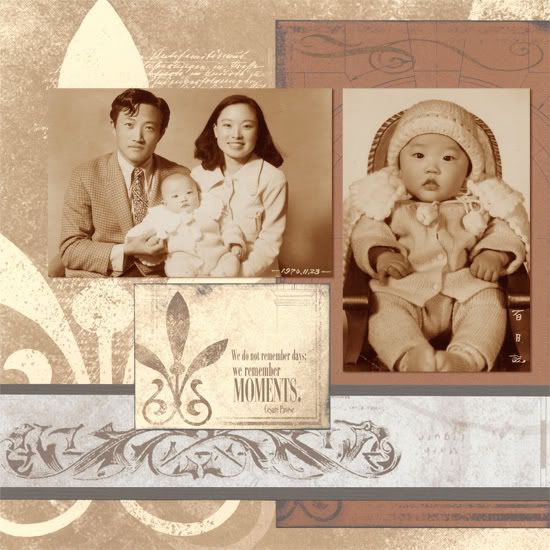 Club Scrap: Centennial 2007 Digital Kit - ALSB #21, Tran08;
Another Korean tradition is to celebrate your child's 100th day! (Or round things off and celebrate at their 3rd month birthday.) In the past, infant mortality rates were higher and keeping visitors away for the first 100 days of a child's life was a very smart move that Korean families made. After the 100 days had passed, if your child was healthy it was likely that the baby would survive and, instead of having a baby shower before the child was born or a pile of visitors at the hospital, it was time to celebrate! Not only do you invite everyone to visit and feed them tons of traditional foods, but it's also time for some portraits! Traditionally, boys would be nude and girls would be dressed in traditional Korean clothing, but Jay's parents went for a little modesty here... And I think my husband might not forgive me if I posted his nude baby photos on my blog!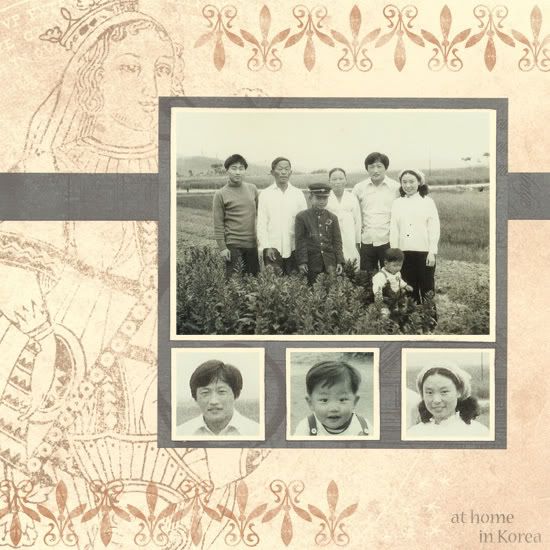 Club Scrap: Centennial 2007 Digital Kit - ALSB #15, Tran01;
This is another photo at the family farm, on a visit from Jay's parents. Like many Korean families of the time, Jay was raised as a young child by his grandparents while his parents sought a way to move to the United States. For part of this time, his mother lived in Hawaii while serving with the Red Cross and his father worked for Korean Air.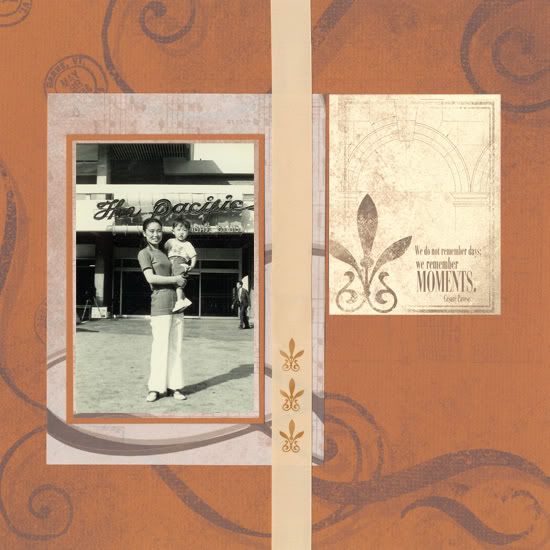 Club Scrap: Centennial 2007 Digital Kit - ALSB #23, Tran01, Xtra41;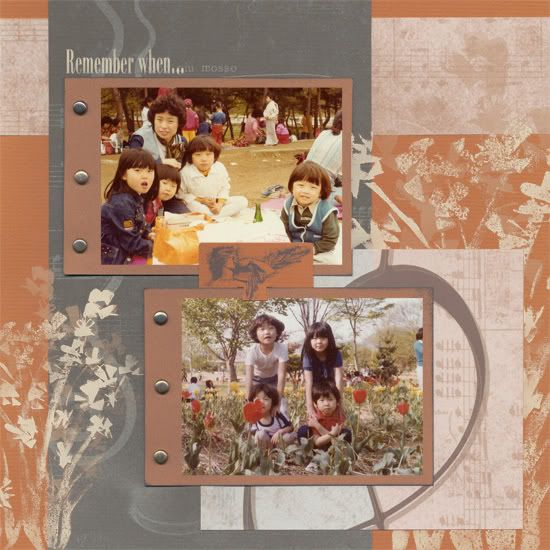 Club Scrap: Centennial 2007 Digital Kit - ALSB #17, Tran03, Tran24;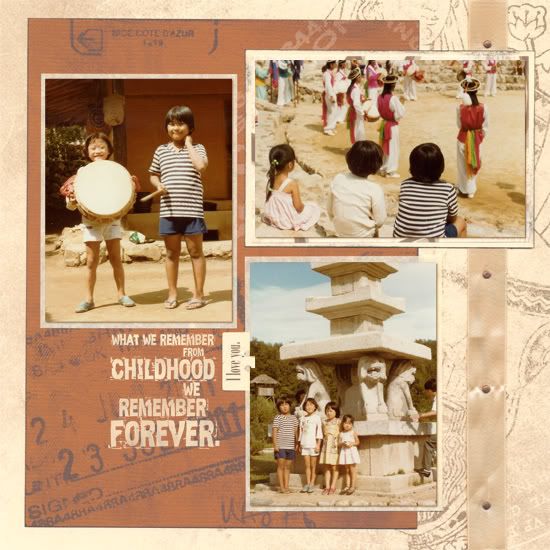 Club Scrap: Centennial 2007 Digital Kit - ALSB #24; Farmer's Market 10/06 Digital Kit - Tran RemChild;
These photos are of a traditional Korean drum performance and then a shot with one of the drums!
---
Here are a few previously posted layouts that deal with the family's Korean heritage... Please, click on each to go to the blog post with larger images and descriptions!