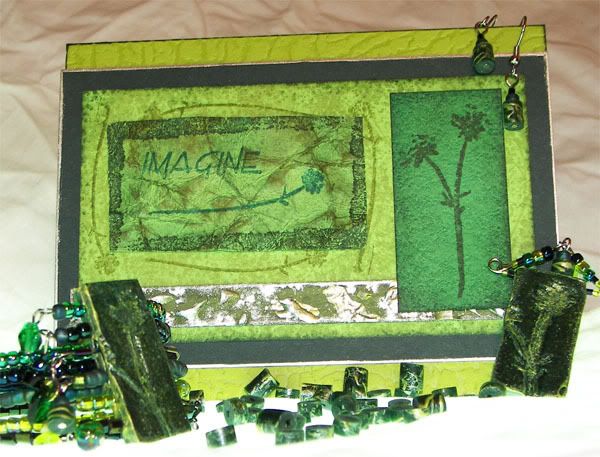 Imagine what you can create when you take the same inks off of your cards and layouts and add them to piece of clay! Learn how to create the jewelry set on this page at
moved to this blog, click to get to the post
!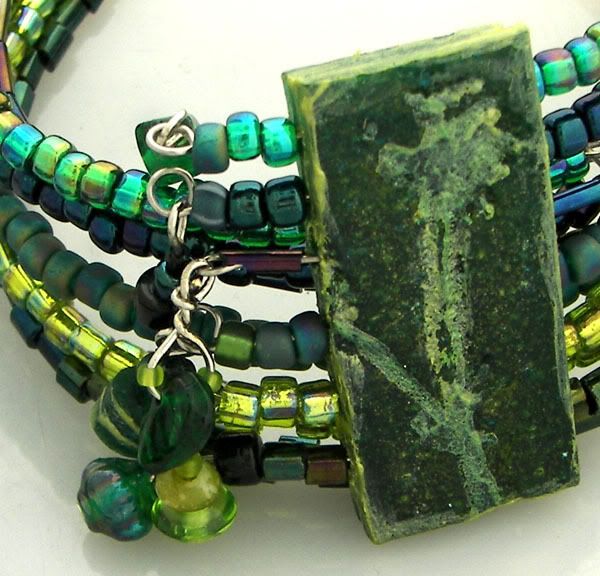 I have a new tutorial up at
moved to this blog, click to get to the post
that teaches you some of the many ways that you can add ink and embossing powder to polymer clay for your creations! There are also tutorials by me that go over how to Watercolor With a Waterbrush and the Stenciling Revisited class!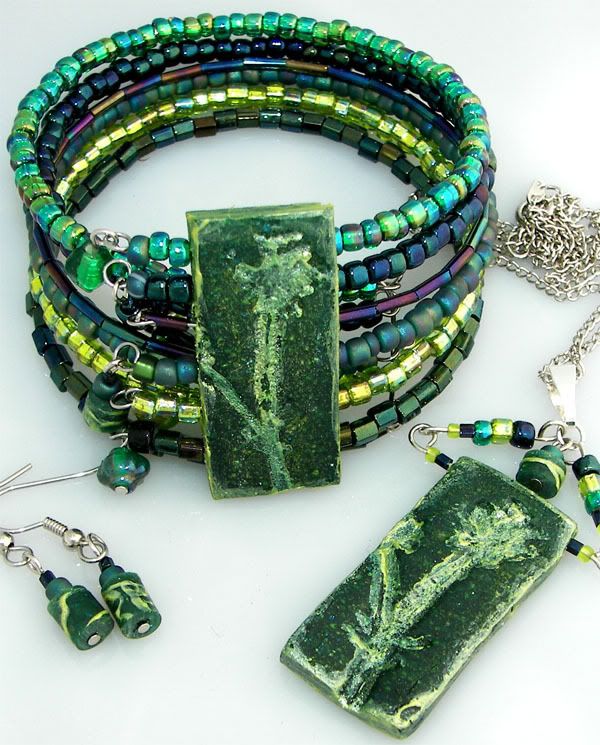 Supplies used on jewelry pieces:
Club Scrap: 2/07 Refresh Beads; 8/06 Wheel & Sprocket Beads; 1/06 Framed Beads; 5/03 Aromatherapy Borders & Backgrounds Unmounted Stamps;
Ranger: Adirondack Dimensional Pearls in Lettuce; Archival Ink Pads in Library Green & Teal; Archival Reinker in Library Green; Cut n' Dry Foam; Distress Embossing Powder in Peeled Paint; To DYE For in Blue & Green; UTEE Brightz in Blue Iris, Green Zinnia, & Violet;
Amaco: Bead Baking Rack; Bead Making Tool Set; Polymer Clay & Craft Oven;

Bead & Button: Beading Basics Essential Techniques;
Beadalon: 10mm Silver Plated Medium Bale;

Blue Moon: Memory Wire Bracelets;

Darice: 2" Nickel Plated Head Pins;

Design Originals: Clay Techniques to DYE for;
Fire Mountain Gems: 4.5mm Silver Plated Jump Ring; Surgical Steel Fish Hook Ball/Coil Earwire;
Sculpey: Translucent Polymer Clay;
Supplies used on card:
Club Scrap: 2/07 Refresh Dark Green & Light Green plus Spritzer Bottle; 10/06 Farmer's Market Leaf; 5/06 Painted Desert Embossed Stem; 3/04 Culinary Green; 5/03 Aromatherapy Borders & Backgrounds Unmounted Stamps;
Krylon: Silver Leafing Pen;
Ranger: Adirondack Alcohol Ink Metallic Mixatives in Silver; Adirondack Dimensional Pearls in Lettuce; Archival Ink Pads in Library Green & Teal; Cut n' Dry Foam; Distress Ink Pads in Peeled Paint & Shabby Shutters;