Ok, I am just loving this stamp... such a great card base... So today I'll be adding more and more cards made with it but using alternate color schemes.
A very good way to use a stamp like this is to stamp it with Ranger's Archival Ink Pads in your choice of colors... I like to use a brown because it doesn't interfere with the colors of the leaves or petals and isn't as glaring as black... but sometimes black is good ;)
Then take your Niji Waterbrush and use an Adirondack Ink Pad (also the older Ranger Sea Shells and Sea Brights which are being re-released as Adirondack pastels and brights with a few new colors) to color the images. These pads feature a hinged lid which easily burps color off of the pad into the top of the lid by pressing down on the center... then you can pick up that color with a waterbrush. Alternately, you may press any water-based ink pad against the Ranger Non Stick Craft Mat to pool some ink. The Distress Inks are great for this... but if you move into other brands or work with a non-distress black then your colors may separate into their composite colors.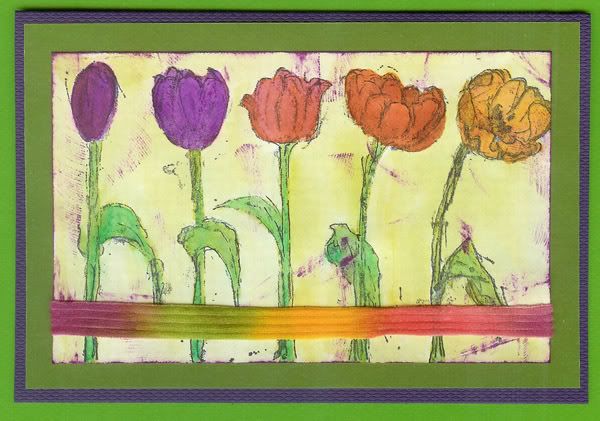 Supplies Used On Rusted Tulips Card:
Club Scrap: Nature's Wonders 5/06 Tulips in a Row Sr Stamp; Asian Artisan 1/04 White Plain; Paisley 3/07 Burnt Orange Plain; Color in Black & White 4/06 Copper Plain; Farmer's Market 10/06 Brown Plain and Orange Fibers;

Ranger: Adirondack Ink Pads in Butterscotch, Lettuce, Oregano, Pesto, Red Pepper, & Rust; Archival Ink Pad in Coffee;


Stewart Superior Noir Black Palette Ink Pad;

Niji Waterbrush;


Gartner Studios Hot Hues Brad;
Supplies Used On Pastel Pink Tulips Card:
Club Scrap: Nature's Wonders 5/06 Tulips in a Row Sr Stamp; Fizz 1/07 White Translucent, Silver, Black, Dark Pink, and Light Pink Plain Papers;

Ranger: Jet Black Archival Ink Pad; Seashells Tropical Raspberry and Starfish Green;

Zig Pure Black Writer;

Niji Waterbrush;

Coats Moda Dea Ticker Tape Art. R117 Color 9722;

Supplies Used On Bright Tulips Card:
Club Scrap: Nature's Wonders 5/06 Tulips in a Row Sr Stamp; Fizz 1/07 White Translucent Plain Paper; Wheel & Sprocket Green Translucent and Purple Plain Papers (scanned on Green & Translucent)

Ranger: Jet Black Archival Ink Pad; Adirondack Ink Pads in Butterscotch, Currant, Lettuce, Terra Cotta, & Wild Plum; Sea Brights in Awning Green, Bikini Pink, & Purple Surf;


Niji Waterbrush;

Coats Moda Dea Ticker Tape Art. R117 Color 9815;