One of my favorite Club Scrap kits has got to be Color in Black and White... it's so full of great muted tones alongside copper and with duplex prints showing a more neutral version of the full color prints. The patterns are a mix of industrial style prints and nature... both are things that I love, it's like when you find a fire hydrant in the middle of the woods, only much more beautiful! I love it so much that I made myself a needle-felted purse with the design based on one of the prints (please bear in mind that the photo is after I'd used the purse for months, but the grittiness in the pattern was intentional)!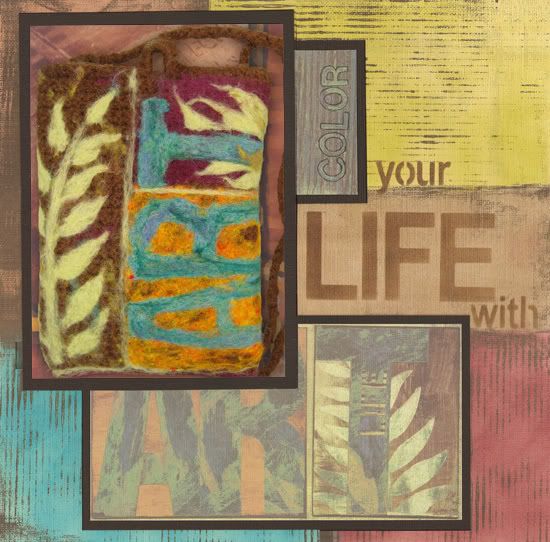 Club Scrap: Color in Black & White 4/06 - Sr Land Duplex Print, Sr White Duplex Print, Black Solid, Stencil; Collections 6/06 Digital Kit - Paper Tan P1; Craft TV Weekly - Tricia Morris's Life and Art Webisode;
Ranger: Adirondack Ink - Currant, Ginger, Latte, Lettuce, Stream; Distress Ink - Walnut Stain; Ink Applicator Tool;
Needle Felted Purse, Inspired by Color in Black and White, created by Neith Juch;
I was creating a list of stencil tutorials for the
ClubScrapChat forum
because this week's
PSL
challenge is to create CS layouts using stencils in some manner... in doing so I took another look at the Life and Art Webisode that Tricia recorded for The Scrapbook Lounge at
TVWeekly
. It features the plainer color side of the Color in Black and White papers and shows you ways to customize them with Direct to Paper inking, stamping, and stenciling. What a perfect way to highlight the colors I chose for my purse!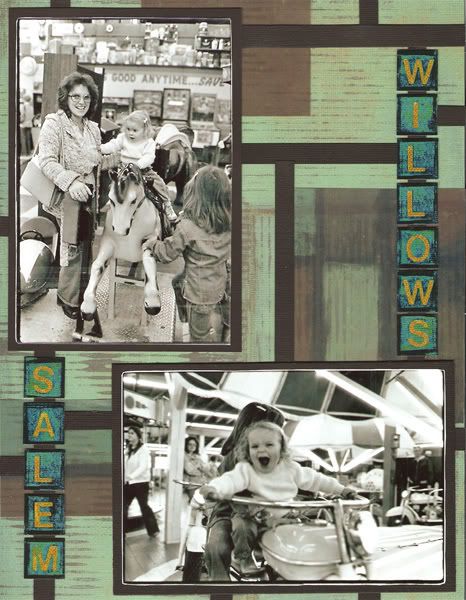 Club Scrap: Color in Black & White 4/06 - CSt White Duplex Print, Translucent Print, Black Solid, Alpha Stickers;
I have to double check the date on this but I think it's 1976 or 77 and I'm the little blonde while my big sister is hiding her face from the camera!
Club Scrap: Color in Black & White 4/06 - Land Duplex Print, Land 8.5x11 Duplex Print, Translucent Print, Black Plain;
Jo-Ann: Silver Round Concho;
Zig: Millennium Pen in Pure Black;
Personal Swap Stash: Unknown Fibers;
This is from my 1987 week-long hiking trip with the 8th and 9th graders from my small school. I haven't found any other photos and the quality was terrible but wanted to get at least one shot in there!
Club Scrap: A Study In Red 1/08 - Palatial Trim, Black Plain; Color in Black & White 4/06 - White Print, White Plain; Musical Interlude 12/05 - Black Plain;
Sakura: Signo Uniball Pen in White;
We were at Axis, a nightclub, to watch a friend perform, and of course my best friend and I had to escape to the cheapie photo booth! I actually printed the blown up image onto the white cardstock to give it the nice canvas texture of the cardstock!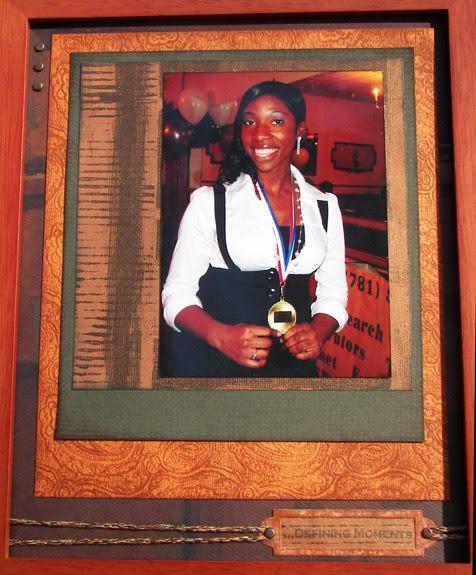 This one used 6 CS kits: Everything is Club Scrap except the inks and frame... From outside to inside, the papers are Collections 06/06 Saddle Brown Boxes 8.5 Sr Print, Paisley 3/06 Burnt Orange, Farmer's Market 10/06 Brown,and Color in Black & White 04/06 Copper Sr Duplex Print. I also used a Tan Bookplate from the Collections 6/06 Embellishment Pack Tags/Die Cuts, Mini Brads and Fibers from Rhapsody 3/07 Embellishment Pack, plus the letter drawer and "... Defining Moments" stamps from Heritage: Extra! Extra! 6/04 CSt UM Stamps. Unfortunately I don't have a list of the inks, but do know that they were Ranger! I believe I used Ginger Adirondacks (one of my favorites) along with some others!
The photo is from an awards dinner where one of my father's employees, Nella, both emceed and received an award for being an outstanding mentor to other teens... My father asked me to create something for her to display that featured the photo and I had limited random supplies already with me, but it worked out and he surprised her with it already put up at the store when she came in to work... she did get to take it home! I'm still waiting for her to write it up properly for my blog! Sorry to have to use a photo, there was no scanner available!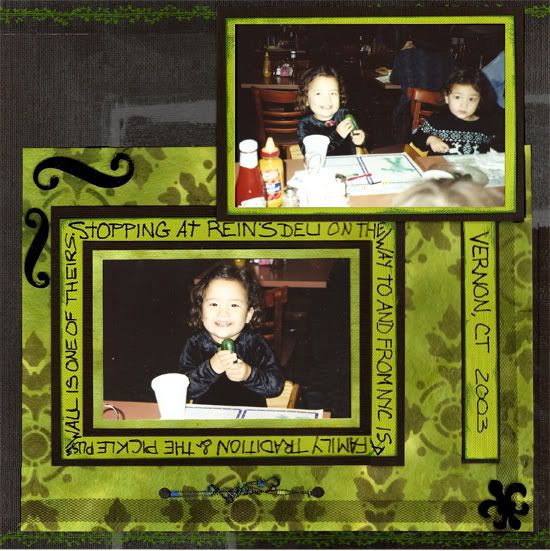 Club Scrap: A Study in Red 1/08 - Splendid Brocade Stencil; Color in Black & White 4/06 - Black Duplex Print, Black Solid; Mosaic Twist 1/05 - Lime & Handmade Lime;
Scrapbook Takeout: Garden Party 2/08 - Prima Clearly IOD #517809 Lime Scrapping Tape; It's A Date 12/07 - American Crafts Vinyl Shapes, Heidi Swapp Jet Tulle;
Ranger: Black Soot Distress Ink, Ink Applicator Tool;
Sakura: Gelly Roll Glaze Pen in Black;
We all have those not so glamorous photos that capture fun moments, so I went for it! I do need to find the photo we took of her pickle tasting Polaroid up on the Pickle Puss Wall and make a companion page later!
---
Now, onto needle felting...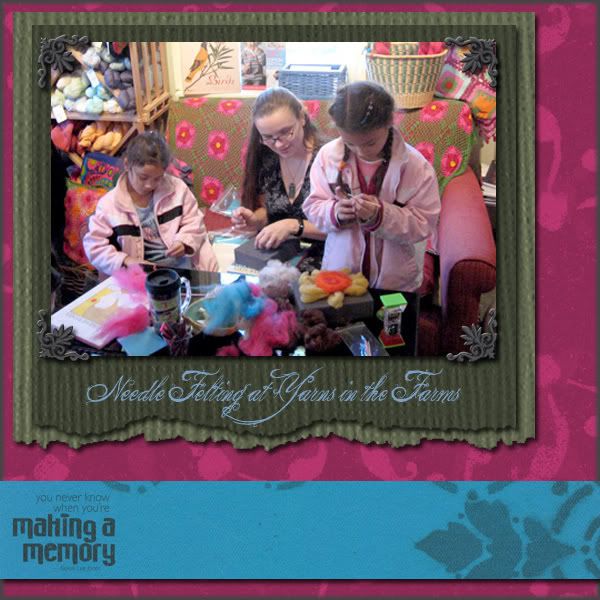 Club Scrap: A Study in Red 1/08 CSDigital Kit;
The King and Queen Computer Font;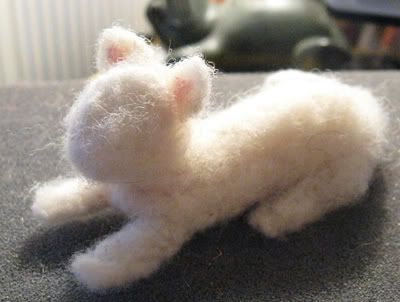 Needle Felting... What is that, you say? Oh it's a great art/craft where you take loose roving (wool is great, but many other animal fibers work... I have some that are mixes of silk, alpaca, Shetland wool, Merino wool, etc) and use dry friction to lock the fibers to each other or a base surface with a barbed needle. Animal hairs are scaley and those scales lock together... just like when your children's hair tangles into knots that can become dreadlocks if you aren't careful, or if you intend for them to! Felting is a way to take advantage of that quality and felt is actually the first manmade fabric every produced!
Needle felting takes it to another level where you can create art by using different colors and textures of roving. You can also sculpt with it and create 3 dimensional objects like this little kitten that I have begun! I actually started the kitten during the class at
Yarns in the Farms
which is shown above! At the class, along with my mother and both of my daughters, we were taught the basics of needle and machine felting and then began creations on a panel from an accidentally machine felted blanket and began our own 3 dimensional projects as well!
You can also machine felt these fibers by washing with a hot wash, cold rinse cycle in the washing machine and watch your sweaters (or intentional things like some of my crochet purses) shrink and get soft and fuzzy, more and more like store bought felt with each washing! There are additional techniques where you can wet felt by hand... the simplest method is to wad some roving into a ball with your hands, dip it in hot soapy water and roll and roll until you have a hard little ball that you rinse in cold water and set to dry! We made around 100 of these balls and made a bunch of little bracelets from them for Christmas gifts and used others as the "buttons" for closures on my purses! Other methods involve all kinds of things like bamboo sushi mats and bubble wrap to help with the rolling friction!
There are many books out there now about felting, plenty of episodes on Carol Duvall, Martha Stewart, Knitty Gritty, etc on the
DIY Network
, etc. But it's a little hard to get roving at a great price. Many local yarn shops will sell sample bags of multiple colors of roving in small bundles, ebay vendors often sell mixed lots of unknown origins where you win some, you lose some, even after making the purchase! Some local wool or Alpaca farms are known to sell uncolored or hand dyed roving (I LOVE the huge balls of hand dyed roving that I get at a great price from a local farm,
Iron Horse Farm in Sherborn, MA
). Clover has put out some small bundles of very smooth, uniformly colored roving packages that are available at some of the large craft chains, they also have a great needle plunger tool which makes use of 5 traditional felting needles all at once and sell refills at a good price... whenever you can catch those on sale in the chains or at
joann.com
it will save you money, which you can in turn spend at those local yarn stores or farms!
---
And the promised list of links to Stencil Tutorials! You will need to create a free account at TVWeekly in order to view the guides, but it's well worth it!