All of these layouts feature the February 2008 Bridges Kit from Club Scrap! I love the architectural design elements for so many types of pages, and also you should note of all the eagles in the patterns! Those eagles make the kit perfect for Scouts, Military, Americana, etc!
This fountain was a romping ground for my brother and I when we were children and the tradition has continued! When we visit the Peabody Essex Museum we often stop for lunch at the small mall near it and if the weather is nice the kids eat out by the fountain and play as soon as they are finished! This layout is also in the main gallery at the
Club Scrap Website
!
Club Scrap: Bridges 2/08 - Jr Blue Print, Blue Plain, Light Brown Plain, Dark Brown Plain, UM B&B Stamps, Jr Bridgeworks & Beams Stencil, Embellishment Pack Clip & Fibers;
Making Memories: Pewter Square 2 Decorative Brad;
Ranger: Adirondack Pads in Eggplant, Espresso, & Ginger;
Scrapbook Takeout: Harvest Feast 10/07 - 7 Gypsies Zanzibar Brads;
Here is my layout from the Club Scrap Bridges 2/08 DigiRap :) I took some spare copy paper and cut it to the proportions that I needed for the layers, then inked up the edges, scanned, and used them to make my own overlays... Hadn't intended to leave them black but I loved the way it worked out! When creating the overlay, use the Magic Wand Tool with a Tolerance of 5 and Contiguous unchecked in PSE to highlight and delete all of the white areas.
Club Scrap: Bridges 2/08 - CSDigital Kit;
The King & Queen computer font;
Scan of my own inked paper edges;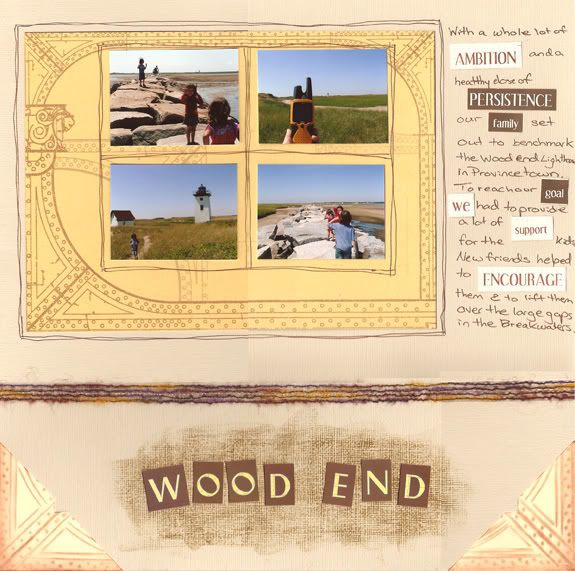 I created this layout as part of the Scrapbook Takeout February 2008 Happy Hours Crop! We were challenged to find a layout in their gallery to inspire a new one of our own and I chose this layout by Head Chef Vernell!

Club Scrap: Bridges 2/08 - Sr Yellow 8.5x11 Print, Poetry Word Cut Aparts, Fibers, Bridgeworks and Beams Stencil, Girded Alpha Stickers; Color in Black & White 4/06 - Land Plain;
Ranger: Ginger Adirondack Ink Pad; Coffee Archival Ink Pad; Ink Applicator Tool;
Scrapbook Takeout: Harvest Feast 10/07 - 7 Gypsies Tag Corners;
Zig: Writer in Chocolate Brown;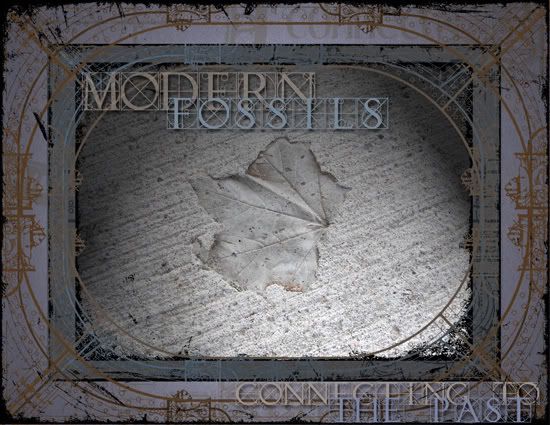 This is a photo of the sidewalk in town... the kids were fascinated by all of the "fossils" on a walk with Cub Scouts. I used some of the spotlighting tools in Photoshop Elements (learn how in the February 2008 DigiRap). I also used scans of my own inked plain paper in order to get the digitally inked edges.

Club Scrap: Bridges 2/08 - CSDigital Kit;
Walrod Font;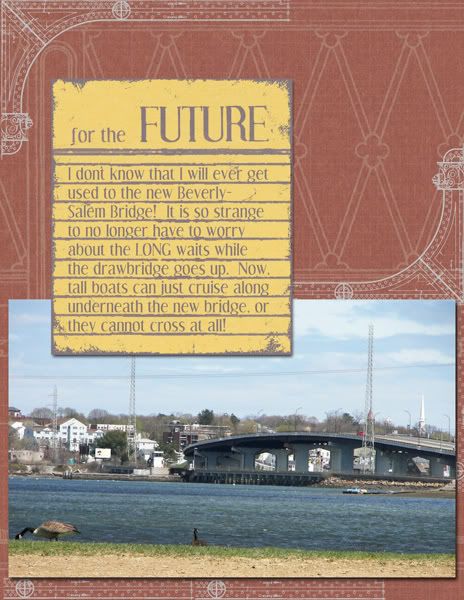 In my hometown there used to be a kind of draw brige/rotating bridge set up to get across the harbor from Beverly to Salem but after I moved away they built this hilly bridge that doesn't open. It's just really weird because it used to be such a hassle to cross over to Salem or even travel down the main roads towards it if there happened to be ships crossing through. It wasn't timed or anything, just whenever there was a need, kind of like a traffic light that only changes if there is a need... but ohhh the time it took and how backed up things could be!

Club Scrap: Bridges 2/08 - CSDigital Kit;
Effloresce Antique Font;
Scan of my own inked paper edges;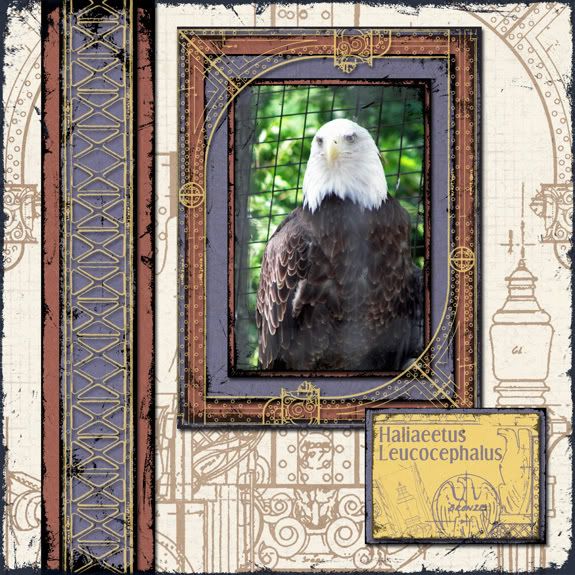 This Bald Eagle is indeed in a cage... but it's at the Ecotarium where the only regional animals they have are there because they had needed rehab and can no longer live in the wild.

Club Scrap: Bridges 2/08 - CSDigital Kit plus Templates;
Effloresce Antique Font;
Scan of Inked Paper Edges;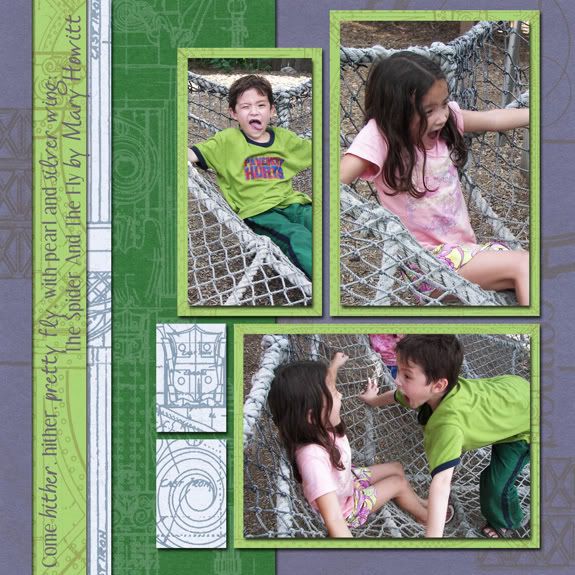 I loved the patterns from this kit for these photos in the play spider web at the Stoneham Zoo, but the colors just didn't match! So I used Ctrl-U in photoshop to alter the hues of each paper!

Club Scrap: Bridges 2/08 - CSDigital Kit;
Fonts: Effloresce Antique; Milk & Honey;




I love the subtle grid pattern on the paper for this one and love layering paper layouts with translucent papers, but grr the adhesive always shows... not so in digital! And much easier to add text! I also played with spotlighting on the photo, as per the Bridges DigiRap.

Club Scrap: Bridges 2/08 - CSDigiKit;
Font: Decadence Condensed and Dolphin;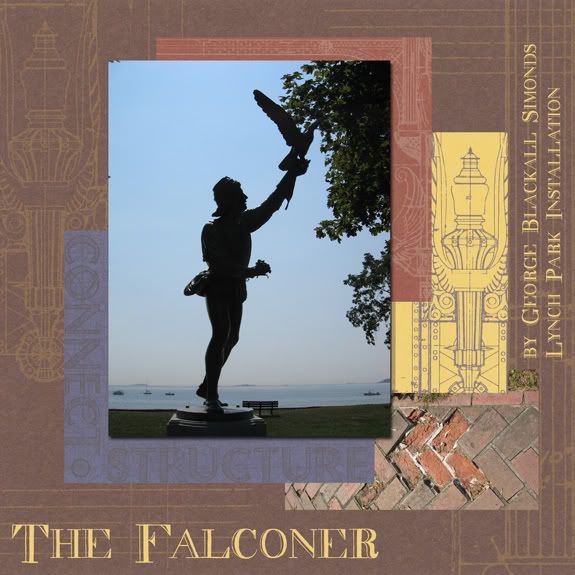 This statue is in Lynch Park in my hometown and is a replica of one in NYC's Central Park. To learn more about this gorgeous park and the statue, visit http://www.bevrec.com/lynchpark.html (I showed photos from the park in a bunch of layouts in the Club Scrap Chat Message Board and past few months...

Club Scrap: Bridges 2/08 - CSDigital Kit;
Font: Decadence Condensed;