Here are two brand new layouts that I made with Club Scrap's June 2007 Chapter One Kit!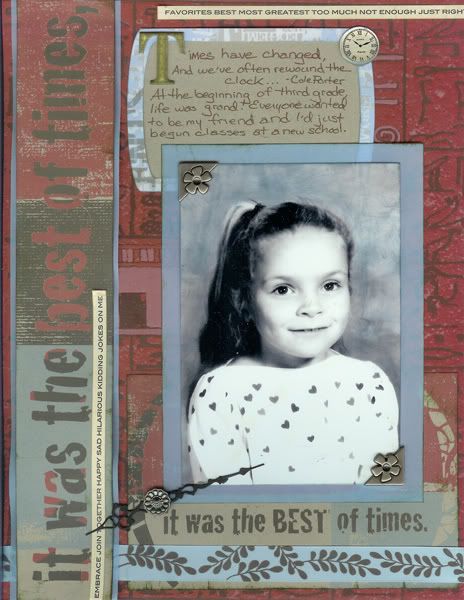 Neither the Chipboard Alpha nor the Stickers matched my layout precisely... so I inked them! The stickers were inked with Latte Adirondacks and Antique Linen Distress Inks while the "T" was inked with Pesto Adirondack Ink. I also turned my old class photo to black and white, then added blue back into the background with the Weathered Wood Distress Ink and Cut 'n' Dry Foam. And finally... the clock hands tell you the year!
Club Scrap: Chapter One 6/07 Kraft Print, Kraft Paper, & Grey Frame; Interior Designs 11/06 Blue Translucent Paper; Egyptian 8/03 Red Debossed Print; Food For Craft Host Reward Embellishments Clock Hands & Watch Face;
Scrapbook Takeout: Journal Jammers 4/07 Heidi Swapp Newsprint Ledger Chipboard Alpha; 7 Gypsies 97% Complete Document Stickers;
Ranger: Latte & Pesto Adirondack Ink Pads; Antique Linen & Weathered Wood Distress Ink Pads; Cut 'n' Dry Foam;
Making Memories: Charmed Corners; Decorative Pewter Brad;
Cactus Pink: Ribbon;
Kuretake: Zig Memory Writer in Chocolate;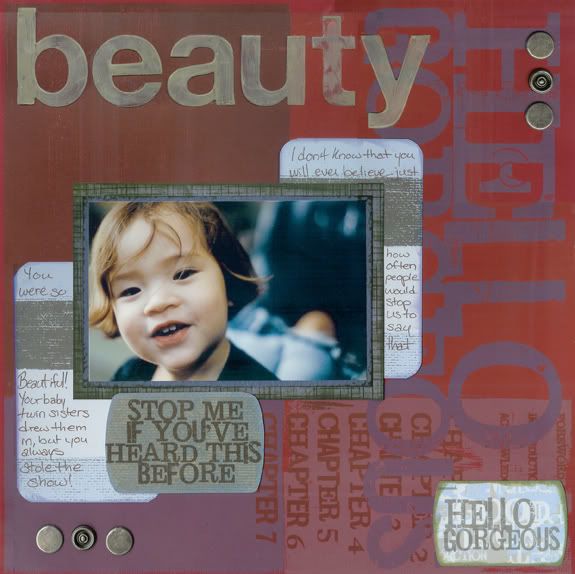 To make the clear ghost letters show up, I painted the back of each with acrylic paint, allowed it to dry, and then used Ranger's Matte Accents to glue them onto my page!
Club Scrap: Chapter One 6/07 Red Print, Grey Print, Grey Cutout, and Chipboard Cut Out; Rhapsody 3/07 Blue Paper; The Written Word 11/05 Medium Blackberry Paper;
Ranger: Matte Accents; Pesto Adirondack Ink Pad;
Clearsnap: Fluid Chalk Ink Pads in Dark Moss and Lavender;
Plaid: Folk Art Acrylic Paint in Butter Pecan;
Heidi Swapp: Reason Lower Ghost Alphabet;
Karen Foster: Big Time Brads in Antique Silver;
Making Memories: Decorative Pewter Brads;
Kuretake: Zig Memory Writer in Chocolate;