I am really loving these little books! They require a little bit of folding and a tiny bit of snipping... Then, voila! You have created a dynamic book which can contain all kinds of secret messages and images when you remove the components from one another! Or, you can use glue (gasp), and make the structure permanent!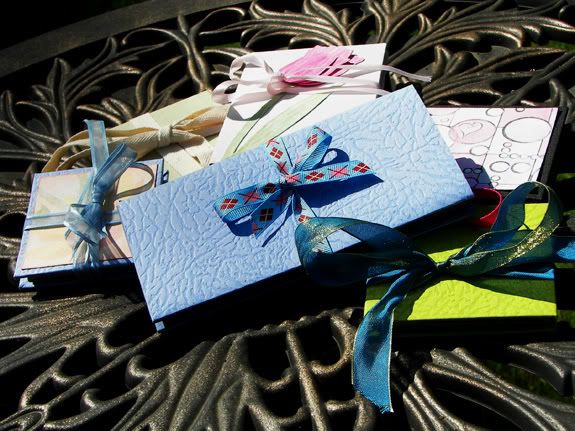 The images above and below feature an assortment of Handmade Mini Book projects that I have taught! Clockwise, from the center top book, they are the Fizz 1/07 Pocket Page Book, Fizz 1/07 Amazing Maze Book, Painted Desert 5/05 Squash/Explosion Book, Painted Desert 5/05 Glue Free Handmade Book, Painted Desert 5/05 & Nature's Wonders 5/06 Squash/Explosion Book, and the Mini Kit for a Cause Squash/Explosion Book!
Below is a sample of the Glue Free Handmade Book with the spine removed... When all the parts are together, these "back" pages are concealed. What a wonderful way to add some hidden

journaling

and images, or to just surprise whomever you give it to!