Something got into me this weekend! I had some great new paisley chipboard pieces, felt flowers, and ribbon from
Scrapbook Takeout
's newest
Passion for Paisley March Kit
plus a renewed desire to scrap with Club Scrap's Paisley paper after last weekend's banquet... and then a few of the great Ranger Adirondack Dabbers with their seals still in place?!? AND
Scrapbook Takeout
was holding a
Cyber Crop
, complete with fun challenges like using NO patterned papers and using a mishmash "Alphabet Soup" for a page title... What else was a girl to do but scrap!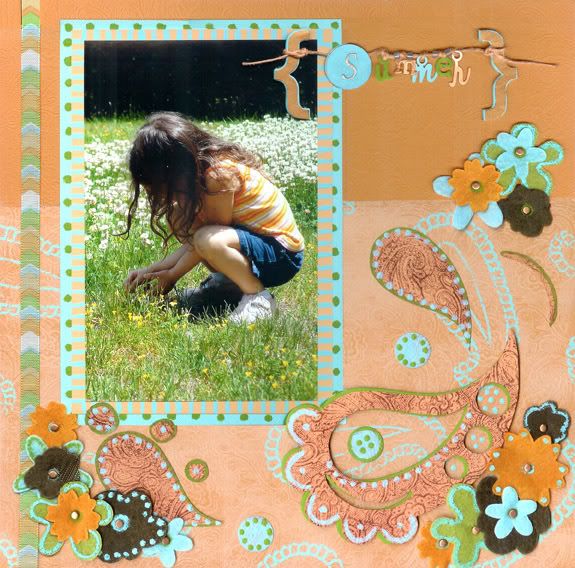 Supplies Used:
Club Scrap: Refresh 3/7 Beads; Color in Black & White 4/6 Copper Paper; Paisley 3/6 Coral & Burnt Orange Paper and Overlay Stencil; Painted Desert 5/5 Sand Paper; Let Me Count The Ways 2/6 Aqua Paper;
Scrapbook Takeout: Passion for Paisley 3/7 Kit's Fancy Pants Big Board Chipboard in Paisley, American Craft Sadie & Annie Felt Flowers, American Crafts Downtown Orange Ribbon;
Ranger: Frosted Crystal Antiquities Pad; Raisin Adirondack Pad; Lettuce, Aqua, & Copper Adirondack Acrylic Paint Dabbers;
Additional: JoAnn Metallic Mini Brads in Copper; Beadery Elements Hemp Jewelry Cord #2774H; Nicole's Metal "S", Making Memories Alpha Charms; EK Success Alpha Brads; Maya Road Dingbat Chipboard;
Techniques Used:
I masked off half of the paper and used Direct-To-Paper (DTP) to white wash the bottom 2/3 with the Ranger Frosted Crystal Antiquities Ink Pad. Then I used the Aqua Dabber to stencil the paisley motifs onto the same area.
I also used DTP to tint more of the Paisley paper with Ranger Raisin Adirondack Ink Pad.
I painted the chipboard and metal letters with the Ranger Dabbers, sanding the "S" free of paint. Also, I used a paintbrush and the opposite end of the paintbrush to dot and outline the flowers, frame, and paisley images as well as circular pieces of scrap paper.
I traced the chipboard to cut the cover papers with, then cut slightly smaller than the tracing... off-centering the large paisley motif one!