The start of March is filled with children's projects that keep this mother very busy! First, we finished up my son's Pinewood Derby Car, without any scrap-supplies! Then we moved onwards to making Japanese Stab Bound Books with 1st Graders in my daughters' classroom... And now, we're hard at work finishing up mini chocolates to give in thanks to our Girl Scout Cookie Customers!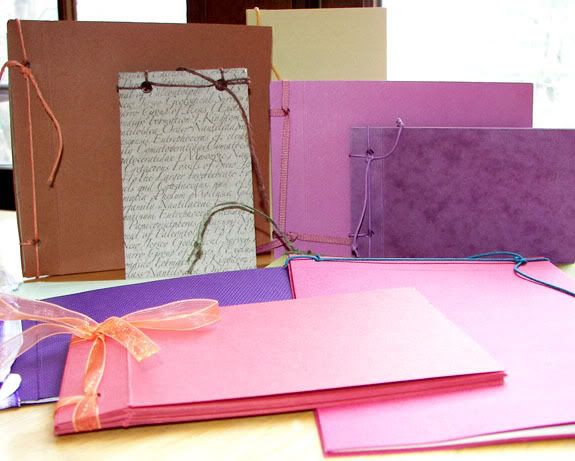 These lovely books were all made by 1st Graders! I used my handy, dandy Club Scrap POPs, some jewelry cord from Walmart, and some bargain-bin ribbon to set up small kits for the kids to choose from. I had already prescored the covers and the thicker pages with my ScorIt, using Club Scrap Cardstock, copy paper, envelopes, paper bags, and lined paper as the pages. The kids pressed all the folds with a bone folder and then stacked and clamped the pages together while I made the holes. My daughters helped me show the binding technique and each child bound their own!

Clockwise, from the top left, the papers used are: Wild Wild West 10/05 Terra Cotta with paper bag pages; Fossils 8/04 Kraft Print with a miniature lined notebook inside; Musical Interlude 12/05 Ochre with manila envelope pocket-pages; Retro 9/06 Dark Raspberry; Science 9/05 Amethyst with Chocolate Shoppe 2/05 pages; Let Me Count the Ways 2/06 Dark Cherry with lined paper pages; County Fair 7/04 Red; Wheel & Sprocket 8/06 Purple with lined paper pages; Surf's Up! 7/06 Light Green with copy paper pages;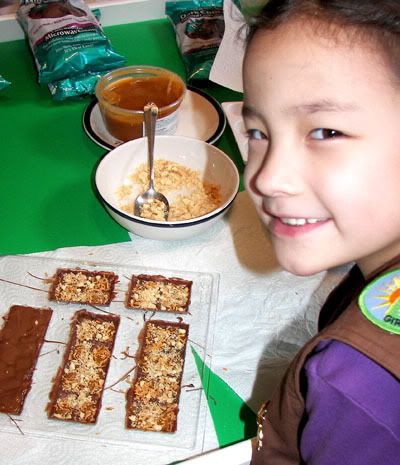 Today, the girls are hard at work making a pair of miniature chocolates for approximately 70 families who ordered Girl Scout Cookies through us! (They sold 226 boxes in just 3 days, with Mimi helping out with 50 of those boxes through her friends!) Each family will get a pretty little tag that lists their order and thanks them, along with one Caramel deLites (aka Samoas) flavored chocolate and one Thin Mints flavored chocolate! I have to say that they are beyond delicious!
The Caramel deLites include a milk chocolate shell then a small dollop of caramel. On top of that are some toasted coconut shreds and crushed GS Shortbread cookies! Then they are sealed with another coating of milk chocolate, et voila! The Thin Mints are made from a thick layer of mint flavored dark chocolate, a thin layer of dark green colored white chocolate, and a final layer which mixes milk chocolate and crushed chocolate cookies! (Make sure that you seek out the harder style cookies for that!)
The girls started singing my praises when they tasted the chocolate! "Oh, Mommy, you have such great ideas! You make the yummiest chocolate recipes!" I had to blame it on the delicious flavors of the Girl Scout Cookies that we just copied!
We promise to share more photos later! There will be at least 19 books that are part of the classroom contribution to our school's auction! Plus we'll have photos of the wrapped chocolates and the Thank You tags! Stay tuned!