I posted a few of these custom, digitally designed, mug liners in the past and am hard at work making more! My goal is to have at least 12-18 of these designed and to serve coffee in them at all of my banquet workshops!



The above mug is part of a more masculine pair of mugs... not exactly what you expect to see on a food container, but I love these none the less! This one was created using Club Scrap DigiGoodies Refresh 2/07 Kit and the CheltPress font. I warped my text using a technique shown in the DigiRap from the same kit! I also added a pepper frame, inner glow, and drop shadows along with tags from the kit and a DigiTemplate that I designed!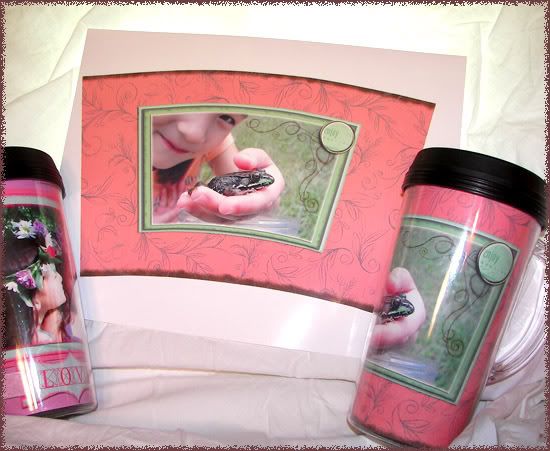 This frog mug really warms my heart! The frog, itself, was so engaging and genuinely seemed to love being held and gently pet by my children! How could I resist putting him on a mug?

I used the Surf's Up! 7/06 DigiDeluxe/Goodies for the background cardstock, the tag, and the green mattes. Then I added in Ivory Elegance 12/06 DigiGoodies/Deluxe for the thin brown matte and the swirled transparency images as well as the glass bubble! I scanned in the mug's template and resized a copy of the image to create the shape for my mattes and photo. I also altered the colors of the papers and transparencies to go a little bit better with my photo. I added inner glows, drop shadows, and homemade splatter brushed edges as well!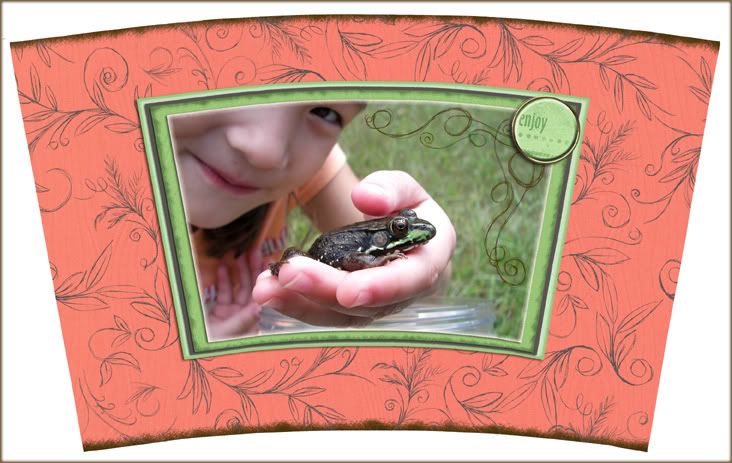 If you would like to see the mug designs that I posted earlier, please visit my 12/23/06 Blog Entry, Another Last Minute Gift Idea. And, if you would like to purchase the mugs, they are from Dollar Tree! They are called "16oz Picture Tumbler #858563" (the front of the item says "Photo Tumbler") with UPC 6 39277 58563 9!