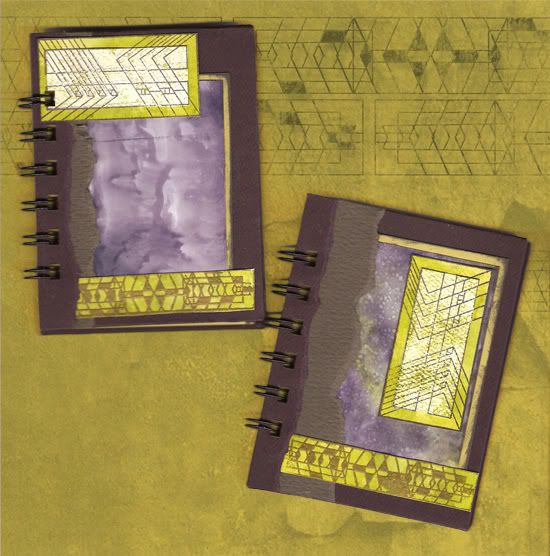 To create these papers, we're going to use Ranger's Posh Impressions Rainbow Sponge Inks, but ditch the sponges! Instead we'll be monoprinting with a combination of the Rainbow Inks and the Perfect Ink Refresher and then using a brayer with the Rainbow Inks and water from a Mini Mister, we'll imitate the technique from
Tag 11 of Tim Holtz's 12 Tags of Christmas 2008
but use the Rainbow Inks instead of Distress Ink Pads!
All of the juicy details, plus some step-by-step photos, can be found as a tutorial in the
Ranger Ink Link Yahoo Group
's files as a Guest Inkling for today! If you haven't joined yet, it's a great little group with tons of great designers, store owners, and crafters of all levels... plus tons of Ranger "experts" (including their signature artists) to help inspire you and answer any questions! Each month, I host a new challenge, sponsored by Ranger, with three random winners who get sent some awesome loot direct from Ranger! Every group member is welcome to play along and the challenges vary from product or technique to theme based challenges! And, every week, there is a new Inkling chock full of directions to create a new project or technique!
Supplies Used
Ranger: Posh Impressions Rainbow Sponge Ink Earthones in Eggplant & Butterscotch plus French Country in Kiwi; Perfect Ink Refresher; Non Stick Craft Mat; Brayer; Mini Mister; Adirondack Alcohol Inks in Denim, Eggplant, Lettuce, and Pearl; Ink Applicator Tool; Perfect Medium; Gold Embossing Powder; Heat Tool; Adirondack Dye Ink Pad in Eggplant;
Club Scrap: Milestones 12/08 Create Milsetones CSt UM Stamps, B&B UM Stamps, Digi Green Tea Print, and Boysenberry, Earl Grey, Green Tea, & Soft White Plain Cardstock;
Bind It All: 1/2" Black;
Glossy Paper;
Manila Tag;
Craft Iron;


Gloves (These are optional, but if you don't use them you will have TONS of ink all over your hands and deeply embedded in your fingernails.)