Club Scrap: Gimme a Ring 1/09 - Club Stamp Digital Kit;
Adobe: PSE 7.0 Cookie Cutter Shapes, Layer Effects and Styles; Altered Hues;
Font: Honey Script;
Thanks to my mother, my girls and their cousin were able to go to one of the last scheduled performances at the incredible
North Shore Music Theater
! After watching the High School Musical 2 show, the cast came out to request donations in a final attempt to keep the theater open and a large number of them walked around with donation buckets, while the leads gathered at a table to sign autographs and take photographs with their fans. The girls were thrilled to pose with Addi McDaniel, who played Gabriella!
It was a magical performance that was so special to them and so trendy... but feeling like a part of the effort to keep the theater open is what will keep this particular musical dear to their hearts forever!
About a week after the show, NSMT announced that they have one more performance scheduled for February 7th, 2009. It will be a stage production of
Alexander and the Terrible, Horrible, No Good, Very Bad Day
! It may be just a hair young for us, but we can't miss it at only $10 and potentially being the final performance ever at this 55 year old not-for-profit theater in the round!
Anyhow, if you've ever enjoyed a performance at this theater or want to support it, please go to their
website
and help out! There is hope that enough donation will keep it afloat while it continues to provide live theatre, concerts, and more to the North Shore community, provide teacher's guides and discounted or free admission to schools, and teach theater arts directly to our youth at their academy!
---
On another note... I enjoyed making this layout so much that I created a free digital template from it, a 2-layer Quick Drop Digital Layout for
Club Scrap's 6x6 Page Swap
using their
Free Digital Demo
, and another layout based on the swap page!
I can't give out the layered QDDL here, since it uses Club Scrap's materials, even though they are freebies. Please grab yourself one of the kits and join the swap! Layouts are due by the end of the month! But here is a preview of it (the actual swap players will get it as two flat jpegs without a white box for a photo since I'm too anal to want to control anyone else's photo dimensions)! However, the free digital template that I've created matches this layout, but is 12x12 and saved in grayscale. Please download the full template at
http://neithj.googlepages.com/NeithTemplateStarsSqr.zip
!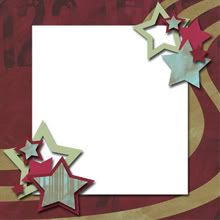 And... here is that other layout... Unfortunately I did not use my own camera this Christmas and am still waiting for the high res copies of everyone else's photos, so I only have this grainy emailed photo for now! Rest assured, the photo will be replaced by the higher quality image as soon as I have it! This layout used my new template as well as the
Club Scrap Free Digital Kit Let Me Count the Ways
!