Here are two more of the recent layouts I did for my "me" album! These are both from my exchange trip to France back during high school! We couldn't fire off a photo of Le Moulin Rouge because one of the other exchange students had tried, through her open car window, and the prostitutes who were working the street mobbed her car, ripping at her hair, until she gave up her film! So, we decided to skip that and just buy postcards! However, Le Centre Pompidou was easy to grab photos of!
Club Scrap: County Fair 7/04 - Yellow Raised Print, Yellow Plain, Red Plain Stickers; Poetic 9/03 - Yellow Plain;
Lion Brand: Lion Chenille - Mocha;
Michaels: Bargain Ribbon;
Ranger: Adirondack Dye Ink Pad - Espresso;
Tip: If you want to add thick lacing like this to a page, you may want to use foam tape or layers of scrap paper under the other end of any overlapping page elements! I used up the very slim trimmings that I had of the red paper from making my matte, layered them up with ATG adhesive between the layers, and used them under each corner and the center of my photo to keep it level. This way, from the side, there's also no bright white foam, but more of the coordinating colors and they are dark so they fade into the shadows!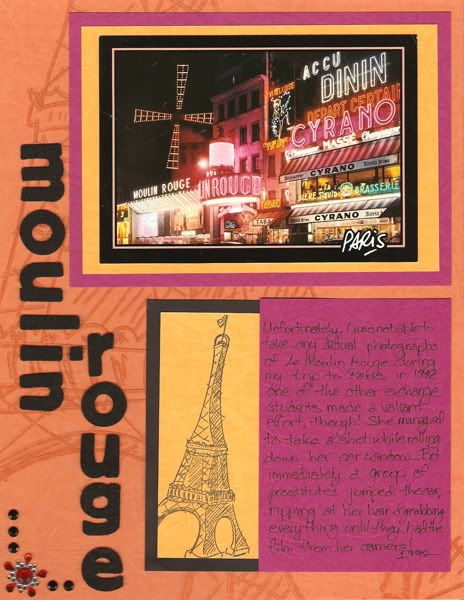 Club Scrap: Bistro 7/07- Tangerine Print, Gold Plain, Black Plain, Grape Plain, American Crafts Thickers Black Felt Alpha, Go Have Fun CSt UM Stamps, Big City Black Crystals;
Scrapbook Takeout: Garfen Party 2/08 - Prima Say It In Crystals Centers;
Stewart Superior: Palette Ink Pad - Noir Black;
Zig: Millenium - Pure Black;
Postcard;