I have such a pile building up of pages that I need to scan and add here, but today I'll go with some that are already on my computer ;) Both of the layouts were made using the Body & Soul 5/08 Club Scrap Digital Kit and the card was made by using the digital transparency images on my photograph before printing and matting it!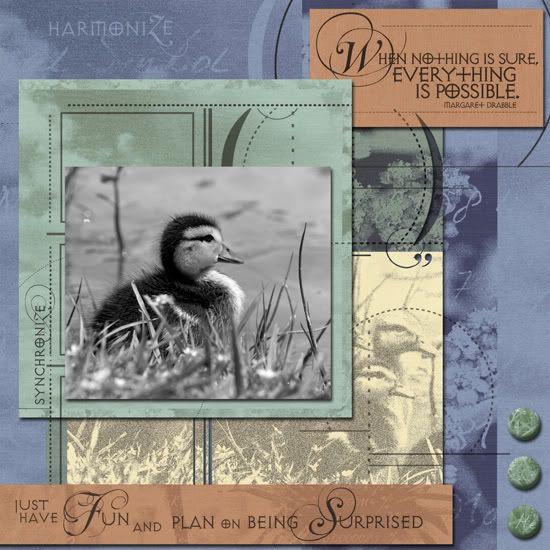 Photography by Audrey Schiller
Club Scrap: Body & Soul 5/08 Digital Kit - DP04, DP07, DP10, Exp02, Tag07, Tran08, Tran13, Trans21, Xtra06, Xtra29;
I created my own custom background/printed matte in Photoshop Elements by using Filter >> Texture >> Grain >> Stippled and then by layering the kit's papers and transparencies with various blending modes and deleted areas of the photo until I was happy with the results.
As soon as I saw my friend's photos of the baby ducklings in her neighborhood, I knew I had to use them with this kit! You can see more of her work at her new photography blog!
http://audreysunfocused.blogspot.com/
Club Scrap: Body & Soul 5/08 Digital Kit - DP04, Tran08, Tran14; Sparkle 12/07 Digital Kit - Tran22, Xtra54;
Adobe Photoshop Elements 5.0: Blending Modes - Multiply, Screen; Artistic Filters - Film Grain, Smudge Stick; Render Filter - Lens Flare;
For our very first sparkler experience, of course my camera was not ready and when I got it out I kept having to dodge the 7 kids to get a photo... winding up with just one unobscured shot, but it was blurry! What's a gal to do but mess around with the photo digitally?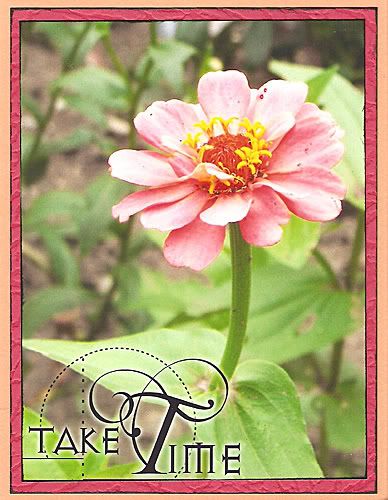 Club Scrap: Body & Soul 5/08 Digital Kit - Transparencies; Painted Desert 5/06 Flower Embossed Plain Paper, Sand Plain Paper;
Stewart Superior: Palette Ink Pad - Noir Black;
Adobe Photoshop: Layer Effects - Soft Glow;
Printing text/images as part of your printed photograph can be a wonderful way to make a photographic card and add a sentiment... It's also very handy if you want to produce a lot of the same card, or just want the text to show up! You can always create a contrasting colored layer of the text under it then enlarge and soften it, add drop shadows, or add a soft glow so that it will be legible even on high contrast photos!