Here are a few simple Fizz projects that I made recently!
On this card, I simply stamped the images and trimmed them out to adhere to the card! I used these supplies:
# Club Scrap: Fizz 01/07 Dark Pink, Light Pink Black & Silver Paper and Fizz Unmounted Borders & Backgrounds Stamps;
Stewart Superior - Palette Noir Black Ink Pad;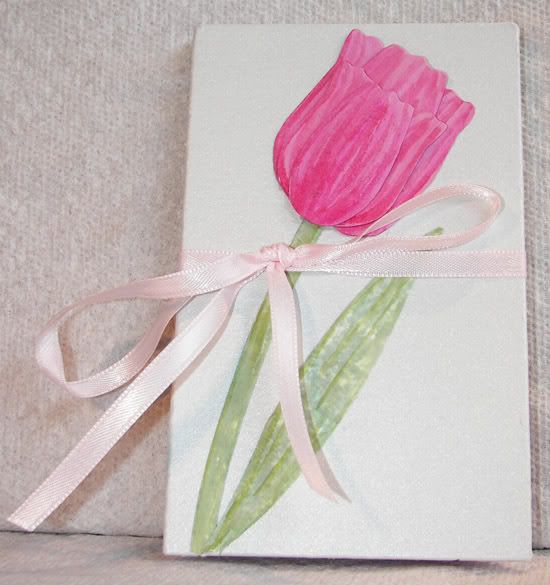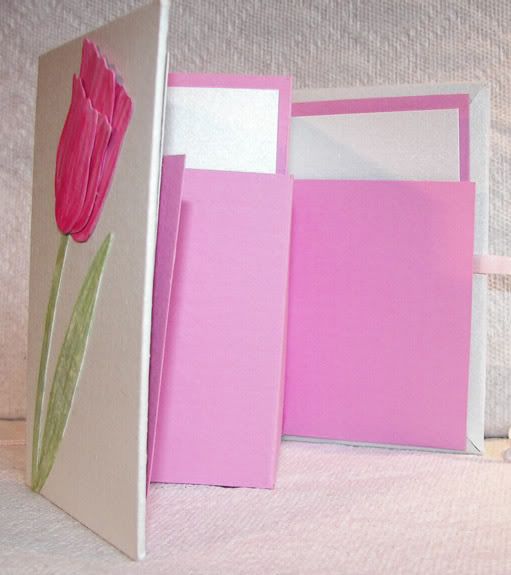 This simple book, along with other color schemes, is one of the Spring-themed bookmaking projects that I will be teaching on April 7th, 10Am-12PM in Beverly, MA! It's a very low cost project that won't even take half of the time! So if you'd like to attend, just email me and tell me what time you'll be there! I'll have more stamps, stencils and die cuts available for you to decorate your books with!
On this version of the book, I used my Niji Waterbrush & Adirondack Ink Pads to watercolor the tulips! I also used the following supplies:
Club Scrap: Fizz 01/07 Light Pink & Silver Paper, Salsa 11/03 White Paper, Matte Board, Niji Waterbrush, and Bookbinding Glue;
Ranger: Seashells Ink Pad in Tropical Raspberry, Sea Brights in Watermelon Red & Citrus, and Adirondack Ink Pads in Meadow; (Please note that the Seashells and Sea Brights are being re-released as Adirondack Ink Pads.)
Offray Pink Ribbon;
Sizzix: Paper Sculpting Tulip 38-1118;