Each and every month there is both a new full Portion Cup of Beads and an Embellishment and Bead Pack to coordinate with the month's kit! They usually come with plenty of beads in this particular size range and a wonderful color arrangement!
Why not create some simple Beaded Chain Necklaces and Bracelets from them? Or, better yet, let me teach a jewelry workshop for you! A full, adult-sized necklace can take up to 2 hours, but a bracelet can go quicker and leave everyone with the skills and the supplies to make many more!
Here are a few examples of them, using only beads from the kit, wire, and occasional charms or findings from the local craft shop!
On the Fizz January 2007 Child's Necklace, I created my own, off centered, heart-shaped link to match the prints and stamps from the kit and will be giving it to my daughters with a matching Valentine's Day card!
This Interior Designs November 2006 Butterfly Necklace uses larger beads, roughly matched for size and color with the bead on the opposite side of the chain . . . There's no reason to limit yourself to just one size or shape of beads!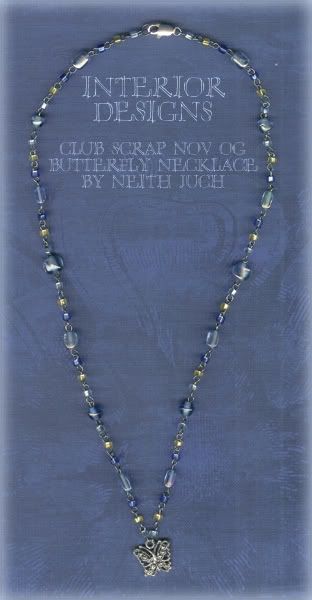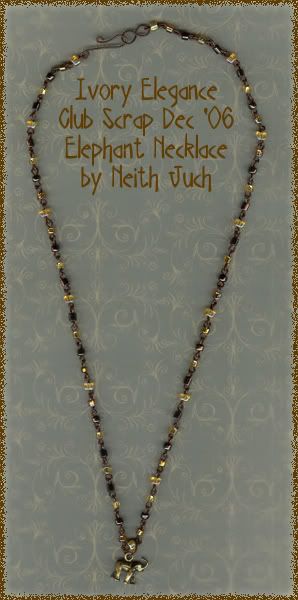 This Ivory Elegance December 2006 necklace uses plastic wrapped FunWire salvaged from a beaded reindeer ornament kit! The end result is that it matches an outfit of mine perfectly and has a wonderful and unique look!
On this Wheel & Sprocket August 2006 Red Hatter necklace, I had a lot of fun creating the pendant! The beads are a clearer bright red and deep purple, but with the triple looped finding that I created, all that I can see is a wonderfully curvy woman with her arms swinging as you move!
There are countless ways to use a beaded chain like this... add focal beads or pendants that you buy or create, use multiple strands, add charms to each link for a fun bracelet, etc! Even coordinating earrings!