This photo is actually a macro of the butterfly, with my mother in law all blurred out behind it... but the second before it went off, I had a little video of her floating the flower around in the air and her little tongue dropping down while she watched it! So the memory is so special to us... especially because, during the week together, we had a number of other moments where we could see the little girl within her!
So, what's a girl to do with a blurry photo? (Especially when your Mother in Law is without her makeup and may not want that photo posted for the world to see?) Why, alter it in Photoshop Elements, of course! I adjusted the Hue/Saturation and Sharpened it until I was content and the image was popping!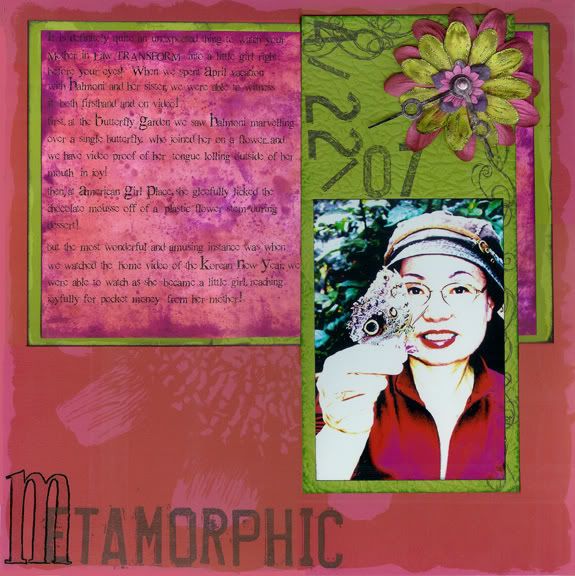 To create the title, I stamped with the Fossils Font, and then stamped the "m" from Big & Tall at the start, with some overlap, in Watermelon and Wild Plum. I then traced around it with the Gelly Roll Pen, creating a great raised outline.
On the flower, I inked the green Prima with my Peeled Paint Distress Ink Pad, Direct to Paper (DTP) then added a spritz of water and more ink. After it dried I outlined it with the Stickles. I covered the Ivory Elegance clock hands with the Silver Leafing Pen and then took my Alcohol Ink Applicator and added the alcohol inks and more silver before pouncing over the clock hands and the small white silk flower. I also covered the purple Wheel & Sprocket brad with the Silver Leafing Pen and a little Wild Plum Alcohol Ink.
For the journaling, I took out my Non Stick Craft Mat and pressed all of the pink-red inks onto it in various spots, spritzed with water, and pressed the mat onto itself to create tiny beads of watered ink all over the Mat with each color randomly dotted across the entire surface. Then I took a sheet of plain glossy white paper and pressed it onto the ink, then pressed again while swirling. I wet the entire paper a moment later and used DTP to cover it with Worn Lipstick Distress Ink before distressing the edges, DTP with Wild Plum Adirondack Ink. When it dried, I simply printed on it with my printer, then manually added punctuation with my Cut 'n' Dry Nib and a little Pebble Adirondack Ink... because, unfortunately the free font comes with NO punctuation!


Here is the actual journalling!
It is definitely quite an unexpected thing to watch your Mother in Law TRANSFORM into a little girl right before your eyes! When we spent April vacation with Halmoni and her sister, we were able to witness it both firsthand and on video!





First, at the Butterfly Garden we saw Halmoni marvelling over a single butterfly, who joined her on a flower... and we have video proof of her tongue lolling outside of her mouth in joy!





Then, at American Girl Place, she gleefully licked the chocolate mousse off of a plastic flower stem during dessert!





But the most wonderful and amusing instance was when we watched the home video of the Korean New Year. We were able to watch as she became a little girl, reaching joyfully for pocket money from her mother!



Supplies Used:
Club Scrap

- Fossils 8/04 UM Stamps; Textiles & Notions 9/04 Palette Noir Black Ink Pad; Painted Desert 5/05 Flower Print, Stem Print, and Stem Embossed Plain Papers; Big & Tall 2005 Lowercase UM Stamps; Ivory Elegance 12/06 B&B and CSt UM Stamps plus Embellishment and Bead Assortment;

Scrapbook Takeout

: 2/07 Kit Prima Petal Poetry;

Ranger

- Adirondack Alcohol Ink in Pitch Black & Wild Plum; Adirondack Alcohol Ink Applicator; Adirondack Ink Pads in Pebble, Raspberry, Watermelon, & Wild Plum; Cut 'n' Dry Nib; Distress Inks in Fired Brick, Peeled Paint, and Worn Lipstick; Nick Bantock Ink Pad in Chartreuse; Non Stick Craft Mat;

Krylon

- Leafing Pen;


Sakura

- Gelly Roll Pen;

Photoshop Elements

;

Genius of Crack PC Font;

Glossy Paper; Silk Flower;