Each and every month, for 10 months now, Club Scrap has provided amazing Assembly Line Scrapbooking (ALSB) instructions which allow you to take an entire kit worth of product and whip together a slew of layouts using up nearly each and every inch of paper! Since March, these have been provided for FREE to all members! And Club Scrap DigiDeluxe and DigiLayouts kits come with complete digital versions of these layouts!

Below is a new layout I created by slightly adapting an ALSB design from this month's May 2007 Simply Beautiful Kit! Read more about it at the bottom of this post!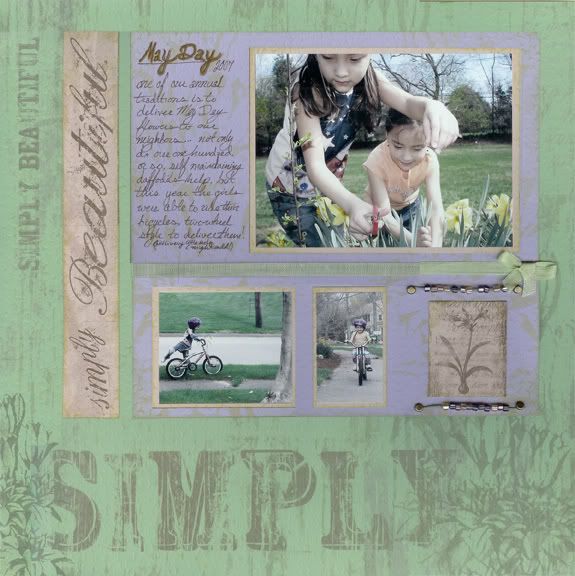 Please check out these other posts which include more ALSB Layouts which I've added photos to! I promise to share more soon!
---

Supplies Used on the Above Layout:

Club Scrap - Simply Beautiful May 2007 Green Sr 12x12 Print, Lilac & Tan Plain Papers, Tan Printed Perforated Squares, Bead and Embellishment Packs Beads & Mini Brads, Fibers, Waxed Linen Thread, and Simply Fascinating Floral Stencil;

Ranger - Adirondack Ink Pads in Lemonade and Willow; Cut 'n' Dry Nib; Distress Ink Pad in Brushed Corduroy;

Zig Memory Writer in Chocolate;

Colorbox Stylus Tool with Sponge Tips;

I desaturated my very bright May Day photos in order to have them flow better on the antiqued paper designs! I also mildly changed dimensions and merged two mattes into one, adding strung beads, journaling, and stenciling flowers onto the large lilac matte. You are ALWAYS able to adapt these great designs to better suit your style and photos!