Here's more proof that Club Scrap™ listens to their members! Some members wanted just the pre-made digital layouts, some wanted only the digital papers and embellishments, and others wanted the whole kit 'n' kaboodle! Well now, you have three choices for membership! And three choices for individual kit purchases! They've even re-released the previous CSD kits in the new smaller versions!

This layout was created using the Farmer's Market 10/06 CS DigiLayout #7 with the Zero & Zero Font. It is a very quick layout and a lovely design to work with!


| | |
| --- | --- |
| | These two layouts were created using a portion of the Interior Designs 11/06 DigiLayout #19, DigiGoodies Xtra #19 (laminate brads) and the font Script MT Bold. In the left hand layout I adjusted the Hue & Saturation to change the colors of the layout, enhancing the pattern in the paper through the color shifts! The smaller blue version uses the original color scheme, which just wasn't a match to this pair of photographs! Changing the colors of the papers and embellishments is always a wonderful option to exercise and you may also easily add as many of the DigiGoodies that you like to a premade DigiLayout! This time around, I simply added some digital brads, but other times I've gone hog wild with alterations and additions! |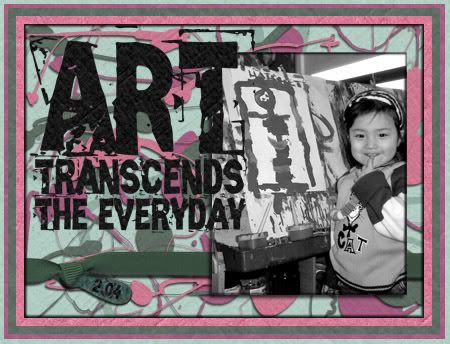 You can also always work from scratch! The Artist's Trading Card shown to the right is one example! It uses mostly the Retro 9/06 CSD Free Trial Kit along with the ribbon from the Farmer's Market 10/06 CSD Kit. I went to http://jacksonpollock.org to create the paint splattered background! (At that website, each move of your mouse will splatter digital paint all over your browser... click on your mouse to change colors!) I saved separate layers of the Pollock paint splatters and cut and pasted the textured CSD Paper into the shape of the splatters, added shadows, and adjusted the brightness to better fit my photograph! In "real life" I've matted a photographic print of the piece on actual papers from the kit and edged the photograph in Ranger's Black Soot Distress Ink!

The piece below made more use of a single printed paper and a coordinating transparency image from the same Retro 9/06 CSD Free Trial Kit. I copied the pattern within the foiled border image to create the page border and fill in the Transparency border images. I also used swatches of the paper, altering the Hue & Saturation to create the deeper shade of pink for my mats and finished the piece out with the Fabulous 50s font!




Made with Club Scrap Digital's Farmer's Market 10/06 Digital Kit. Club Scrap's ALSB Layout #11; "Zero & Zero" font; Digitally "chalked" edges from the Farmer's Market 10/06 DigiRap; Korean text translates to "girl" and "tiger";