The Written Word 11/05 is such an elegant kit! There's even a gorgeous ink pad created for this kit by Stewart Superior... And the stencil for this kit is to die for! It works so well with dimensional paint, with ink, with anything your heart desires!

The card to the left is a 10 minute card that I created for an online challenge! It uses both the Cream and Medium Blackberry Papers from this kit as well as the Stewart Superior Memories Blackberry Ink Pad and both sheets of Unmounted Stamps from the kit. It also uses the Gold paper from Time & Space December 2004. I simply used Ranger's Cloudy Peri Sea Shells Ink Pad with a mixture of stamps to create a collaged background piece and then rubbed the Blackberry Ink Pad across the edges and into the Cream paper before stamping the sentiment onto the card. So simple, but such lovely colors and textures!
On these simple Flagbooks I used The Written Word's stencil along with Time & Space December 2004's Gold and Asian Artisan January 2004's Cream Frost papers. I applied Delta's Texture Magic Dimensional Paint in white through the stencil using a palette knife... it gives such a rich texture to the finished covers!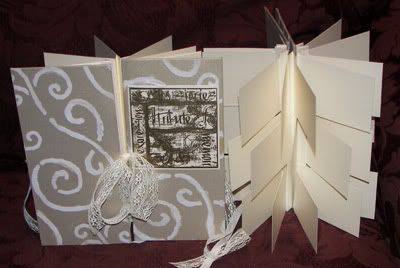 The focal stamp was the Club Scrap Sr Expression Collage Stamp (now extinct) using Ranger's Black Soot Distress Ink and Gold Embossing Powder. The overall design for the book construction can be found via Club Scrap's wonderful episode of Flag Flip Book CDS-1739 Carol Duvall Show HGTV.
The cards shown below were created at Club Scrap's August 2006 Main Retreat duing Karen Wyngaard's Assembly Line Card Making Class, with 15 cards taught in total! These cards all use Let Me Count The Ways February 2006's Greetings To Go card kit along with plain white paper, Greetings For a Year Stickers, LMCTW 2/06 stamps, plus stencils from County Fair 7/04 and The Written Word's stencil!

The top card was made by simply applying ink through the stencil and along the edges with the ColorBox Stylus Tool and Sponge Tips while layering additional mats and a sticker onto the card base!