On these cards and ATCs, I used a technique that is based on last month's
Technique Junkies
Ink Wash Technique! (Definitely check out the newsletters they offer that are chock full of great techniques and ideas!) I changed things a little bit to suit the colors and intensity that I wanted and to work best with my stamps!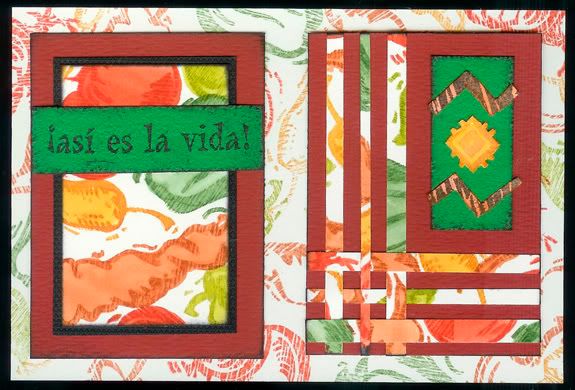 Club Scrap Salsa 11/03 Stamps and Papers from Refresh 2/07. Wheel & Sprocket 8/06, Collections 6/06, and Culinary 3/04; Ranger Jet Black Archival Ink Pad and Adirondack Ink Pads in Butterscotch, Lettuce, Meadow, Red Pepper, & Terra Cotta; Niji Waterbrush; Xyron Sticker Maker; Adapted
Technique Junkies
Ink Wash Technique;
In order to color the chilis and tomatoes, I wanted to use the
Technique Junkies
Ink Wash Technique, but wanted my colors a little but more vivid and wanted to still use my Adirondack Inks! So I revamped it to make it my own! First, I stamped the images (as seen on the left and on the right) and then used my Niji Waterbrush with the matching ink to go over the stamped lines (first images from the left). I allowed this time to dry and then did a lighter wash of ink, water, and ink from the stamped image to color in the area. This really made the images pop while making them look as if they may have been handpainted!