Here are a few fast page kit elements that I made while playing with my new Castaway Ink Pad! It's very similar to stamping with bleach, although you don't need to hassle with a large open container of bleach and all the strong fumes! Plus it usually comes out with a stronger image in just one quick stamping! You do need to let the ink soak into the paper for about 6 minutes and then press the image with your craft iron to make the lightening happen... but it's pretty cool!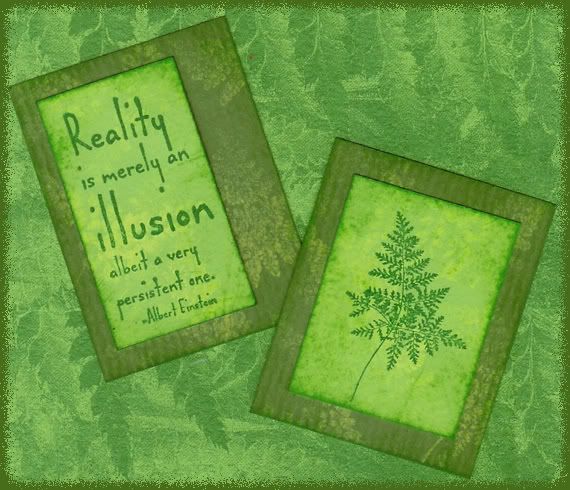 I loved how subtly the images appear on the Refresh 2/07 Light Green Paper and the somewhat more vivid, but still delicate, look on the Farmer's Market 11/06 Leaf Paper matting. I added a little Ranger Chartreuse Leaf Nick Bantock Ink to the edges of the papers and stamped over the light images with the Ranger Nick Bantock Sapmoss Green using the Refresh Borders & Backgrounds UM Stamps and the Refresh Club Stamp UM Stamps. I scanned the pieces on top of the Refresh Sr Light Green Print.
On these items I also used the Farmer's Market 11/06 Papers to stamp onto with my wonderfully aged-looking Fossils 8/04 Borders & Backgrounds UM Stamps & Club Stamp UM Stamps. I overstamped the smaller nautilus shells with my Ranger Adirondack Ink Pads and added text and distressed edges with the same ink pads! The papers are Farmer's Market 11/06 Blue, Brown, and Pumpkin, scanned on top of Rhapsody 3/07 Jr Cream Print. The inks are the Castaway Ink Pad along with Ranger Adirondack Ink Pads in Denim, Espresso, and Rust.
Play around with the Castaway Pads for some fun of your own! Or pour a little plain liquid bleach onto a folded up paper towel (use those wonderful disposable plastic plates to contain the paper towel "ink pad") then ink up your stamps on it and stamp away! Be sure to use a good ink cleaner (like Ranger's CleansIt) on the stamps immediately and then also clean them with water. You may also wish to ink the stamps with or Versamark in order to recondition and moisturize them overnight after putting bleach on your rubber.