It is so hard to capture the beauty and thrill of Squash Books in flat photographs! But, I'll give it a try!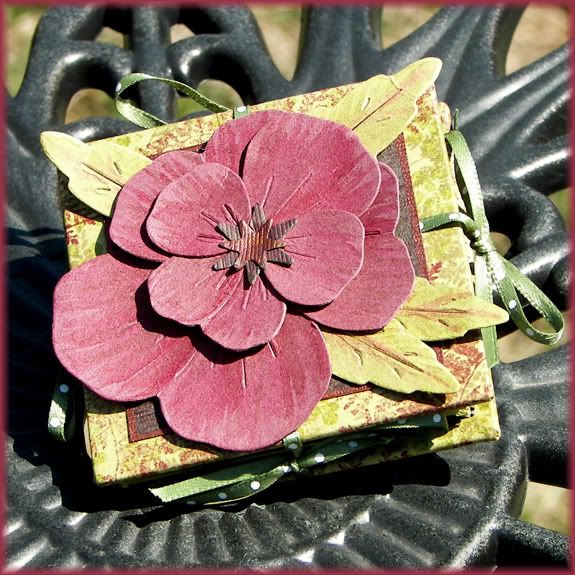 This little Earth Day 2006 Squash Book is one that I made during last month's Mini Book Banquet! We spent Earth Day at
The Garden in the Woods
, in Framingham, Massachusetts! Not only did we have wonderful guided tours, "fossil" rubbings, sapling planting, watching Mother Nature juggle the Earth and her creations, face painting, and a scavenger hunt, but we also were able to explore and make new friends! And all for FREE (a regular Earth Day special at the garden)!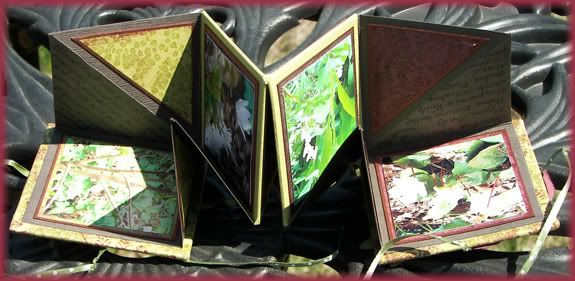 These are a few of the rare Early Spring blooms that we learned about! In the book, I list all of their scientific names, common names, as well as some medicinal and Native American uses for each plant. Included are Shortia Uniflora (Nippon Bells), Dicentra Cucullaria (Dutchman's Breeches), Sanguinaria Canadensis (Blood Root), Dirca Palustris (Eastern Leatherwood), Trillium Cuneatum (Whippoorwill), and Mertensia Virginica (Virginia Bluebells).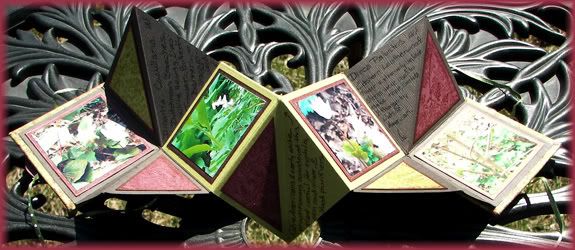 I used the following supplies:
Club Scrap Refresh 2/07 Borders & Backgrounds UM Stamps & Club Stamp UM Stamps for the ferns all over the covers and triangles;
Club Scrap Wild Wild West 11/05 Brick & Green Papers;
Club Scrap Down To Earth 4/05 Brown Paper;
Club Scrap Matte Board;
Club Scrap Bookbinding, Padding, and Laminating Adhesive;
Niji Waterbrush;

Ranger Distress Inks in Aged Mahogany, Peeled Paint, and Vintage Photo;
Krylon Red Leafing Pen;
Sizzix Paper Sculpting Pansy Die #654665;
Offray Ribbon;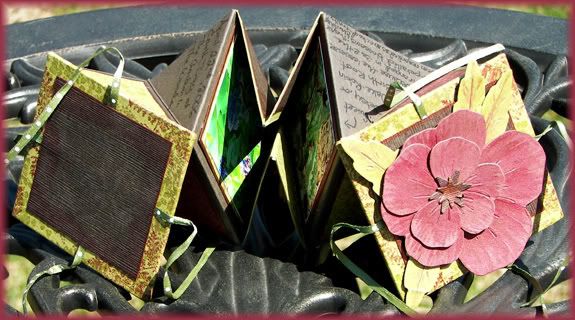 One other memorable event that day was that we started our sketch books! Everyone sat down together to design our very first drawings in our brand new sketch books! We each created our own version of this flower, Mertensia Virginica, or Virginia Bluebell. What a wonderful family activity to do on Earth Day!
I printed the large main photograph on plain vellum (it's really black & white, not green, but the colors under it flavor it with green... I don't know why, but it was important to me to print it on vellum? also the brown and white background pattern is a 12x12 translucent print!). There are scans and shrunken repeats of both of my daughters' drawings and mine. The flower that we were all sketching is in the photograph that the journaling is embedded into.
Supplies Used:
Club Scrap Down To Earth 4/05 Translucent 12x12 Print & Dark Green 8.5x11 Print;

White Cardstock;

Vellum;

Garden in the Woods Map;