Wow! This month has been so busy for me! Especially the past week! I cannot believe how long it has been since I posted a new entry! I'm so sorry for the delay! The school auction and the Girl Scout Craft Expo have finally come and gone, so my life may be my own again! And, I'd love to share a little bit of what I've been working on!
I used the design from Club Scrap's wonderful Handmade Stitched Journal Project along with papers and a stamp from the Pets Special Release Kit with Ranger Archival Coffee Ink Pad to make this book! Inside of the book are printed copies of Animal Stories, each one was written and illustrated by one of my daughters' first grade classmates!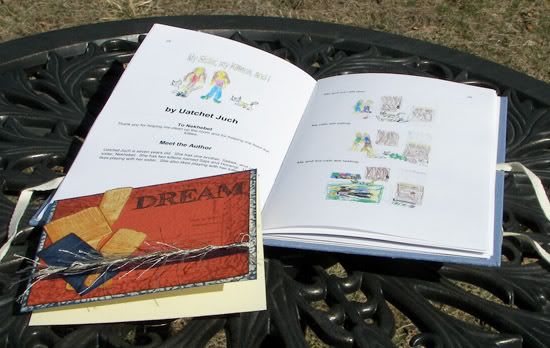 The card, in the above photo, represents the donation of one quart of paint or stain from our local Rocky's Ace Hardware Store! Along with the book and paint, the class auction item included a small unfinished bookcase, 45 story/activity books, a Barnes & Noble gift card, 2 beautiful handmade beaded bookmarks from another mother, some story-character items, 2 small pocket albums made by my daughters, and two more projects that I did with the students! I was able to visit the classroom a few times and teach each child how to make a simple Japanese Stab Bound Book as well as a Distressed Monoprinted Bookmark!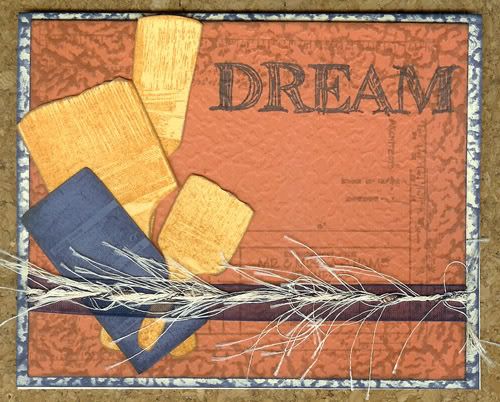 This card was made with the Rhapsody March 2007: Papers, Rhapsody Brown Ink Pad, Stewart Superior Midnight Blue Ink Cube & Fibers plus the Interior Designs November 2006: Unmounted Stamps and Ranger Adirondack Caramel Ink Pad.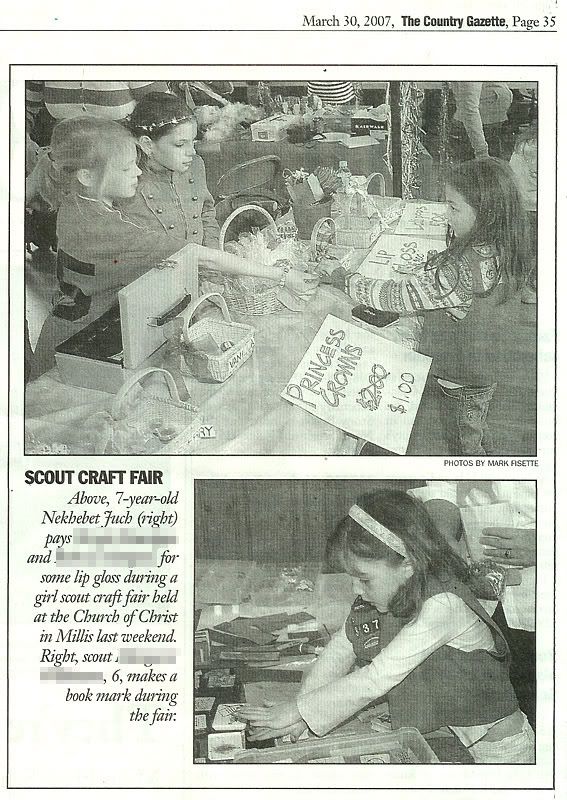 Also... my daughter was one of four Girl Scouts in town to make it into the newspaper at the Millis Girl Scout Craft Expo last weekend! She did roll her eyes that it's only a shot of her buying lipstick as opposed to creating anything! But, look, the other photo is one of her troopmates making another of the bookmark projects that I taught! Each girl had already made one with me, for free, in a meeting, but most paid for additional bookmarks and dragged their family and friends to wait in the lines for our project! It was definitely a hit! Check out my blog entry about the Distressed Monoprinted Bookmarks!