I wanted to share a few digital layouts from our school vacation trip... (I'll be scrapping more photos from it soon, I promise!) And also an older photo from a park near the Club Scrap Main Retreat in August 2006!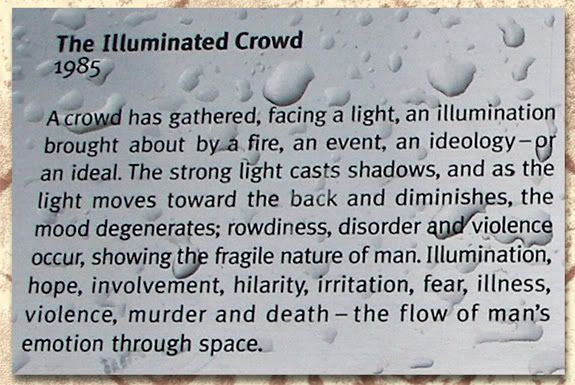 A few blocks from our hotel, while evading the slush and rain, we happened upon this wonderful sculpture on the way to the Metro! The kids were immediately awed, but I had to risk being left behind while my husband rushed into the "comfort" of the underground! Amazingly enough, this sort of grasped the concept of the work!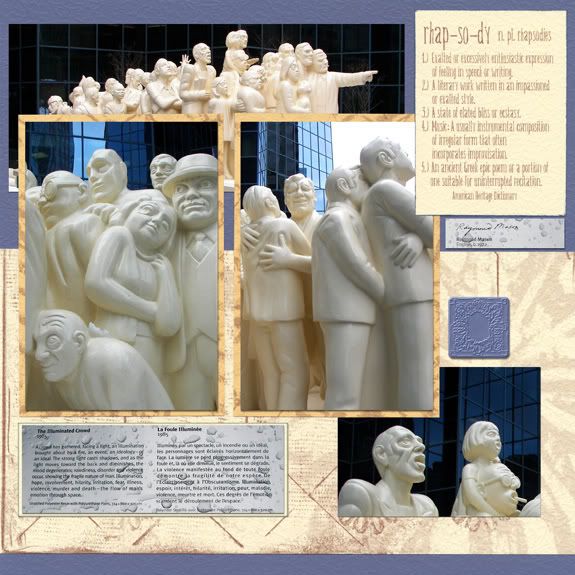 Raymond Mason installed this piece in 1985, to represent a rather mixed crowd. Most of the people at the front end are engrossed by something in front of them... they are naturally lit up by the sunlight and many have a glow on their faces. However, as you move backwards through the crowd, those who cannot see this spectacle and are locked in their own world... some are miserable, some are happy, others are causing pain and anguish for their fellow man.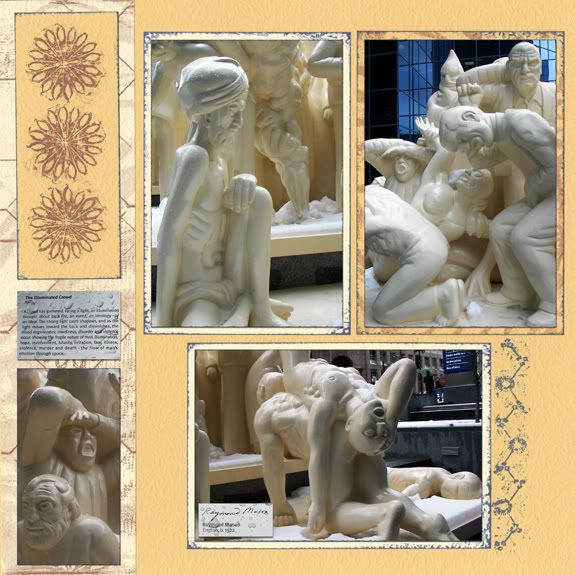 To create these layouts, I used the Club Scrap DigiDeluxe Rhapsody March 2007 Kit, including Layout #18, Layout #17, Xtra #8, and the inked edges from Layout #17 to create a brush, edging the photos in that layout with the ink. I also added simple drop shadows and layered a few more photos into it, how could I resist?
The same day that we saw the sculpture, we visited the Montreal Biosphere! We thought it could just be a half-day visit, before seeing another museum, but as soon as they did their first activity, they were hooked! Sebek had already been proclaiming war on Global Warning to his grandfather that morning... and then, we were able to do an experiment which really brought things home to the kids!
For this layout, I used the Club Scrap DigiGoodies Stratosphere April 2007 Kit, including the Dark Blue, Green, and Fuchsia Prints, Fiber #1, Tag #5, and Xtras #24 & 40. I also used drop shadows and the Desigers Bold free font! This layout appeared in the DigiRap (monthly newsletter) along with everyone's copy of the Stratosphere 4/07 Digital Kits!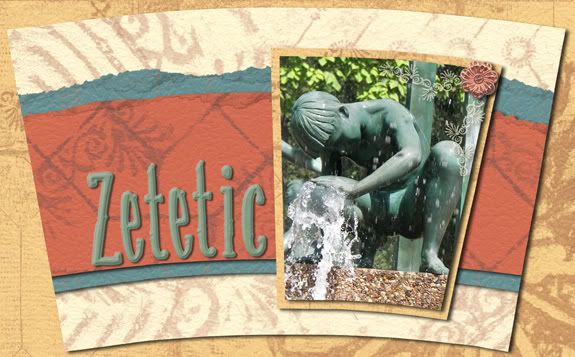 Zetetic means proceeding by inquiry; a search of investigation... This Neenah, WI water sculpture certainly personifies the word in my mind! I decided that it deserved to become a mug and created this digital layout for one of my personalized tumblers!
I used the Club Scrap DigiGoodies Rhapsody March 2007 Kit, including the Sr Rust and Cream Prints, Jr Yellow Print, and the plain Blue Paper (hue altered to become a green), the beveled alphabet, Xtra #2, snippets of Transparency #5, and the versatile Torn Paper Tool! I also warped elements, altered hues, and added drop shadows. This layout appeared in the DigiRap along with everyone's Rhapsody 3/07 Digital Kits!