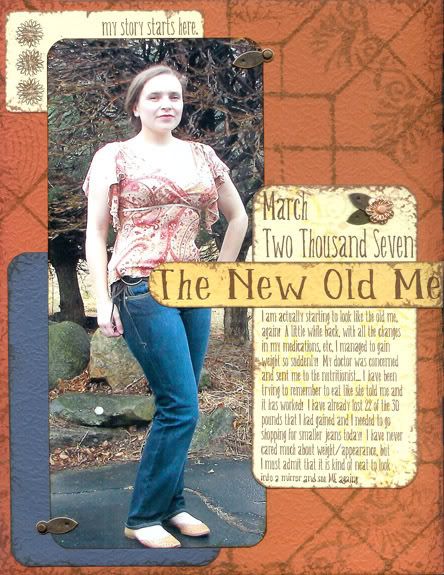 My pants keep falling off because I've been losing weight! So, last night I bought a new pair and you know what... after seeing myself in the mirror, I looked so much more like the Me that I used to know! So, I thought it was high time for a new self portrait! It just so happens that a favorite top and this season's natural backdrop really made the photo blend so well with this month's Club Scrap Rhapsody 3/07 Kit!

Everything that I used, except for some inks and tools, came from my Sr Rhapsody Kit with both the Embellishment and Greetings To Go sides! I used the Sr 12x12 Rust Print, Blue Plain, Cream Plain, & Yellow Plain Papers, the Sr Antique Copper Blissful Pinwheels & Mini Brads, Aged Copper Photo Turns & Mini Brads from the Embellishment and Bead Assortment, a Cream Rolodex Tag from the Embellishment Tags & Cutouts, the It's All Good Stencil, the Rhapsody Brown Dye Ink Pad from the Greetings to Go, and the Belisa Plumilla Manual Font. Outside of the kit, I also used Ranger's Adirondack Ink Pads in Lemonade & Sandal, Ranger's Distress Ink Pad in Vintage Photo, and ColorBox's Stylus with Sponge Tips.

The smaller journaling reads:

I am actually starting to look like the old me, again! A little while back, with all the changes in my medications, etc, I managed to gain weight so suddenly! My doctor was concerned and sent me to the nutritionist... I have been trying to remember to eat like she told me and it has worked! I have already lost 22 of the 30 pounds that I had gained and I needed to go shopping for smaller jeans today! I have never cared much about weight/appearance, but I must admit that it is kind of neat to look into a mirror and see ME again!