I have two different things to share today :) One is a trio of new creations from this week, the other is an exciting new option for viewing my blog!
Now, you can subscribe to my blog! By entering your email address you can get automatic emails, instant messages, etc whenever I add a new blog post!
This week I've been working on some layouts about my own life as part of Club Scrap's PSL Camp Challenges, beginning to work on a series of challenges based on Bernie Berlin's
Artist Trading Card Workshop
book, and had a card to make for my son's birthday! Here are two of the layouts and a card that combines the ATC workshop and my son's card.. plus one other layout for my Book of Me that I made earlier in the month!
Club Scrap: Rhapsody 3/05 - Cream Plain; Farmer's Market 10/06 - Leaf Plain; Egyptian 8/03 - Gold Plain;
Scrapbook Takeout: Eclectica 6/08 - American Crafts Journaling Stickers, Maya Road Stitched Ribbon, Heidi Swapp Felt Flowers;
American Crafts: Galaxy Marker - Purple Nebula;
K&Co: Kimberly Hodges - Red Multi Striped Flat Paper 643077 639546;
Sizzix: Alphabars - Ransom;
Unknown: Fibers;
Club Scrap: Bridges 2/08 - Brown Plain; Science 9/05 - Gold 8.5x11 Print, Transparent Overlay;
Scrapbook Takeout: Tell Your Story 3/08 - Jenny Bowlin Die Cut Sticker;Celebrations 12/07 - 7 Gypsies Photo Turns; Wonderful Whimsy 6/07 - American Crafts Felt Punctuation; Journal Jammers 4/06 - Heidi Swapp Chipboard Alphabet, 7 Gypsies Gaffer Tape;
Zig: Writer - Chocolate;
Unknown: Decorative Brads;
Scrapbook Takeout: Eclectica 6/08 - American Crafts Treehouse Chipboard Shapes, Maya Road Stitched Ribbon,
Club Scrap: A Study in Red 1/08 - Red; Be Still 9/07 - Yellow; Collections 6/06 - UM Font; Salsa 10/03 - White;
Artist Trading Card Workshop by Bernie Berlin: Intuitive Watercolor;
Darice: Kid Concoctions - Liquid Watercolor Hot Colors;
Niji: Waterbrush;
Stewart Superior: Palette - Noir Black;
Zig: Millennium - Pure Black;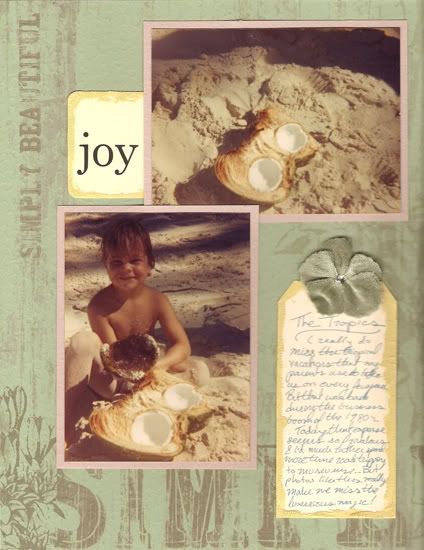 Scrapbook Takeout: Parisian Vintage 5/08 - 7 Gypsies 97% Complete Flashcard Sentiments, Maya Road Trinkets Velvet Sparkle Blossom, Manila Tag;
Club Scrap: Simply Beautiful 5/07 - Green Print, Tan Plain;
Ranger: Distress Crackle Paint - Antique Linen;
Zig: Writer - Denim;