I've mostly used my Club Scrap Varsity 6/05 Kits for their paper colors, love that dusty color palette and the soft fabric-like texture. But I was recently inspired to get out some of those sporty prints and get scrapping! (You know I never scrap in order, just when the mood hits!)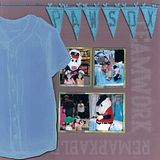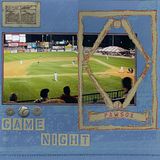 Here's a double layout from the last Pawsox (Minor League) Game that we attended! One side is about the mascots, the other with a shot from the game.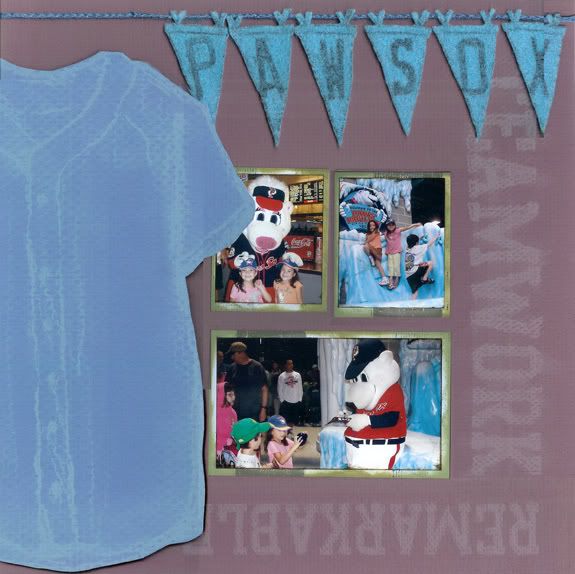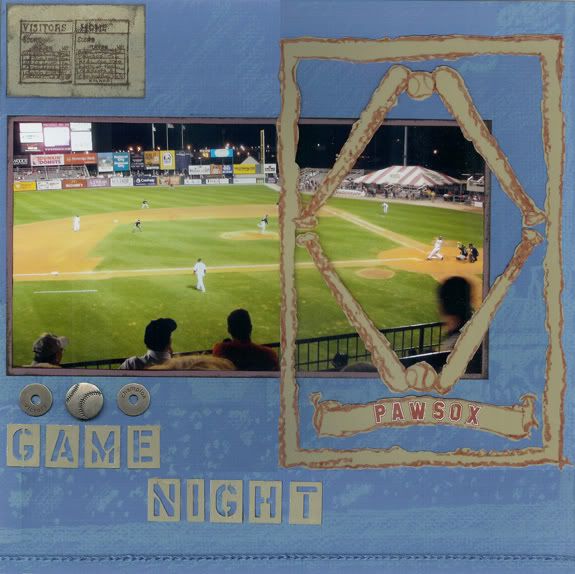 Have you ever wanted a great transparency overlay, but what you were looking for just didn't exist? One of the wonderful things that Club Scrap does is give you full permission to scan and reprint their idea cards! So you can take the images from their unmounted stamps, scan them in at any resolution and print them at the size you wish! You can get special transparency film for your printer, or do what I did! I enlarged the baseball frame from the Borders & Backgrounds Idea Card and printed it on some paper from my recycling bin, then traced it onto my transparency with a Slick Writer and painted on the backside. I found that this image worked best when I painted outside of the lines!
I used the same paint to make the metal alphabet match as well as my journalling box! To get an aged look on the journalling box, I applied the paint to the cardstock and then quickly blotted some off with balled up plastic wrap (from opening a package of scrap supplies!) to give it some texture and show small hints of the paper from below it!
Another thing that I did was to stamp directly onto craft felt with StayzOn and cut it out for my pennant title. Also, I used foam squares to raise the sports jersey print and the baseball snap.
Club Scrap: Varsity 6/05 Papers, B&B Idea Card, & CSt UM Stamps; Fossils 6/04 Font UM Stamps; Chapter One 6/07 Grey Striped Paper; Collections 6/06 GTG Foam Square Stickers;
Plaid Folk Art Butter Pecan Acrylic Paint;
Clearsnap Fluid Chalk in Dark Moss;
Tsukineko StayzOn in Timber Brown;
American Crafts Slick Writer in Cranberry;
Colorbok Sticky Stitches in Solid Cool Brights & My Type Punched Metal Alpha;
Making Memories Baseball Snap & Washer Words;
DCWV Fall Rub-on Stack 2;
Light Blue Craft Felt;
Staples Transparency Sheet;