I've been busy getting ready for the end of the school year and for my children's birthday parties! Here are the invites that we just made for the girls' Hawaiian Luau Party (thank you so much to Vernell for helping me finish them up today!)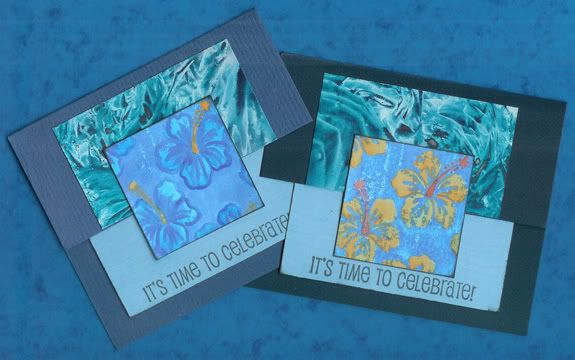 These cards use a wonderfully dynamic structure based on
Flap Fold Card
from the
Technique Junkies
June/July 2007 Newsletter! The structure helped me by using small papers (didn't want to tear through all my nice 8.5x11 or 8.5x5.5 pieces for mass inviting!) including one 5x7, one 4x6, 1/3 of a 4x6, and 1/2 of a 3x5 POP from Club Scrap per card with a few spare scraps to make ATCs with!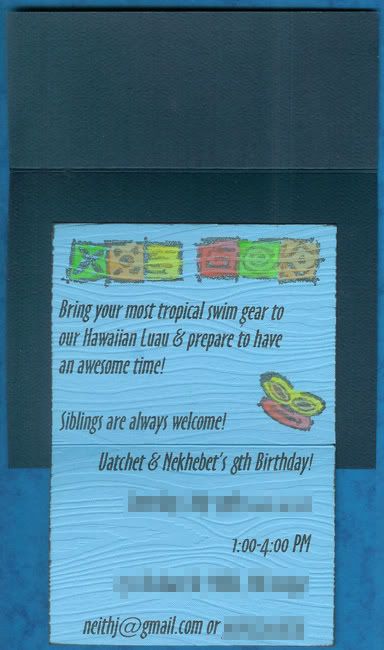 For the ocean wave-like pattern, I used the
Cling and Scrunch
technique from the
Technique Junkies
June/July 2007 Newsletter, using the Color Washes and Club Scrap's glossy Asian Artisan 1/04 Blue Frost paper. For the Hibiscus square, I used the
AquaPainted Rubber
AND the
Watercolor Crayon Painting
techniques from Technique Junkies'
Free Watercolor Crayon Tutorial
samples along with the gorgeous Surf's Up! 7/06 CSt Hibiscus Collage WM Stamp. This stamp creates the blue, fabric-like, background and leaves the flowers as a negative image, perfect for painting in with other colors!
I would highly recommend joining
Technique Junkies
if you enjoy inking techniques! Every other month you receive a wonderful full color newsletter filled with different stamping and inking techniques. Online, as a subscriber, you can also access more step by step images and descriptions, a wealth of additional sample images, bonus online techniques, and accress to their yahoo group filled with plenty of tips, samples, challenges, and more! All for only $3 per issue with unlimited online access to those issues' web pages (you can only access the pages for the months where you've subscribed)!
Supplies Used:
Club Scrap: Surf's Up! 7/06 CSt Hibiscus Collage WM Stamp and Blue paper; Stratosphere 4/07 Light Blue paper; Farmer's Market 10/06 Blue Paper; Science 9/05 Sapphire Paper (to scan on top of); Textiles & Notions 9/04 Stewart Superior Palette Noir Black Ink Pad; Asian Artisan 1/04 Blue Frost paper; Evergreen Blue 12/03 paper; Polynesian 7/01 B&B UM Stamps; Party Pack 2006 UM Stamps; Niji Waterbrush;
Ranger: Adirondack Color Wash in Denim and Stream;
Staedtler: Karat Watercolor Crayons;
Technique Junkies: June/July 2007 Cling and Scrunch and Flap Fold Card; Online Free Watercolor Crayon Techniques;