Here are two more layouts that I created for challenges at the About.com Scrapbooking Forum. And two cards with remnants from the second layout.


One is a simple digital layout using the Club Scrap Digital 1/07 Fizz Kit. The other layout is loaded with items from the latest Club Scrap 2/07 Refresh Kit, the latest Scrapbook Takeout 2/07 Spring Fling Kit, a little stamping, a little diecutting, some bargain ribbon, and 4 old unused patterned papers from my stash. Then I created two cards from the scraps of the second layout!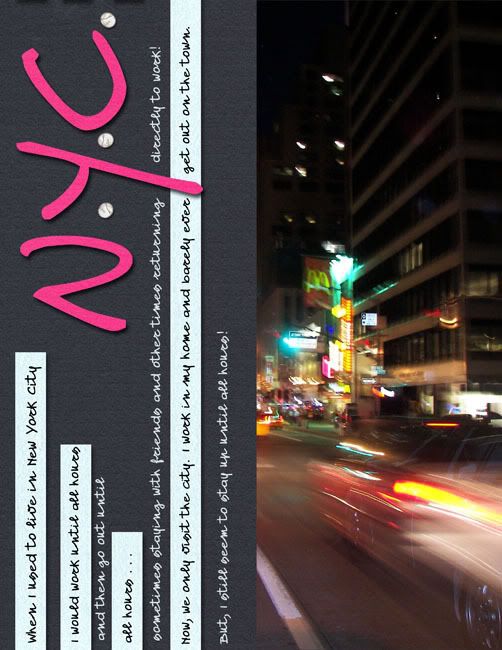 Club Scrap Digital Fizz 2/07 Kit; Hans Hand Font for title, FG Maja Font for journaling;
Ann Marie is hosting weekly challenged based on Elsie Flannigan's work. Her first one was for people to journal on little strips... You know that the intention was for all those little loose unanchored pieces that float all around... Some with one word, some with many, like the fridge poetry pieces... But it wasn't stated that way ;) and it's not really me.

I did intend to make this as a paper layout and may well do so later... But for now, I completed a digital version! And yes, the photo was taken from inside my moving minivan while hubby drove! I couldn't tell you the setting because I just flipped thru all the potentially good ones and took a shot with each twice, hoping for a decent one! We were out of the city each of the other nights on this trip (over the bridge to family in Fort Lee) and only popped across to drop my brother in law off. hubby wasn't in the mood to let me get out and snap pics when we had a long drive home with school & work the next day!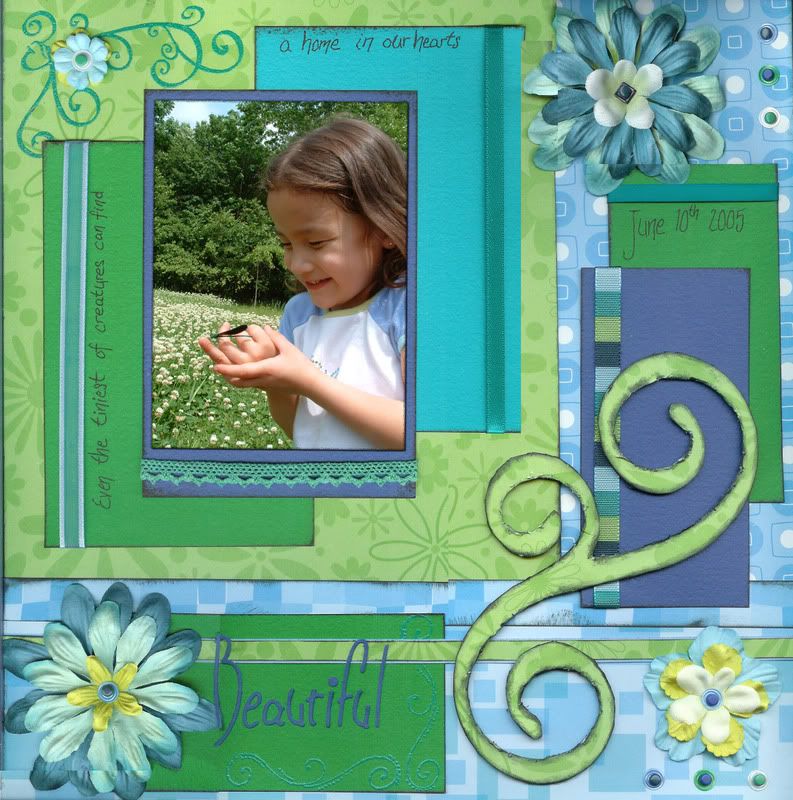 Supplies Used:
Club Scrap 2/07 Refresh: Fibers, Fandangles Sequins, Embellishment Pack Brads, and Plain Papers in Dark Blue, Light Blue, & Dark Green;

Scrapbook Takeout 2/07 Kit: Fancy Pants Biggest Chipboard Flourishes, Fancy Pants Vintage Summer Ribbon, Unmounted Stamps, and Prima Petal Poetry Flowers & Quick Picks;

4 Prints from Slab 6 Rob & Bob Studios;

AC Moore Bargain Ribbon and Silk Flowers;

Ranger Green Embossing Foils and Black Perfect Medium Ink Pad;

Stewart Superior Noir Black Palette Ink Pad;

Zig Writer in Pure Black;
Sizzix Skooshy Font;
I combined a number of different challenges to make this one layout! I was still reeling from the flu and a migraine and just wasn't sure how long I could sit up... What is left to do but lay there and think, then sit up for one big burst of creativity?

The Patterned Paper Challenge called for at least 3 patterned papers, 1 photo, a title, journaling, and brads or buttons. The Bling Challenge called for anything shimmery/sparkly and I accomplished this subtly with the Embossing Foils and Fandangles. A Numbers Challenge required at least 10 flowers, 10 eyelets or brads, and 4 different ribbons. A Tag Challenge demanded a tag that was at least 2.5"x3", including patterned paper, a stamped image, a word, 3 flowers, and fiber or ribbon, this was done through my title tag (I'm not a big traditional tag kinda gal). The Journaling Challenge that I used required that you not talk about the who, where, or what of the image that you used, but rather something that it represents to you or how it makes you feel. And as a starting point, I took on Rebecca Luden's Sketch Challenge, squishing her double page layout into a single page design, dropping my elements onto it and rearranging a tad.

At first I was thinking that I would just use some of the old patterned paper in slabs which have sat untouched for ages, with maybe 3 sheets used out of each! I have found that these papers just aren't me enough, but because I've owned them for so long, I really must try to use them now and again. When I do, it's usually as a simple backdrop for stronger, richly colored elements. Before my newest Club Scrap Kit had arrived, I just had the 4 patterned prints sitting there along with the Primas, but the colors just faded into one another, so I set it aside until I had time to look for other papers.

Well the Club Scrap 2/07 Refresh Sr Kit arrived with perfect timing! I pulled out those rich strong greens and blues, finding the perfect solids and finishing embellishments to really make the design pop! I even used my POPs (Pound of Paper, precut into smaller pieces) as is for the main matting and trimmed slightly for the title tag and side tag/elements. Then I pulled out the gorgeous ribbons from the kit's fibers and everything made sense! The Numbers Challenge had to be added! And it created a way for me to use those three 4"x6" POPs for the main matte in a coherent way as well as unifying the three colorblocked background segments. And with the perfect green, teal, and blue minibrads, the Numbers Challenge was completed... But those adorable little ridged Fandangles also wanted in... So they dictated that my swirling stamps should be shimmery and work towards the Bling Challenge. I edged every paper in black ink, tried to journal in a consistant look with the die cut font, and there you have it!

Please do forgive me for the jagged job of stitching together 4 scans of the layout from different corners... the 3 dimensional embellishments did not allow the images to properly align and *gasp* the photo isn't really on the layout yet as my printer needs new colored ink! I will try to replace it with a photograph soon!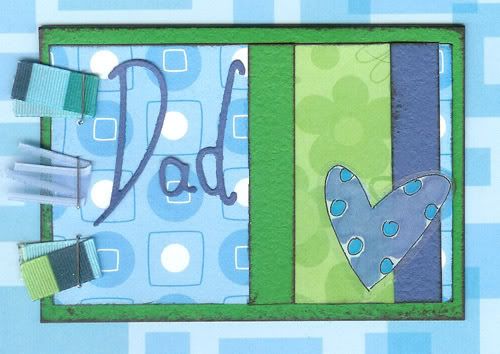 Supplies Used:
Club Scrap 2/07 Refresh: Fibers and Plain Papers in Dark Blue & Dark Green;

Slab 6 Rob & Bob Studios;

AC Moore Bargain Ribbon;

Stewart Superior Noir Black Palette Ink Pad;

Sizzix Skooshy Font;
Staples;
MAMBI Hearts Stickers GGR-33;
On this card I was busy combining challenges as well! The Tag Challenge that I used required a t least one each of a sticker, die cut/punchie (including fonts), and metal embellishment, while there was a call to use our Patterned Paper Challenge scraps to make a card, and to make a card for every month of the year!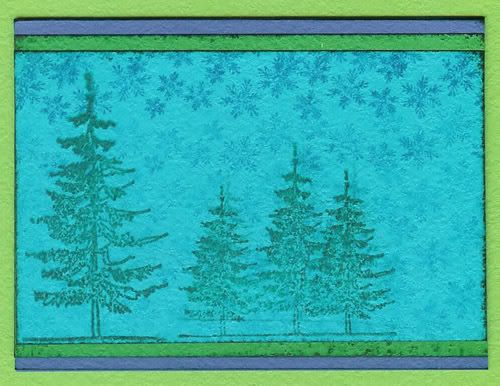 Supplies Used:
* Club Scrap: 2/07 Refresh Plain Papers in Dark Blue, Light Blue, & Dark Green (scanned on the Light Green) plus Kit Fibers; Christmas 2006 B&B UM Stamps;
Ranger Bottle Adirondack Ink Pad and Sailboat Blue Sea Brights Ink Pad;
I used the scraps again and created a January winter-themed card. I used multi-generational stamping to have the snowflakes fading away. To do this, ink your stamp and stamp once at full strength. Ink it again and first, very lightly, tap the stamp onto scrap paper before stamping onto your piece.... continue to do so, increasing the amount of ink that you stamp/tap away onto scrap paper before adding it to your piece.

I hope that you have enjoyed them!