Wow, this week has been family fun catch-up time for us! I'm working on some brand new layouts to post and some domino jewelry that I just need to photograph/scan... But, for now, here are a few of my favorite layouts from the recent Club Scrap Chat PSL ALSB Scramble Challenge! These are part of that batch of 40 ALSB layouts that I made in under two days, talk about speed scrapping! You've got to love how the ALSB instructions can make you a super producer!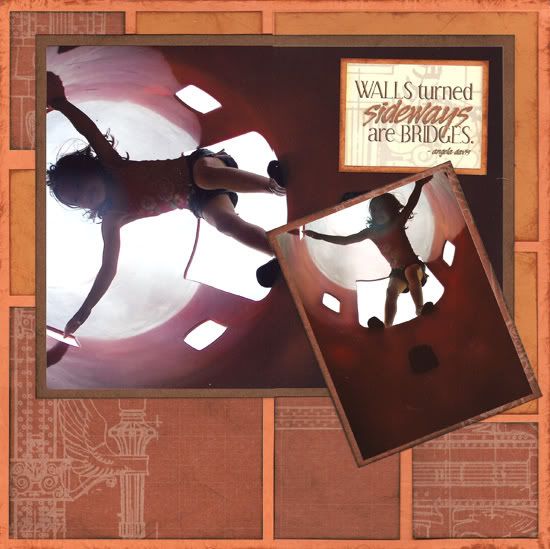 Club Scrap: PSL ALSB #7; Bridges 2/08 - Light Brown Print, Dark Brown Plain, Sr Stickers; Bistro 7/07 - Tangerine Plain; Wings 7/06 - Apricot Plain;
Ranger: Adirondack Ink Pads - Espresso, Ginger;
Confession time here... I was so excited to finally scrap this favorite photo that I began trimming it as soon as it printed. Yes, that meant that the ink wasn't dry and I made a big fat palm print on the photo! But, I saved it with a strategically placed matted sticker! What is that saying, there are no mistakes, only unexpected opportunities!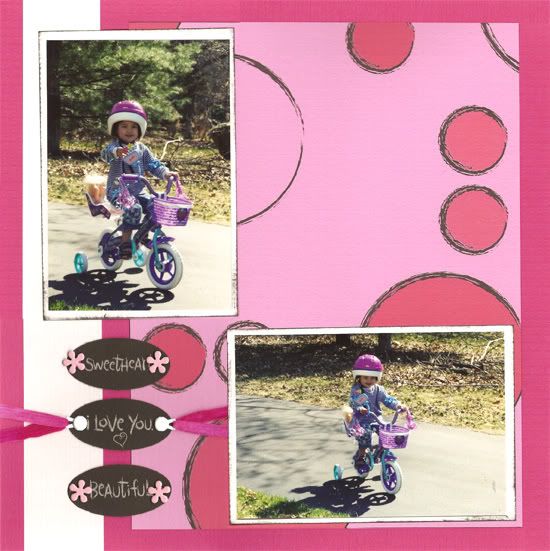 Club Scrap: PSL ALSB# 17; Fizz 1/08 - Dark Pink Plain, Light Pink 8.5x11 Print, White Plain, Black Tags;
Stewart Superior: Palette Ink Pad - Noir Black;
Personal Stash: Shaped Brads, Fiber;
This was Uatchet's very first ride on her very first bike! It was a huge chore to find one short enough for my very undersized twins, but what a bonus to have a "baby seat" just like on Mom & Dad's bikes!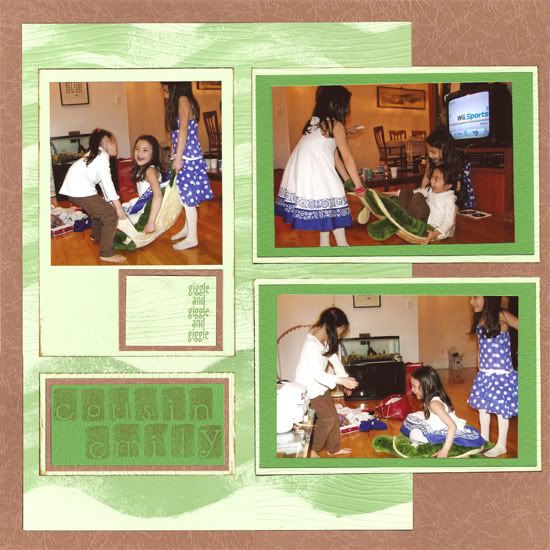 Club Scrap: PSL ALSB #13; Be Still 9/07 - Brown Plain; Refresh 2/07 - Dark Green Plain; Surf's Up! 7/06 - CSt Light Green 8.5x11 Print, Light Green Plain, Crest o' the Wave Cut Outs; English Garden 5/04 - UM Font;
Ranger: Distress Ink - Brushed Corduroy;
I let the colors of the turtle and wooden floors dictate the color palette for this kit... and of course felt the urge to include a wave print from the Surf's Up! 7/06 kit!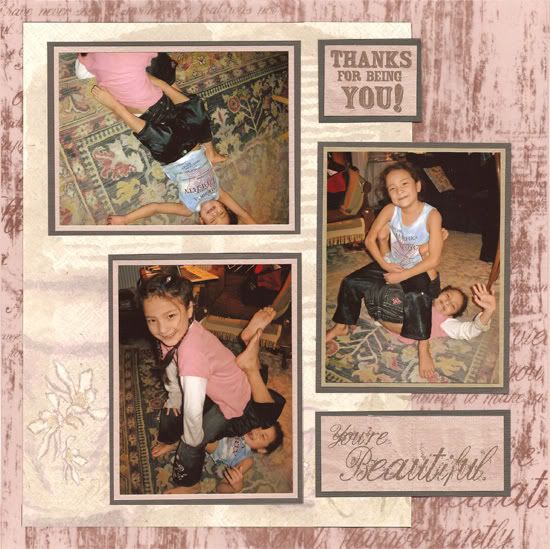 Club Scrap: PSL ALSB # 20; A Study in Red 1/08 - Grey Text Weight Plain; Bistro 7/08 - Khaki Plain; Simply Beautiful 5/07 - Translucent Print, Tan Plain, Tan GTG Die Cuts; Old South 7/02 - Tea Cup 8.5x11 Print;
Who knew that sitting on your identical twin's upside down bottom would make a perfect chair? Well, it also makes for giggles and topples! Who knows what inspired Uatchet to start sitting on Nekhebet!
Anyhow, this is another example of letting the colors in the photo dictate the papers that you use! I love the faded rug that is beneath them and used it as my inspiration, choosing muted colors and floral/vintage designs.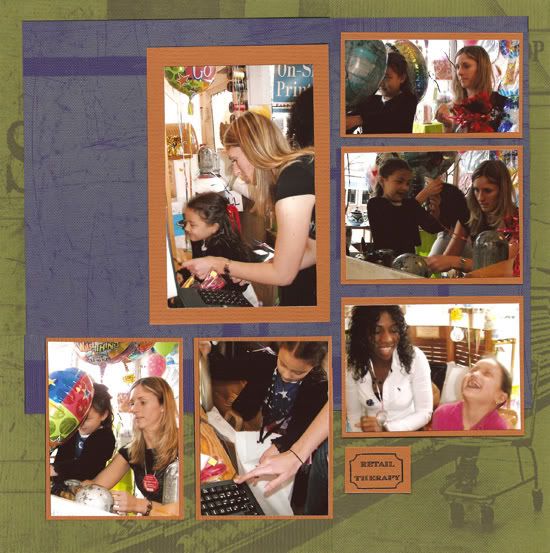 Club Scrap: PSL ALSB #14; Hometown Retreat 2007 - Light Green Ladies Print, Dark Blue Print; Farmer's Market 10/06 - Pumpkin Plain;
Scrapbook Takeout: Tell Your Story 3/08 - 7Gypsies Rubbings Fortunes The Story;
The girls are starting to be a part of my parent's business and are learning to work the registers and even inflate balloons! I still can't believe how many mylar balloons Nekhebet inflated that first time!