Every month, Club Stamp includes a brand new project that often has nothing to do with scrapbooking, but uses our scrapping and stamping supplies! Today I'm sharing one of those projects, the same project with alternate papers, a project of my own, and a 6x6 beaded book based on one from the 2007 Club Scrap Main Retreat. These make wonderful gifts and also great workshop projects!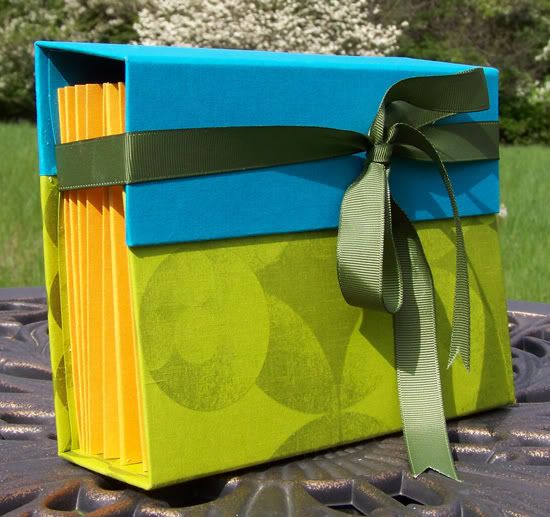 These 5"x7" Expandable Files were the project for the March 2008 Avant Garde Club Stamp Kit and feature papers from that kit. You can take it a step farther and add "feet" to the bottom, stamp on it, embellish it, add tabs, etc, the sky is the limit! The kits are now only available in ATC size in alternate colors, but I can create new kits in your choice of sizes and colors for your banquet or purchase!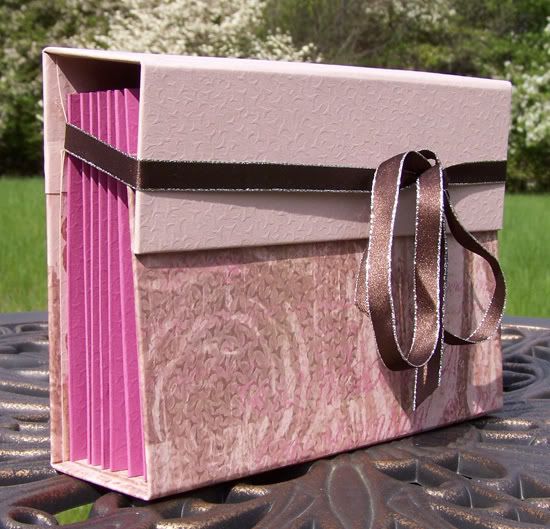 Here is the same project, but it uses papers from the Simply Beautiful May 2007 Kit with tabs cut out using the Kit for a Cause Stencil.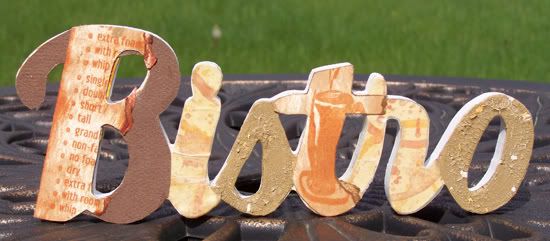 This fun little altered sign is another great project for your banquets! I have more signs, mostly of "Bistro" and "Cafe" but also a few others! We would use a mix of textured cardstock, stamping, painting, and inking and can seal them if you wish!
Club Scrap: Mocha Java Remix 2007 Stamps; Collections 6/06 Brown; Ivory Elegance 12/06 Cream Translucent and Ivory Plain;
Ranger: Adirondack Ink in Ginger; Archival Ink in Coffee and Sepia; Distress Ink Pad in Brushed Corduroy; Distress Paint in Brushed Corduroy;
Michaels: Bistro Wooden Sign;
This little handmade book can be made in any color scheme and theme, with prints or solids! It uses the same stitch-bound binding technique as other projects that I've offered, but adds some beads to the outer spine and doesn't use a hard cover. Plus there are beads or brads added to the otherwise simple pages! Have your guests bring photos for 10 pages and the two covers to have a great workshop!
All of the photos in the book are from the Chinese New Year performances at the
Peabody Essex Museum
in Salem, MA. The Melody Dance Troupe and the Gund Kwok Lion Dancers were the featured performers.
Club Scrap: Generations 4/08 - Berry; Avant Garde 3/08 - Apricot, Dark Aqua, White; Study in Red 1/08 - Light Red, Dark Red, Black; Sparkle 12/07 - Brown Metallic; Serengeti 11/07 - Yellow; Retro 9/06 - Dark Raspberry; Wheel & Sprocket 8/06 - Green; Asian Artisan 1/04 - UM Font Stamps; Assorted Kits - Beads;
Making Memories: Antique Mini Brads;
Nicole: Brown Waxed Linen Thread;
Stewart Superior: Palette Ink Pad - Noir Black;