Here's a little something I made last night with Spring and Mother's Day in mind... Happy Mother's Day to all the moms who read my blog... and Happy Spring to the rest of you!
Lori D inspired me to get out my stampbord and play! Check out
her gorgeous mini book
featuring Color in Black & White stamps on the Stampbord covers!
Also, be sure to check out
Tricia Morris's Stampbord Mini Album Webisode on TvWeekly.com
!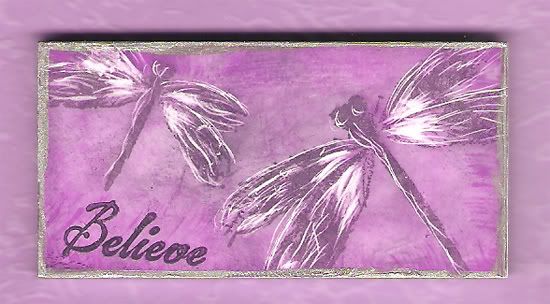 To create my pins, first I began applying the paler inks onto the Stampbord after pressing the ink pad cover onto the pad, then the Stampbord onto the damp pad... The first layer was pink with an all-over application, then I began applying additional inks with a more random approach and smoothed the ink with a piece of Cut 'n' Dry Foam. Then I stamped the dragonflies with Archival Ink and began etching out areas where I wanted white to show through. On the Believe Pin, I also inked the edges then applied the silver leafing pen to the sides and overran it a little onto the front edges.
I haven't yet decided how to complete the bottom one :) I definitely want to cover the side edges, but not sure if I want to ink the front edges or add a work or whirls, or nothing!
Club Scrap: Ivory Elegance 12/07 - UM Stamps; Centennial 2007 - UM Stamps;
Ampersand Art Supply - Stampbord; Claybord Scratch Knife;
Ranger: Adirondack Ink Pads - Cloudy Blue, Cool Peri, Eggplant, Pink Sherbet, Wild Plum; Archival Ink Pad - Grape; Posh - Silver Accent Pen;