http://forum.scrapbooktakeout.com/index.php?showforum=108
ETA: Due to an outage, the forum was down on Tuesday morning and Francine's class has been posted to her blog, for now...
http://francineclouden.typepad.com/tuesday_todo/
For the next few days there are a bunch of fun online workshops going on at Scrapbook Takeout!
Today's classes include a Paper Bag Christmas Card and Easy Evergreen Cards; Tuesday's classes include a Stacked Christmas Tree and Mini Album Tin Ornament; Wednesday's classes include a set with a Gift Bag, Tag and Gift Card Holder; Thursday's classes include chipboard ornaments; Friday's classes include Christmas Treet Boxes and a Christmas Ornament!
Please check it out, sign in, and let them know that I sent you!
Here's my quick version of
Lizette's Paper Bag Christmas Card
! I used only the paper bag, remnants from the FFC Exclusive Christmas Brights ALSB Kit, 2 mini brads, and one ink pad! This "card" would be perfect to fill not only with a nice big letter to a loved one, but stuff a bagged holiday drink mix inside, or some other treat that you can get relatively flat!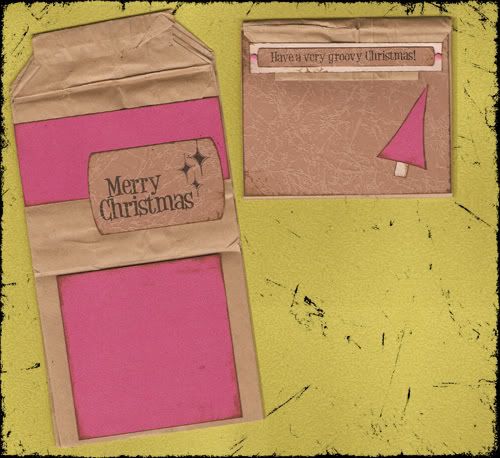 Scrapbook Takeout: Lizette's Paper Bag Card Class November 2008 Holiday Workshop;
Club Scrap: FFC Christmas Bright ALSB Kit Remnant Paper and Tags; Generations 4/08 - Berry Mini Brads;