Ahh, college... It's a time when you have full freedom to reimagine yourself in any way that you wish. You have no permanent career or meetings with your children's school for which you have to maintain proper appearances. You can be you. I do miss feeling free to dye my hair, write and read lots of poetry, etc and may go back to it all one day, but for now, I'll scrap it!
Club Scrap: Simply Beautiful 5/07 - Green 8.5x11 Print, Green Cut Out, Rose Plain, Rose Cut Out, Lilac Print, Lilac Cut Out, Beads, Paper Flower, Mini Brad, UM Stamps; Big & Tall 2004 - UM Font; Road Trip 3/05 - UM Font;
Ranger: Adirondack Dye Ink Pad - Espresso;
Blue Moon Beads: Gold Head Pin;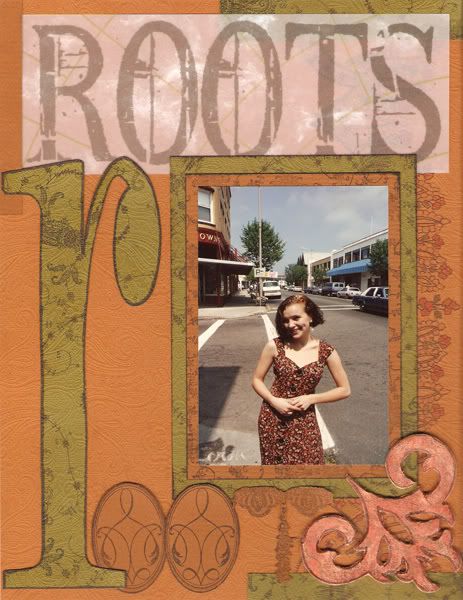 Club Scrap: Generations 4/08 - Translucent Print, JR WM Stamp; Farmer's Market 10/06 - Pumpkin Plain; Paisley 3/06 - Burnt Orange Print, Olive 8.5x11 CSt Print, UM Stamps;
Scrapbook Takeout: 8/07 Adventures in Altering Kit - Maya Road Fresh Chipboard Scroll Corners; Grungeboard Alphabet (as stencil);
Ranger: Adirondack Ink Pads - Espresso, Pesto, Rust; Distress Crackle Paint - Dried Marigold;
Zig: Memory Writer - Chocolate;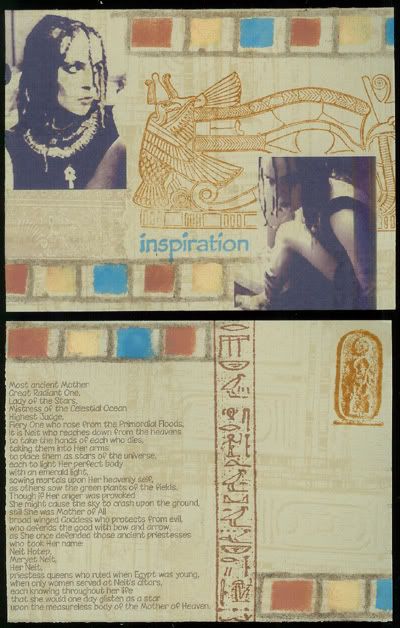 Club Scrap: Egyptian 8/03 - Rollergraph Stamp, UM Stamps, Stencil;
StampFrancisco - Nebti Stamp;
Ranger: Adirondack Ink in Caramel and Latte;
Clearsnap: Fluid Chalk Ink, ColorBox Stylus Tool;
Hymn to the goddess Neith, unknown source:
Most ancient Mother
Great Radiant One,
Lady of the Stars,
Mistress of the Celestial Ocean
Highest Judge,
Fiery One who rose from the Primordial Floods,
It is Neit who reaches down from the heavens
to take the hands of each who dies,
taking them into Her arms
to place them as stars of the universe,
each to light Her perfect body
with an emerald light,
sowing mortals upon Her heavenly self,
as others sow the green plants of the fields.
Though if Her anger was provoked
She might cause the sky to crash upon the ground,
still She was Mother of All
broad winged Goddess who protects from evil,
who defends the good with bow and arrow,
as She once defended those ancient priestesses
who took Her name:
Neit Hotep,
Meryet Neit,
Her Neit,
priestess queens who ruled when Egypt was young,
when only women served at Neit's altars,
each knowing throughout her life
that she would one day glisten as a star
upon the measureless body of the Mother of Heaven.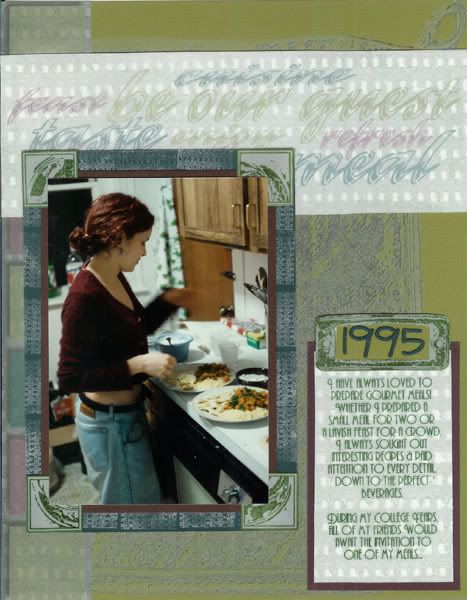 Club Scrap: Culinary 3/04 - Frame Stamp, UM B&B Stamps, White 8.5x11 JR Print, Olive 8.5x11 JR Print, Silver Translucent 8.5x11 JR Print Green Plain, Silver Plain, Burgundy Plain;
Stayzon: Olive;
Unknown Silver Ink Pad;
Sizzix: Sizzlits Alphabet;
Club Scrap: Generations 4/08 - DP01;
Font: Keetano ATL My Gangsta;
Adobe PSE5.0: Altered Hues; Altered Contrast; Drop Shadows;
Ordeal
I promise to make you more alive than you've ever been.
For the first time you'll see your pores opening
like gills of fish and you'll hear
the noise of blood in galleries
and feel light gliding over your corneas
like the dragging of a dress across the floor.
For the first time, you'll note gravity's prick
like a thorn in your heel,
and your shoulder blades will hurt
from the imperative of wings.
I promise to make you so alive that
the fall of dust on furniture will deafen you,
and you'll feel your eyebrows like two wounds forming
and your memories will seem to begin
with the creation of the world.
by Nina Cassian
translated by Michael Impey and Brian Swann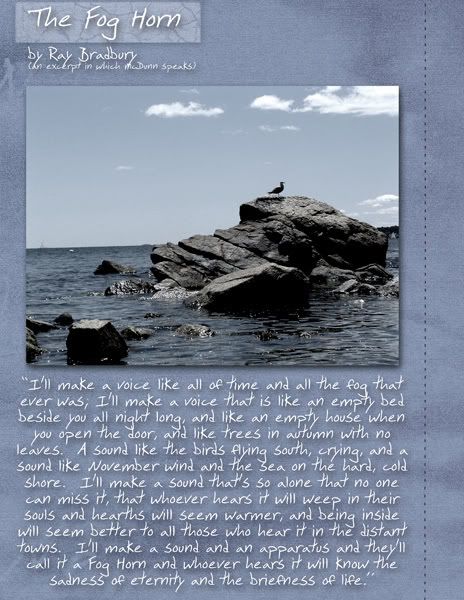 Club Scrap: 05/08 Body & Soul DigiKit - DP04; Interior Designs 11/06 - Xtra37;Font: Font Garden - FG Adrian;
Adobe PSE5.0: Altered Hues; Drop Shadows;
The Fog Horn by Ray Bradbury
(an excerpt in which McDunn speaks)
"I'll make a voice like all of time and all the fog that
ever was; I'll make a voice that is like an empty bed
beside you all night long, and like an empty house when
you open the door, and like trees in autumn with no
leaves. A sound like the birds flying south, crying, and a
sound like November wind and the sea on the hard, cold
shore. I'll make a sound that's so alone that no one
can miss it, that whoever hears it will weep in their
souls and hearths will seem warmer, and being inside
will seem better to all those who hear it in the distant
towns. I'll make a sound and an apparatus and they'll
call it a Fog Horn and whoever hears it will know the
sadness of eternity and the briefness of life."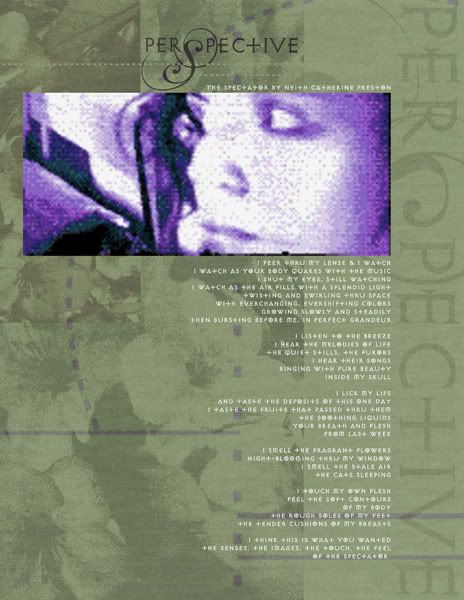 Club Scrap: Body & Soul 5/08 DigiKit - DP06; Tran08;
Font: Exocet;
Adobe PSE5.0: Altered Hues;