I really adore the color combination in the newest Club Scrap kit! I've always been a big fan of greens and browns for scrapbooking... Lately, it seems my kids are always dressed in shades of browns, greens, and blues! So the colors worked wonderfully for the book that I just posted, but they also work great for all kinds of other things! Here are a few examples!
Club Scrap: 11/08 Mirror Mirror Light Celery, Dark Celery, Brown, B&B UM Stamps; 2008 Old World Christmas: Greetings UM Stamps; 2008 Holiday Projects: Holiday Collection Stencil; 6/2000 Heritage: Journaling Stencil; Club Scrap Earth Hybrid Ink Pad; ColorBox Stylus Tool;
Holiday Ornament Stencil Tutorial Video
;Ranger - Distress Stickles: Walnut Stain;
Club Scrap has been filling its new Cinema with loads of wonderful project and technique videos to help you create! They even have a gorgeous video to help with techniques for using the holiday ornament stencil that I used on this card! I added some Distress Stickles to the ornaments and the torn edge on my card, added lines inked through the journaling stencil, and more using the great stripes stamp from the Mirror Mirror kit, both straight on and as a second generation of stamping for the distressed background.
This cute little day and night card combines the papers from this month's Club Scrap kit with some patterned paper and stamps from Scrapbook Takeout. When you open the card, you have a little night scene off in the corner!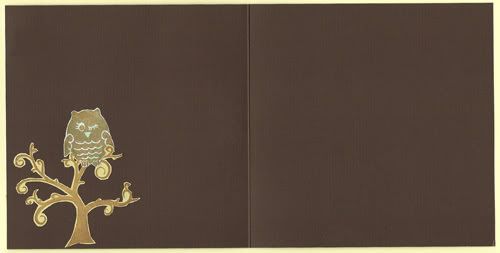 Scrapbook Takeout: June 08 Eclectica: Unmounted Stamps; July 08 Potpourri - Unmounted Stamps; Dream Street Cafe Chic Lounge and Fashionista Paper;
Club Scrap: Mirror Mirror 11/08 - Paper in Robins Egg Blue, Dark Celery, Light Celery, Brown, and White;
Ranger: Archival Ink Pad in Coffee;
You'd think that he was a movie star to see my children react to their cousin serving them at Starbucks! So, it seemed only proper to give him the star treatment in this layout! The Expanded Art overlay provided a wonderful, yet masculine, glam for the page! I used the magic wand to select all of the black and gray in the overlay and then used the Adjust Hue/Saturation enhancement to colorize it and turn it to a dark green. To create a colorful custom title, I cut small pieces of the printed tags to fit inside of the font!
Club Scrap: Mirror Mirror CSt Digital Kit;