The Peabody Essex Museum has a new and wonderful exhibit called Trash Menagerie which features an array of animal sculptures made from recycled and reclaimed materials! They have a few themed special events still coming up and the exhibit will be on display until May 1, 2010! Below are just a few pieces from the installation!
http://pem.org/exhibitions/exhibition.php?id=83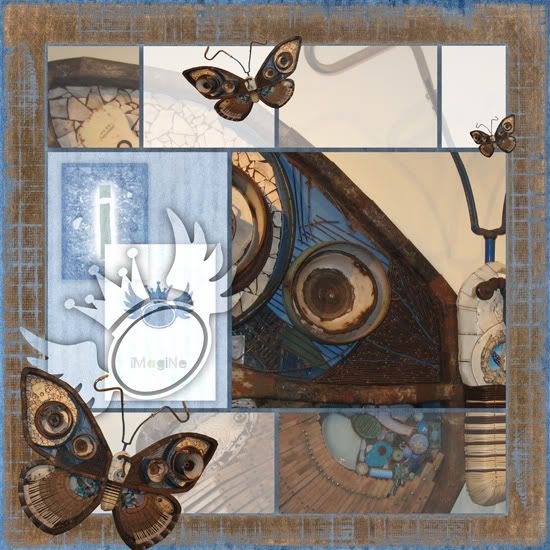 Club Scrap: Concrete Jungle 6/09 - QDDL3; Digital Inked Edges Vol 1 - 4x4, 12x12c;
I layered up a border by inverting the color on the Quick Drop Digital Layout and added back the original color by pasting it over the brown version and using Ctrl-G after laying inked borders over the background.
Sulphur Blue Smeck, 2005, Michelle Stitzlein, mixed junk, 62x84x11 inches.
"Recycling is not only one of the most creative arts but it also needs some imagination and lots of skills to perfect. Michelle Stitzlein is an artist who has both these creative skills along with tons of patience. Michelle has created a dazzling "Moth" series of recycled artwork made from items including car license plates, car parts, piano keys, broken china ware, tin cans, electric wire and bottle caps among other stuff that might just be rusting in your garage."
http://www.ecofriend.org/entry/eco-arts-michelle-stitzlein-s-recycled-moth-sculptures/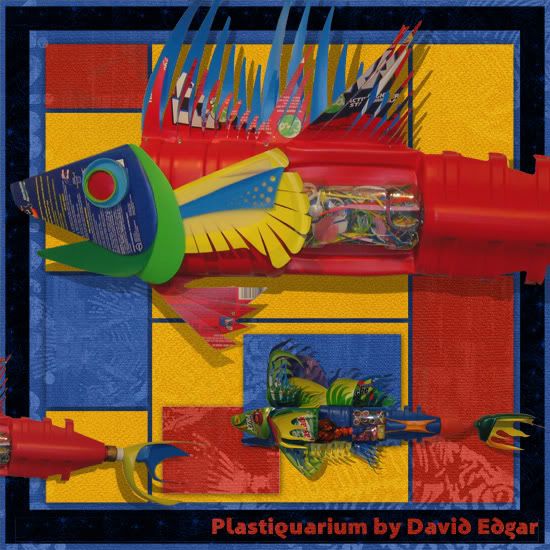 Club Scrap: Concrete Jungle 6/09 - Template3; Perfect Ten 2009 - Plain5, Print8, Print10, Tag22;
Font: Santana Black;
Raggedtailed Dragon Fish, 2007, David Edgar, 30 x 64 x 9 inches, mixed recycled plastic. (I still need to get the title of the larger piece.)