Here are a few layouts that I completed earlier, some digital, some physical! You may notice that I create 8.5"x11" layouts for my life before kids... I just love being able to work in different sizes without having to create mini books all the time. So, years ago I decided to scrap in 12"x12" for my main albums and 8.5"x11" as my "Book of Me" and have never regretted it! Plus, for those older photos, I'll often only have one image per event or just smaller photographs!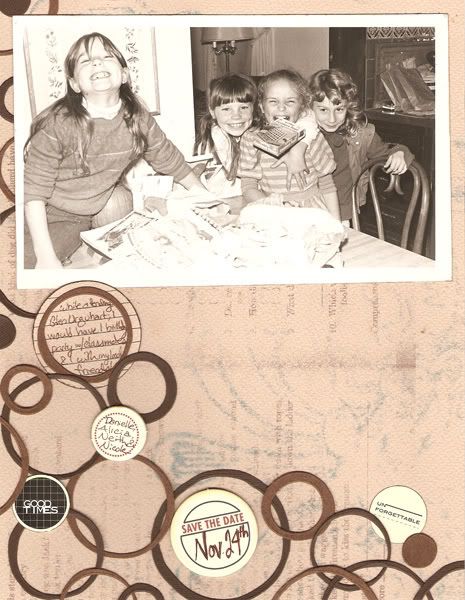 Club Scrap: Bridges 2/08 - Dark Brown Plain; Academy 8/07 - Tan 8.5x11 Print; Autumn Splendor 10/04 - Dark Brown Plain;
Scrapbook Takeout: Journal - Scenic Route Save the Date Chipboard Circles;
Cuttlebug: Funky Circle Frames;
Ranger: Adirondack Ink Pad - Espresso; Distress Ink Pad - Walnut Stain;
Zig: Memory Writer - Chocolate;
When I saw the "Save the Date" and "Good Times" chipboard shapes, I just had to break out those "funky circle" die cuts and get playing! The slightly brown tinted photograph worked well with an assortment of brown cardstock, inks, and embellishments for a fun layout!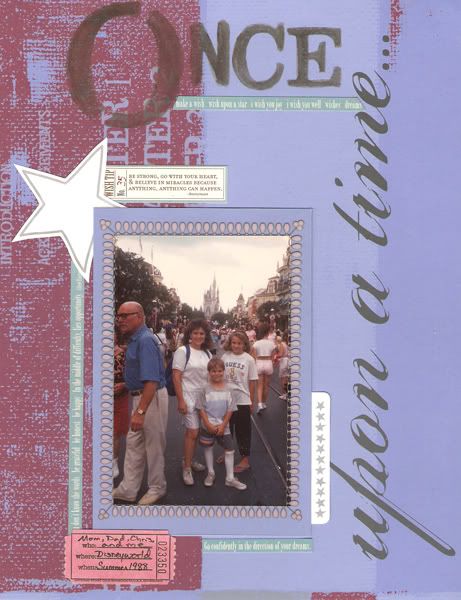 Club Scrap: Chapter One 6/07 - Blue Print, Blue Plain, Stencil;
Scrapbook Takeout: Tell Your Story 3/08 - Jenni Bowlin Printed Tickets; 7 Gypsies 97% Complete Stickers Inspiration, Heidi Swapp Journaling Spots Mini Stars and Moons;
Making Memories - Transparency;
I just loved taking this photo and layering up a frame for it, starting with a transparency and cardstock, then overlapping stickers and embellishments, and text printed and painted onto the background paper! And I worked to pick up the main colors from the photo, blues, pink, white, and grey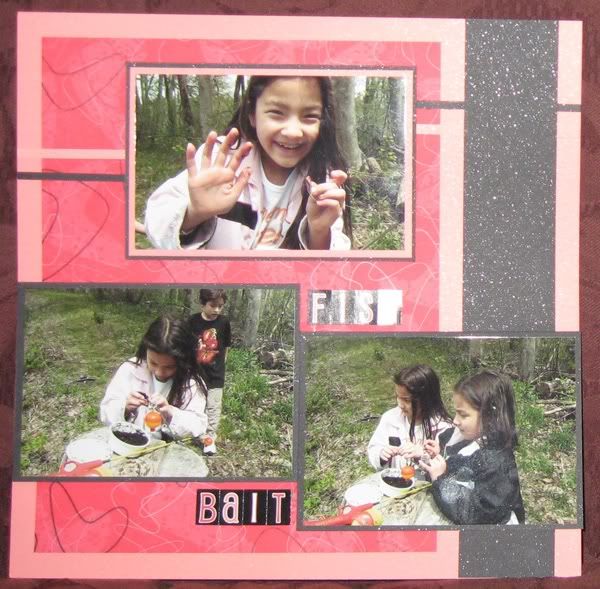 Club Scrap: ALSB Idea Deck Vol 2 - Jack of Spades (left); Cruisin' 8/08 - Translucent Print, Light Coral, Black, Stickers;
Forgive me for the quality of this photo, but it really helps to show off the sparkles in the papers from the Cruisin' 8/08 kit! All but the translucent paper have the full sparkles when you look at them in real life... but using them for fishing photos wasn't what I expected! However I think it worked out great! I moved the photos just a little from the plan on the ALSB recipe card and added some skinny scrap strips to echo the strips in my daughters' jackets and love how it all fell into place! And the girls always have a blast at the Cub Scout Fishing Derby, never afraid to get their hands dirty!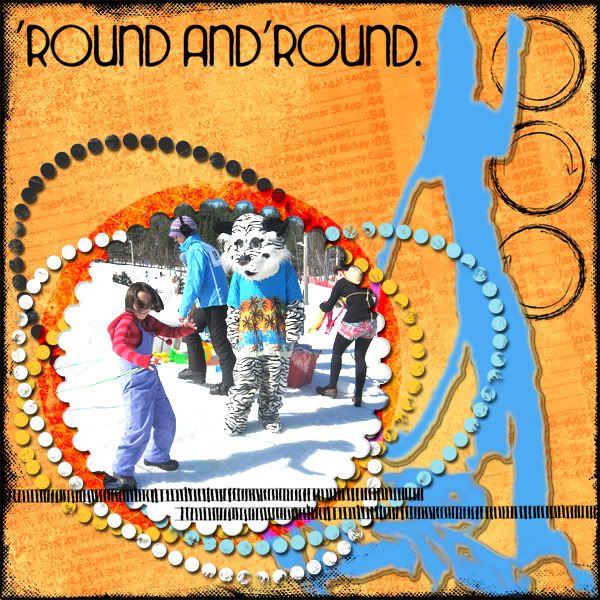 Club Scrap Digital Kits: Common Threads 3/09 - Plain1, Template4; Gimme a Ring 1/09 - Print6; Cruisin' 8/08 - DP05; Fizz 1/07 - Trans22; Wheel & Sprocket 8/06 - Trans25; Let Me Count the Way Digi Demo - Paper04; Digi Inked Edges Vol. 1 - 12x12b;
The template from the Common Threads 3/09 Digital Kit is SO FUN! You can alter the style of each layer and cut all kinds of papers and colors to fill them, move things all around to your heart's content! It just screamed out Hula Hoops to me! With our vibrant photos of the Hawaiian themed weekend on the ski slopes with the Girl Scouts, I just had to go bright and load on the colors! I grabbed the shadow from another photo of my daughter hula-hooping and added it in turquoise to the background, then added a few digital stamps from some favorite past kits and digitally inked edges to finish off the layout.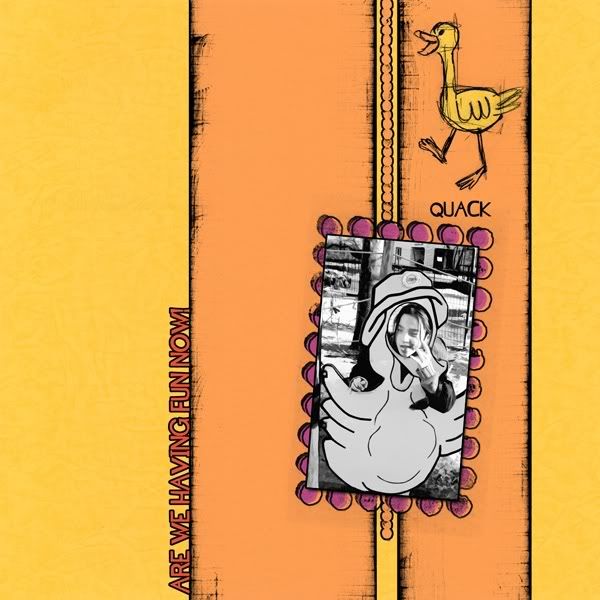 Club Scrap Digital: Artifacts 2/09 - Plain5; Gimme a Ring 1/09 - Plain2; Bistro 7/07 - CS07, CS08; Surf's Up! 7/06 - Trans17, Trans22; Oh Baby - Trans09, Trans24; Inked Edges Vol 1 - 12x12c;
For this layout, I was inspired by Kim B's layouts in the 3/09 DigiRaps with all of the great vertical lines and small photos with embellishments sharing on vertical strip! And with the cartoony duck photo prop, I had to get a little cartoony on my layout! I switched the photo to black and white and upped the contrast, then gave it a bold black border stroke. I found the great dotted frame from Surf's Up and selected the border for the frame, stroked it in a new layer, and moved it to the side! When I grabbed the dotted line and text images, I also applied a heavy border stroke to them in black, but chose to ink the edges of the paper strips. I grabbed the great duck stamp and "colored" it in with the background yellow paper as the final touch!