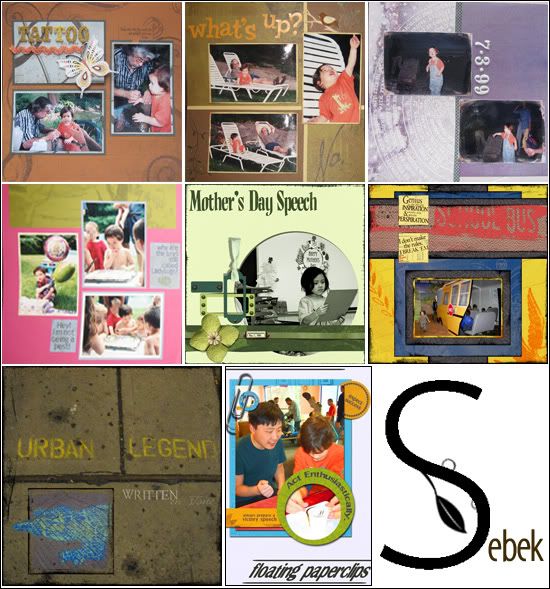 In honor of his birthday, I'm posting 8 recent layouts of my son, over the years! Please forgive me for the photos of layouts, I took them quickly when I had just made them and planned to scan them in, but I want to get them posted today! Half are paper and the other half are digital layouts, enjoy!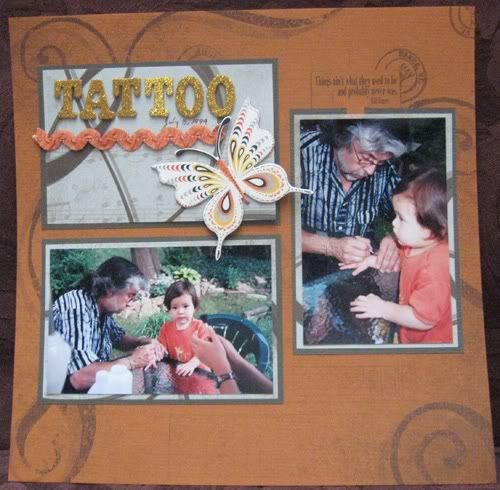 Club Scrap: Centennial - Classic ALSB #6;
Scrapbook Takeout - Antique Autumn 11/08 - Chipboard Stickers; Pot Pourri 7/08 - Thickers Glitter Chipboard Alphabet Roller Rink Tangerine Gold; Eclectica 6/08 - Maya Road Stitched Ribbon;
These first three layouts are from the waiting period before his little sisters were born, when he got to take a visit to my parent's house to hang out, get tattooed, and take a night visit to the beach!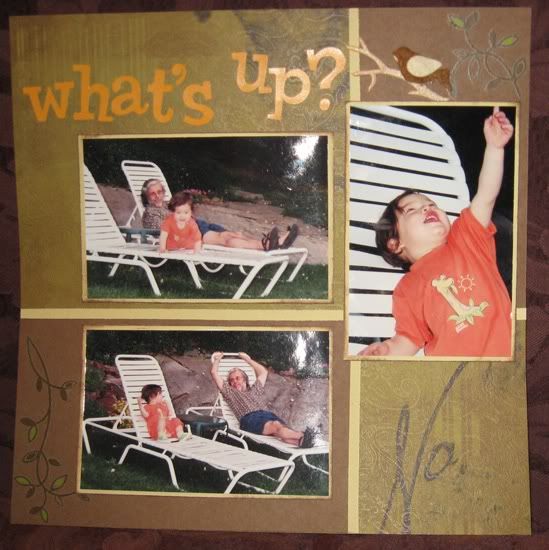 Club Scrap: Retreat 2006 - Let Me Count the Way Design Classic ALSB;
Scrapbook Takeout: Antique Autumn 11/08 - Felt Bird Shapes, Basic Grey Designer Rub Ons; Eclectica 6/08 - American Crafts Vinyl Stickers in Orange Sprinkles;
Ranger: Distress Ink Pad - Frayed Burlap;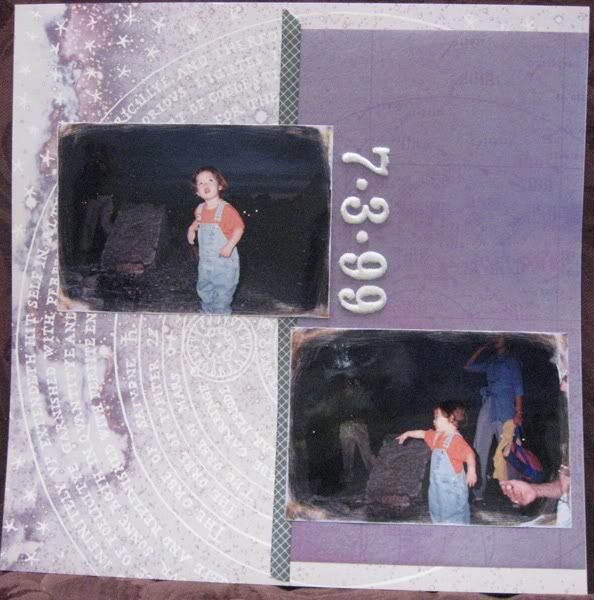 Club Scrap: Time & Space ALSB;
Scrapbook Takeout: Parisian Vintage Chic 5/08 - Thickers Velvet in Cream; Ribbon;
Basic Grey: Distressing Kit (used on photo edges to file away some of the image);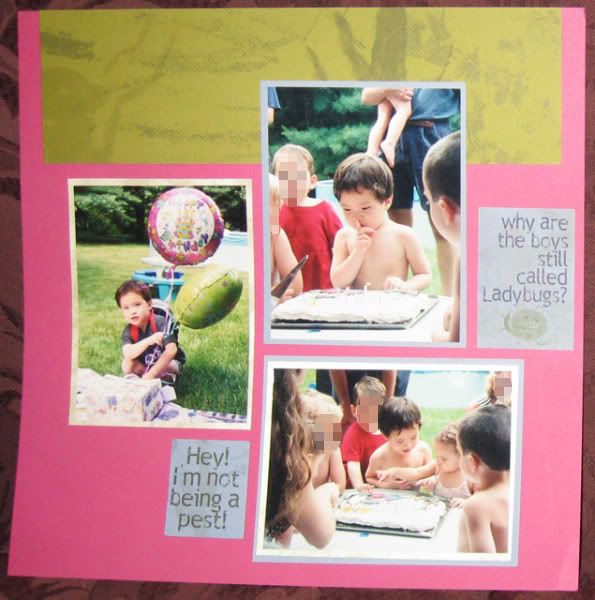 Club Scrap: Bugs Remix 08 - ALSB #12 (includes Generations, Interior Designs, Retreat Cream, plus Bugs artwork);
Sebek and his friends were busy checking out his birthday cake complete with a painted on puzzle scene and handmade chocolate critters on top! You've got to love his shushing while they sang to him!
Club Scrap Digital Kits: Common Threads 3/09 - Print1, EMBXtra1, EMBXtra2, EMBXtra3; Gimme a Ring 1/09 - Template2, EMBFiber09; Mirror Mirror 11/08 - Plain4; Serengeti 11/07 - CS06, CS08; PSL 09 Prize - 4b;
It was such an unexpected treat to hear Sebek read his essay about me in front of his entire class!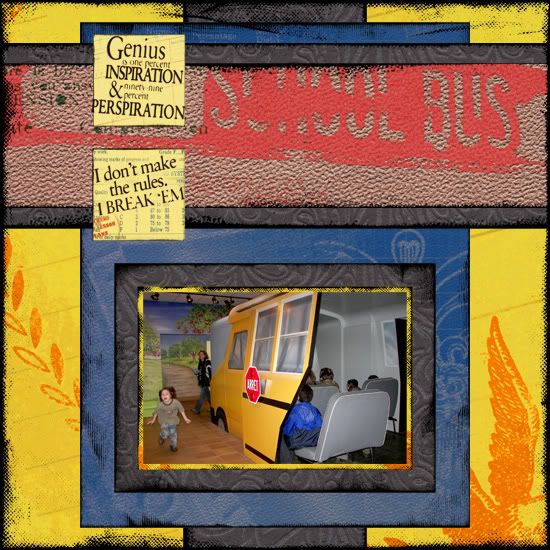 Club Scrap: Academy 8/07 Digital Kit; Digital Inked Edges Vol. 1; Assembly Line Scrapbooking Idea Deck Vol. 2 - 9 of Hearts Left;
Not only was Montreal's Botanical Gardens filled with lovely plants and butterflies, but there was a small school playset in the middle of the greenhouse and Sebek had a blast in it!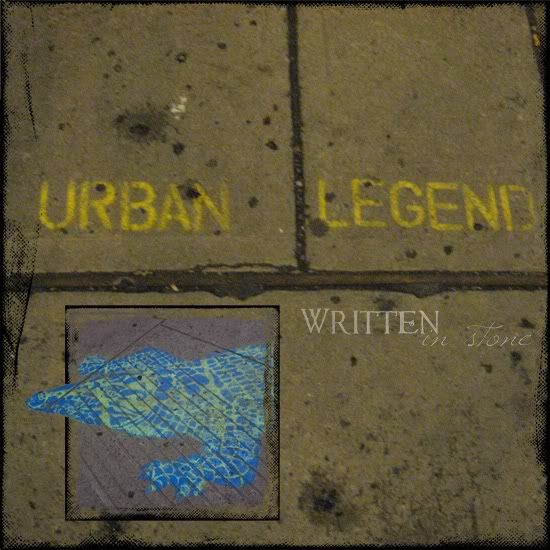 Gimme a Ring Template; Inked Edges Vol 1, Artifacts BBF;
On out last trip to Montreal we were surprised by an array of street art stenciled onto the sidewalks and crosswalks! Since Sebek is named after the Egyptian crocodile god, I had to scrap this photo right away! I used the photograph of the title as my background "paper" and added the crocodile back in, creeping over the frame from the Gimme a Ring digital template!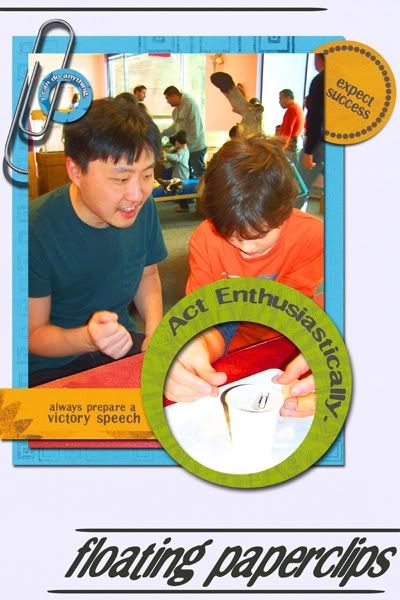 Club Scrap Digital: Avant Garde 3/08 - DPaper11, DPaper12, Tag63, Tag80, Tag87, Xtra74; Be Still 9/07 - Xtra02;
Font: Clingy;
On our last visit to the Boston Museum of Science, we got to perform experiments! Here's one shot where Sebek and Jay successfully floated a paperclip on top of a glass of water!