Club Scrap recently had a challenge to incorporate at least 2 recycled or household items in your layouts and I managed a slew of them! When I created my ALSB for the Safari Crafter Classics (owning a zoo membership for a few years means that I do have even more zoo photos still to scrap! but, remember that plenty of other themes look great on these papers!), all but two pages wound up qualifying for the challenge!
Mostly, I went on an aluminum can frenzy after seeing the Michael Strong TV Weekly Webisode,
Heavy Metal
, and all of Luanne's great creations with Coke cans! But I also had a little stack of used Priority Mail box scraps (we had cut up some spent boxes in order to make over 60 handmade mini books as Valentine's Day treats and other mini books afterwards and I still had the scraps) along with some emptied pantry boxes, extra scraps of tin foil, etc. If the idea of using potentially acidic chipboard and cardboard isn't to your liking, think about going with the metal route... or some other things that I'll share soon!
If you are interested in trying your hand at scrapping with aluminum cans, you'll have a blast! Get out your die cutter as the thicker dies will cut right through them and use a rolling cutter with most low-profile dies, or run them through an embossing folder! Crack out your metal embossing tools and play away! Ink them up with alcohol inks, paints, etc! Or pick a beautifully colored section of the can and showcase it on your layouts (like the green leaves on my second layout here or the red heart on my
Carnival Love Tests layout
)!
And, don't forget that those gorgeous chipboard shapes make wonderful templates to cut shapes from other materials, or use the offset when you punch yours out as a more permanent stencil!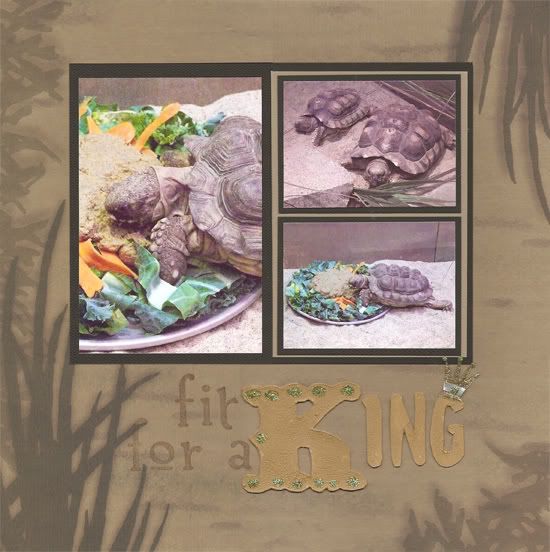 Club Scrap: Safari Crafter Classic 2007 Kit - ALSB #1, Green Print, Green Plain, Black Plain; Collections 6/06 - UM Font;
Ranger: Adirondack Dye Ink Pad - Espresso; Distress Crackle Paint - Brushed Corduroy; Stickles - Gold, Lime Green;
Scrapbook Takeout - Graffiti Artist 4/08 Preserves Kit - Heidi Swapp Mini GhostShapes; Tell Your Story 3/08 The Works Kit - Tim Holtz Grungeboard Alphabet (as a stencil)
Recycled Material: Aluminum Can (band on crown); Cereal Box (large alpha);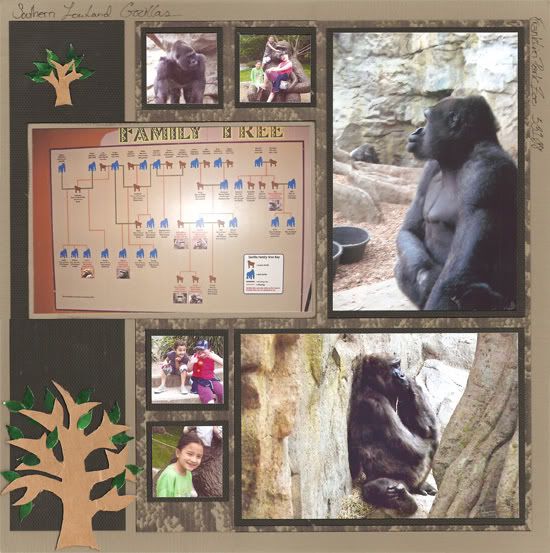 Club Scrap: Safari Crafter Classic Kit 2007 - ALSB #2, Black Plain, Green Plain, Green Print;
EK Success: Paper Shapers - Sunflower;
Scrapbook Takeout: Parisian Vintage Chic - Maya Road Fresh Chipboard Trees (as stencil);
Zig: Millennium - Pure Black;
Recycled Material: Aluminum Can; Cardboard Box;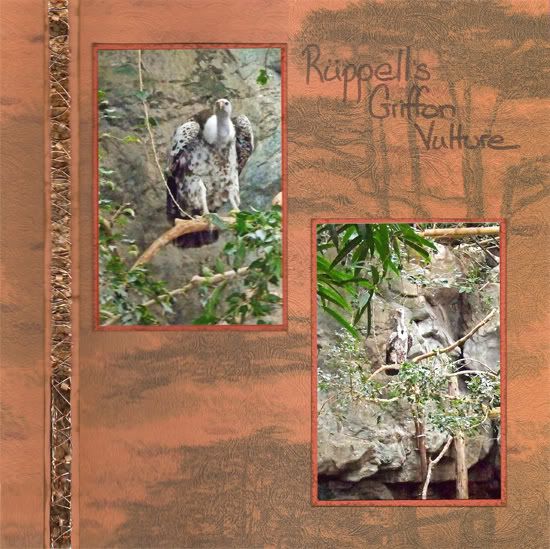 Club Scrap: Safari Crafter Classic Kit 2007 - ALSB #3, Dark Orange Plain, Light Orange Print, Light Orange Plain Rhapsody 3/07 - Beads;
Darice: Jewelry Wire;
Ranger: Adirondack Alcohol Inks - Espresso, Ginger, Rust, Slate, Terra Cotta; Alcohol Ink Applicator; Adirondack Dye Ink Pad - Ginger;
Zig: Writer - Chocolate;
Recycled Material: 100 Calorie Cookies Box; Tin Foil (wrapped around box strip);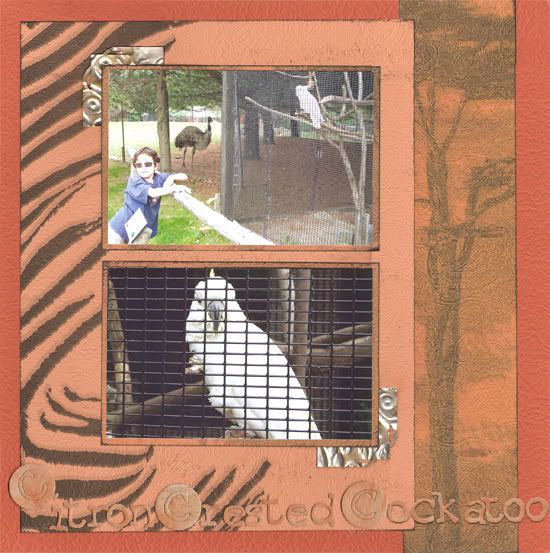 Club Scrap: Safari Crafter Classic 2007 Kit - ALSB #4; Dark Orange Plain, Light Orange 12x12 Print, Light Orange 8.5x11 Print;
Ranger: Adirondack Pigment Ink Pad - Terra Cotta; Archival Ink Pad - Sepia;
Sizzix: Sizzlits - Rat-a-Tat Alphabet;
Ten Seconds Studio: Mold B23; Metal Embossing Tools;
Recycled Material: Aluminum Can; Cereal Box;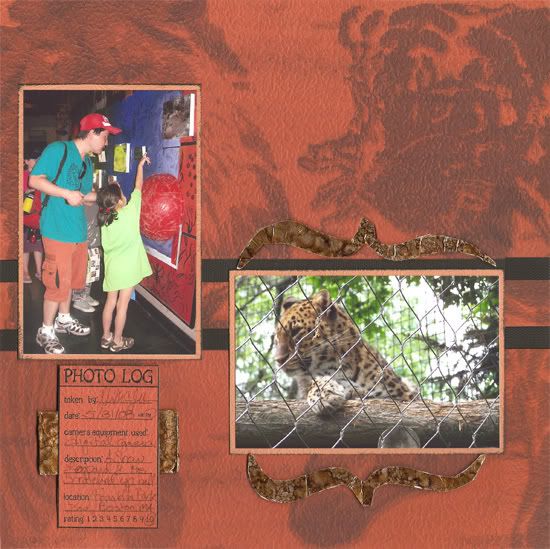 Safari Crafter Classic Kit 2007 - ALSB #5, Dark Orange Print, Light Orange, Black; Serengeti Crafter Classic 2008 - Cut Out Journaling Block;
Ranger: Adirondack Alcohol Inks - Espresso, Ginger, Rust, Slate, Terra Cotta; Alcohol Ink Applicator;
Scrapbook Takeout: Chipboard Shapes (as stencils);
Recycled Material: Used Priority Mail Box; Tin Foil;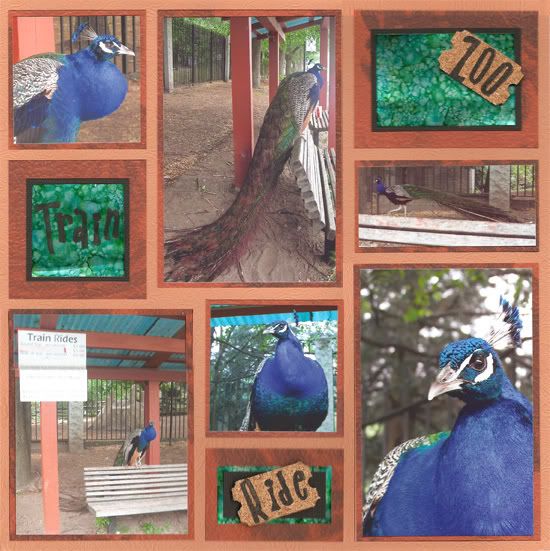 Club Scrap: Safari Crafter Classic 2007 Kit - ALSB #6, Dark Orange Print, Light Orange Plain, Black Plain; It's a Boy/It's a Girl 2006 - UM Font;
Leow & Cornell - Aqua Crayons;
Ranger: Adirondack Alcohol Inks - Bottle, Stream; Alcohol Ink Applicator Tool;
Sizzix: Original Die - Tickets 39-1111;
Recycled Material - Barq's Root Beer Can; Old Cork Coaster;
Club Scrap: Safari FFC Crafter Classic Kit 2007 - Light Orange 8.5x11 Print, Dark Orange Plain, Black Print, ALSB #7; Paisley 03/06 - Coral; Tonic Glass Cutting Mat;
Ranger: Adirondack Dye Ink Pad - Ginger;
Scrapbook Takeout - Tell Your Story 3/08 The Works Kit - Tim Holtz Grungeboard Alphabet (as a stencil)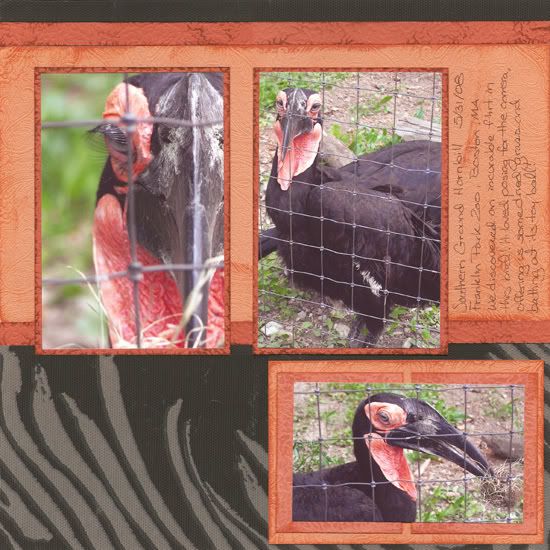 Club Scrap: Safari Crafter Classic 2007 - ALSB #8, Black Print, Light Orange Plain, Dark Orange Plain;
Ranger: Adirondack Dye Ink Pad - Ginger; Adirondack Pigment Ink Pad - Terra Cotta;
Zig: Millennium Writer - Pure Black;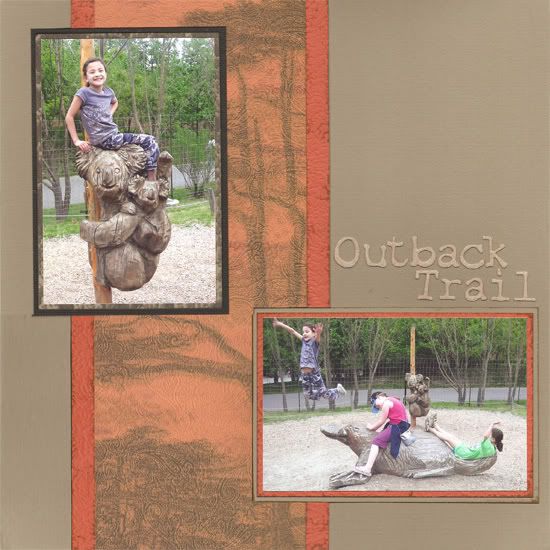 Club Scrap: Safari Crafter Classic 2007 - ALSB #9; Black Plain, Dark Orange Plain, Green Plain, Green Print, Light Orange Print;
Ranger: Adirondack Dye Ink Pad - Ginger;
Sizzix: Sizzlits - Rat-a-Tat Alphabet;
Recycled Item: Snack Box;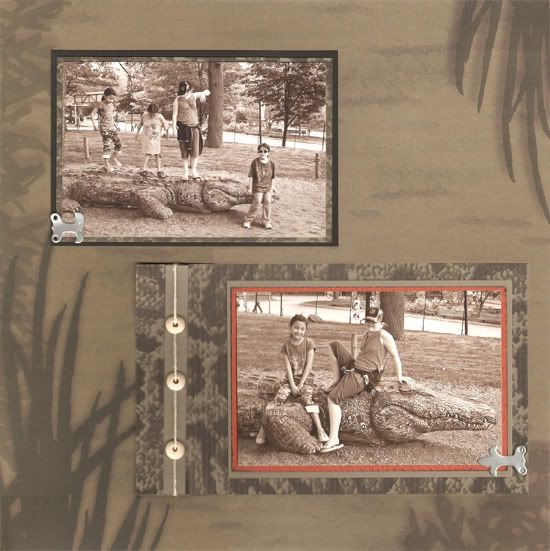 Club Scrap: Safari Crafter Classic 2007 - ALSB #10; Black Plain, Dark Orange Plain, Green Plain, Green Print; Rhapsody 3/07 - Beads;
Sizzix: Sizzlits - #654526 Latches;
Recycled Material: Tin Can (Die cut into latches); Packing Twine (left over scrap with a knot on one end from when a Cub Scout cut too much at a den meeting... I knew I had those stray pieces in the bottom of my den leader's bag!);