I absolutely adore the September 2007 Club Scrap Be Still Kit... so many wonderful colors, shimmering papers, and gorgeous images... but it's been a very busy month with all of the back to school and scouting rushes as well as my week in Wisconsin for the Club Scrap Main Retreat (have to wait to share those creations until after their October Main Retreat, wouldn't want to spoil folks' surprises!), so I have not had much time to play! But I did create this layout for the DigiRap!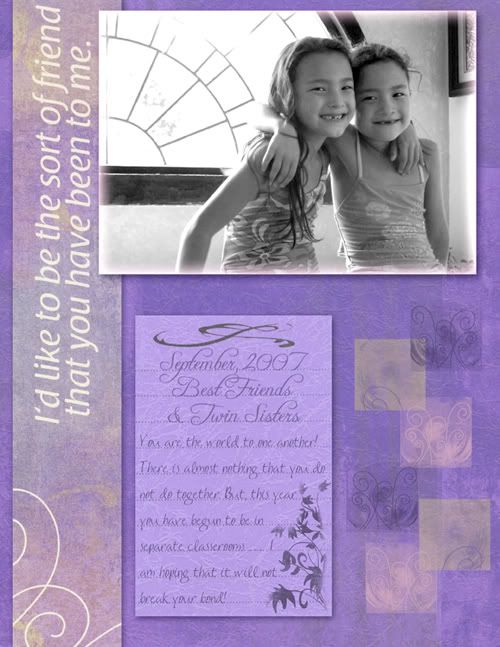 This particular kit not only comes with 10 full color journaling boxes, but also a transparency of the journaling lines and box so that you can recreate them on any background papers! Here's the trick to using them... Adjust the "Leading" from your Text Tool until the text aligns properly with the journal box lines. In this instance, both my
Freebooter Script
and
Milk & Cereal
fonts worked perfectly at 32pt Leading!
I also wanted the photograph to be very soft while also standing out from the background. To do so, I went to
Special Effects > Layer Styles > Inner Glow
to add a pale soft pink glow within the edges of the photo. I then reinforced that very pale pink by Simplifying the layer and Stroking the edge of the photo with a pale pink border. And I made all of my shadows become a shade of the purple that I used in the layout elements.
To embellish the layout, I broke up the trio of transparency tiles to create three "Brushes" (the digital scrapper's version of a stamp). The pink and purple squares were simply brushed on in those colors while the yellow squares are the result of brushing onto the printed Lemongrass paper and cutting and pasting the tile onto my layout as a partially transparent layer!
Now, one little thing about the photo... it was taken in the same spot as my favorite photo from my wedding! My daughters had never been inside the home where I was married and we happened to be there earlier this month for a birthday party! They got to have a tour of all the "famous" sites from my wedding photos and took this shot almost as a recreation of one of ours... But, you know, those bright little girl swimsuits really made it informal, yet perfect for this layout!
Here's a mini album that I made my husband a few years ago for our Anniversary! There's one silly photo in the same room (a bathroom!) and another with my husband and his parents! (Yes, my daughters also were dying to go out on the balcony and Uatchet had me go downstairs where she promptly waved to me and announced "Hello, Citizens!")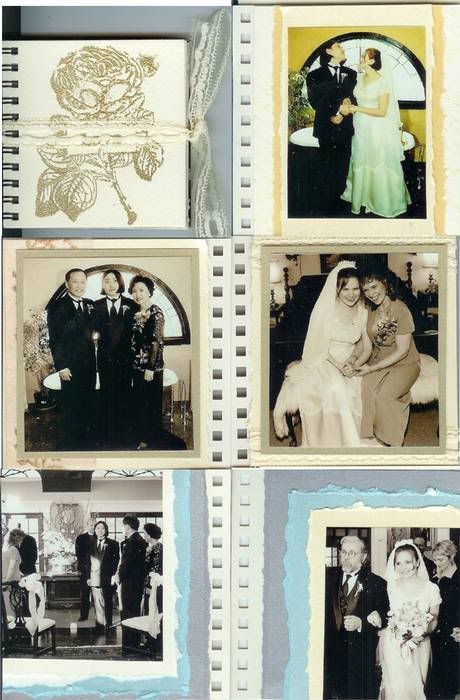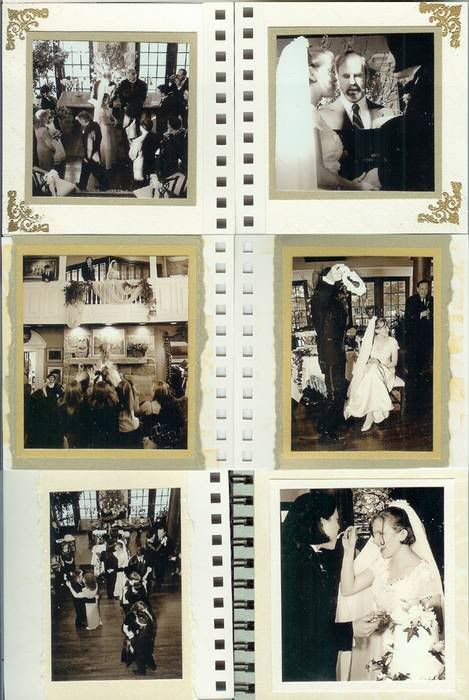 This mini book is made in a Paper Reflections 3x3 Memory Book #MEM04460 Ivory Album and features only Club Scrap papers.
Supplies Used:
Cover - Anna Griffin Meaning of Flowers Clear Stamp Set; Offray Ivory Lace;
Entry Page - Club Scrap POPs, Time & Space Star White, Asian Artisan Cream Frost, Autumn Splendor Yellow Translucent; Club Scrap Poetic Unmounted Borders & Backgrounds Stamp; ColorBox Yellow Gold Mica Magic Ink Pad (visible in real life);
With Parents Layout - Club Scrap POPs, Time & Space Gold, Asian Artisan Cream Frost; Offray Ivory Lace; Europa Imports Ribbon #112/36F Color #8;
Awaiting Father of the Bride & Bride Layout - Club Scrap POPs, Time & Space Silver, Asian Artisan Blue Frost and Cream Frost;
Vows Page - Club Scrap Time & Space POP in Star White and Gold; PSX A-279 Corner Stamp; Ranger Clear Emboss it Ink Pad; Ranger Gold Super Fine Detail Embossing Powder;
Bouquet & Garter Layout - Club Scrap Time & Space POP in Gold and Autumn Splendor POP in Yellow Translucent; EK Success Laura Ashley LAIT003 Palace Garden Flower Stamp; Colorbox Bisque Fluid Chalk Ink Pad;
Dancing & Cake Layout - Club Scrap Asian Artisan POP in Cream Frost and Time & Space POP in Star White; Hero Arts #S1838 Florentine Scroll Background Stamp; Tsukineko Brilliance Moonlight White Ink Pad (visible in real life);