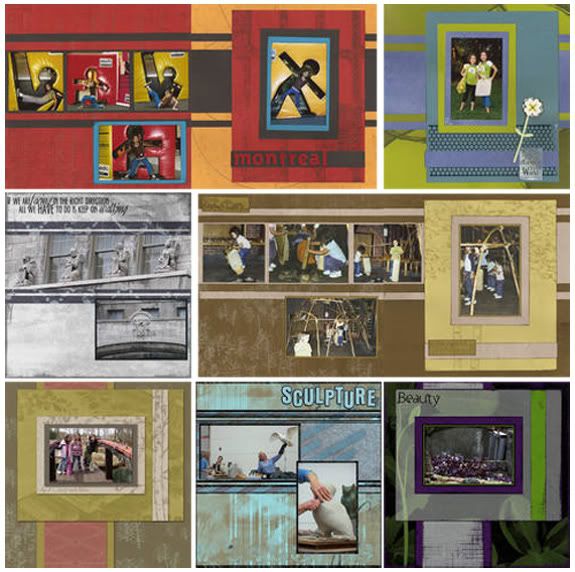 What else can you get when you combine 4 sheets of paper, 2 mattes/another sheet of paper, and one ALSB Idea Deck Card? Plenty more great layouts, of course! Here are 9 layouts that I created using the 3 of Clubs card from the ALSB Idea Deck Vol. 2! (Check out the ALSB, Assembly Line ScrapBooking, definition to the right!)
Club Scrap: ALSB Idea Deck Vol 2 - 3 of Spades; Matrix - Red Print; Cruisin' - Black; Science - Topaz Foil Print; Artifacts - Sky Blue;
Scrapbook Takeout - Red Felt Thickers;
We're still not quite sure what these people-cutouts, 80s themed workout photos, and cell phones have to do with one another, but the girls had a blast playing in the cutouts at the Montreal mall! The original ALSB design sandwiches 3 small mattes and thin strips together, but I like the thin strips to spread out a bit and to leave the three adjacent mattes uncut, for now!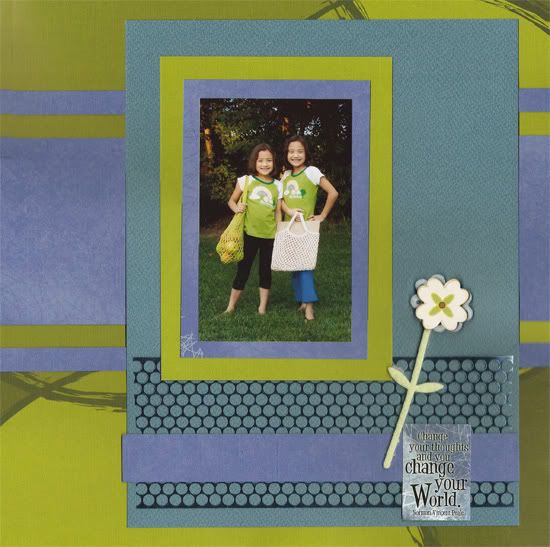 Club Scrap: ALSB Idea Deck Vol 2 - 3 of Clubs (right); Common Threads 3/09 - Teal; Avant Garde 3/08 - Green; Fizzin' Blue 2008 - Green Print; Stratosphere 4/07 - Dark Blue Print, Stickers;
Scrapbook Takeout: Wonderland 3/09 - Fancy Pants Felt Shapes, KI Memories Chipboard Shapes, Punchinella Ribbon;
I have fallen head over heels for this
Crochet Grocery Bag Pattern By Haley Waxberg
! It's a simple combination of single crochet, chain, and slip stitches to create a wonderfully stretchy netted produce/shopping bag. I altered the pattern, just a little, in between the increasing rows, I did one less row than called for and did 12-14 of the ch5 rows as the main body.. also, I thickened my straps a little and used 100% cotton by Lily and by Bernat.
I combined the photo with some coordinating papers, earthy embellishments, and the fun punchinella ribbon, that reminds me of the bag's open pattern. I love drawing my color scheme from my photographs and really enjoy mixing and matching papers from different kits to do so! Having a handmade swatch ring of my Club Scrap cardstock is invaluable for this style of scrapping!
Club Scrap: ALSB Idea Deck Vol 2 - 3 of Clubs Left; A Study in Red Digital Kit 1/08; Milestones 12/09 Digital Kit; Digital Inked Edges Vol 1;
One of the great things about digital scrapbooking is that you can easily create 12" wide panoramic photographs without any extra expenses! Another great thing is that when you adore the rich texture of a Club Scrap paper you can go ahead and zoom in on it to really emphasize the pattern in your digital layouts!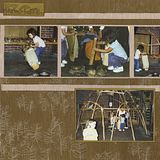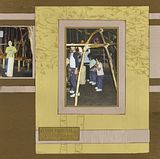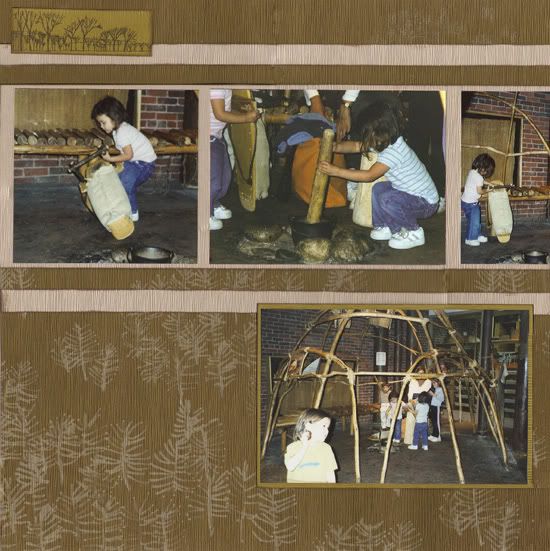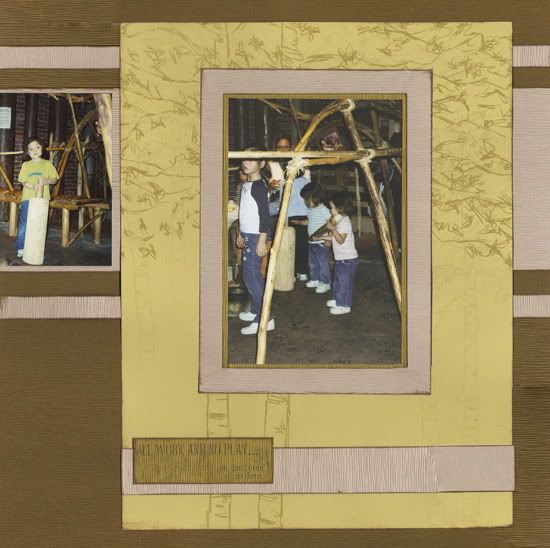 Club Scrap: ALSB Idea Deck Vol 2 - 3 of Clubs; Great Outdoors 10/07 - Mushroom, Green Text Weight Print, Light Green, Dark Green, Dark Green Print, Light Green Tags; Hybrid Ink Pad - Earth;
Adding a lightly inked edge really helps distinguish one piece of paper from another and helps maintain the illusion of 12" long strips hiding under an overlapping matte. Just remember not to ink the edge that is hidden under or alongside the matte!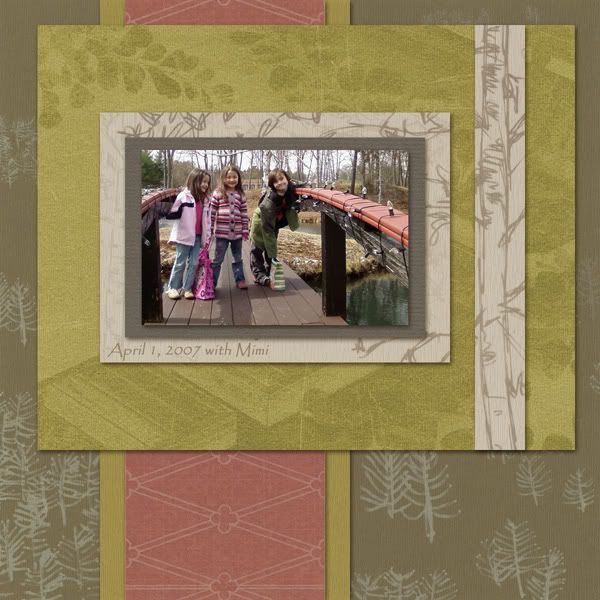 Club Scrap: ALSB Idea Deck Vol 2 - 3 of Clubs Right; Bridges Digital Kit 2/08 - CS03; Great Outdoors 10/07 - CS01, CS02, CS08; Refresh Digital Kit 2/07 - PLtBlue1; Farmer's Market Digital Kit 10/06 - CSBrown;
When working with digital scrapbooking, never be afraid to alter the hue of your elements to make them coordinate with your layout! For this layout, I loved the printed wooden bridge from the Refresh kit, but the color would have completely clashed with my layout... so I used Ctrl-U to alter the hue, saturation, and brightness of the print until it blended perfectly with my layout!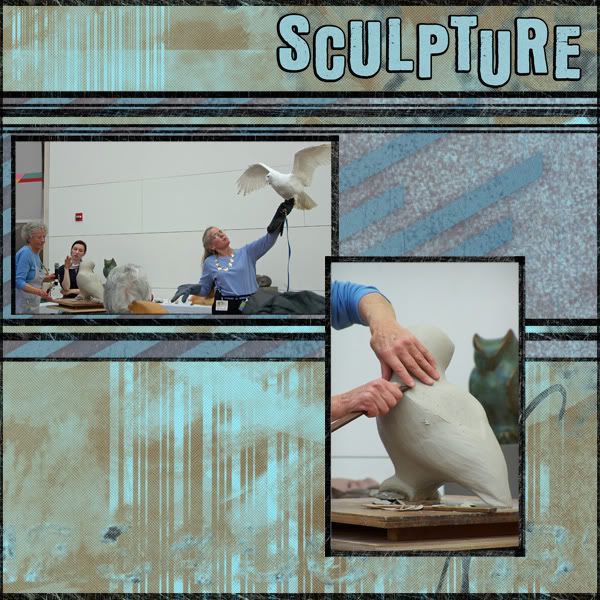 Club Scrap: ALSB Idea Deck Vol 2 - 3 of Clubs; Let Me Count the Ways Digital - Paper; Mirror Mirror Digital - Paper, Transparencies, Digital Font;
I took full advantage of digital scrapbooking in order to copy random stripes from the transparency overlay image to create borders for my photographs and "paper" strips. With the outline nature of the Mirror Mirror font images, it was easy to cut and paste some of the digital cardstock into the text to help continue the style. I also just loved how the patterns on these two prints combined in both pattern and color scheme.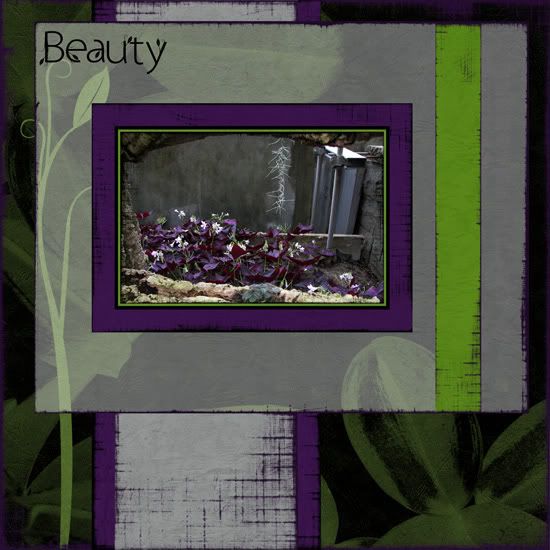 Club Scrap: ALSB Idea Deck Vol 2 - 3 of Clubs Right; Pure & Simple 4/09 - Digital Kit; Digi Inked Edges Vol 1;
With digital kits you can always play with the transparency levels of your different layrs and use any color of paper as an overlay to retint a patterned paper that is underneath it. For this layout I took a nearly grayscale background paper and tinted the lighter areas green by layering up a green cardstock image over it with the overlay style. I also retinted some of the paper from lime green into a deep purple to coordinate with the flowers to try to maintain the color scheme of the photograph.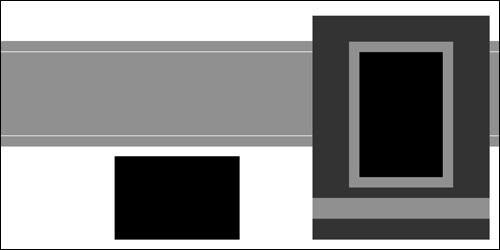 Of course, I couldn't leave you without a quick glance at the basic design for this layout formula! When you create your page, never fear to move your elements around and alter the cuts slightly to fit your needs!