I just could not wait! I had to get my fingers all inked up and attack that By The Seashore Crafter Classic Remix UM stamp sheet! So, since the Matrix 7/08 Sr ScrapRap (the newsletter that comes with each monthly membership kit, and available on its own) shows a gorgeous CS Wired Book Project, I decided to run with that pattern and made a mini book!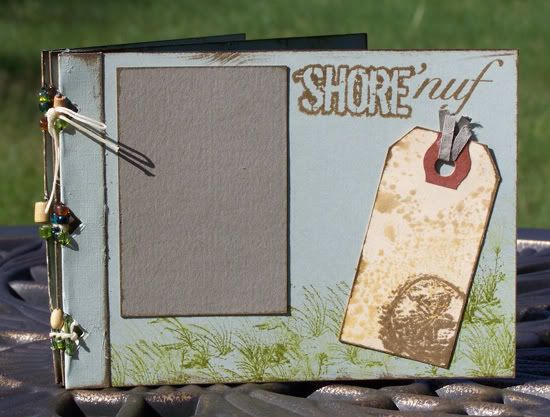 I moved a little bit away from the design in the ScrapRap and skipped the hardcover, for now ;) I also used POPs (Pound of Paper, basically you can order these to come iwth your monthly kit, containing 1 pound of papers from the kit cut into small sizes, typically 3"x5", 4"x6", and 5"x7" but sometimes you get other sizes as well!) that I had on hand using the same solid papers that the By The Seashore Crafter Classic prints are on.
This mini book uses all of the stamps from the brand new FFC Crafter Exclusive By The Seashore UM Remix. I did add the overlapping retro-rectangles from the Matrix Stencil to one page, but otherwise all images come from this stamp sheet! I LOVE the the dashed semi-circle and know that I'll be using it will all manner of other stamps!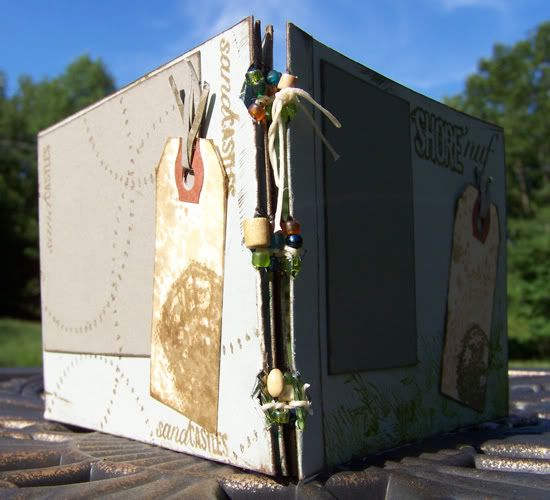 Club Scrap: By The Seashore Crafter Classic 2008 - UM Stamp Remix; Matrix 7/08 - Stencil; Body and Soul 5/08 - Light Green; Serengeti 11/07 - Light Teal, Dark Teal; Varsity 6/05 - Green; Assorted Beads; Waxed Linen Thread;
Ranger: Adirondack Dye Inks - Aqua, Bottle, Juniper, Latte, Lemonade, Mushroom, Pool, Willow; Distress Inks - Antique Linen, Frayed Burlap, Peeled Paint;
Technique Junkies: February/March 2008 - Reinker Splash Technique;
Manilla Tags;