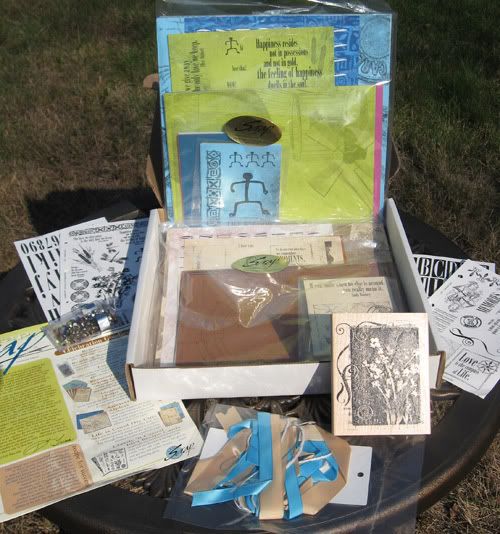 Club Scrap has created such an amazing kit to celebrate their 100th month of kits! This one of a kind, double sized kit combines design elements of multiple kits from long ago with papers from more recent kits to give a brand new, yet "classic" kit! It includes a brand new Scrap Rap, four recipe cards, one large wood mounted collage stamp, two full-color alphabet sticker sheets, four coordinating fibers, twenty four photo mattes, sixteen 1/4 sheets of cutouts, and an assortment of beads and embellishments (including two sizes each of brads and eyelets, a coin charm, and a molded road sign brad)!
Play the image above to see all the components, or go to this Photobucket Album to see them one by one! I did miss a single printed translucent sheet in the Casual Kit and will post it when I'm able to take a well lit photo tomorrow!
The
58 sheets
(twenty four 12x12 prints, fourteen 12x12 plains, twelve 8.5x11 prints, and eight 8.5x11 plains) include: Academy 8/07 Manila; Stratosphere 4/07 Fuchsia, Green, & Light Blue; Farmer's Market 10/06 Brown, Pumpkin, & Translucent; Wild Wild West 10/05 Terra Cotta; Painted Desert 5/05 Embossed Stem; Mosaic Twist 1/05 Aqua;
The designs come from so many amazing past kits, including Time & Space 12/04, Poetic 9/03, Journeys 6/03, Aromatherapy 5/03, Weather 4/03, Games 3/03, Tuscany 10/02, Art Deco 9/02, Bugs 5/02, Architecture 4/02, Polynesian 7/01, Heritage III 6/01, Outdoor 11/00, Weekender 9/00, Heritage II 6/00! I'm sure I missed a few!
While waiting to build my ALSB (Assembly Line ScrapBooking, or creating photo-less layouts with Club Scrap's incredible instructions and minimal leftovers) I grabbed some of the matching solid papers from my personal stash and used the two sets of Centennial Casual and Classic Borders & Backgrounds Unmounted Stamps (sold separately from the kit and still available!) to create the cards below!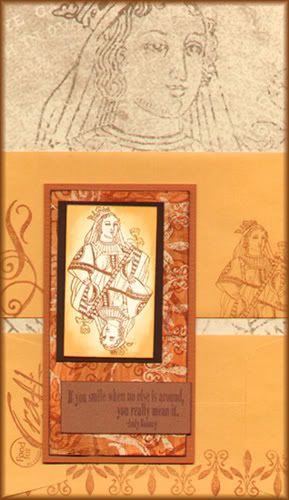 Supplies used on Dragonfly Card:
Club Scrap - Centennial Kit 2007 Casual Unmounted Stamps and Recipe Card (I enlarged a scan of the dragonfly and printed it onto the Green paper then cut it out); Stratosphere 4/07 Fuchsia, Green, and Light Blue; Painted Desert 5/05 Embossed Stem; Mosaic Twist 1/05 Aqua;
Ranger - Antiquities Frosted Crystal Ink (to white wash the Fuchsia paper before stamping onto it); Archival Carnation Ink; Cut 'n' Dry Foam; Nick Bantock Lamp Black Ink; Sea Shells Tropical Raspberry Ink (aka Adirondack Lights Pink Sherbet);
See the next blog entry for a full description of the second card!