For a wonderfully whimsical photo treatment, grab a fun photo, zoom in on your main subject and print it out. Once the ink is dry, paint over the background with gesso, from the art supply stores. Don't worry about even coverage as you'll be collage stamping all over it! (Note: if your original background was very busy, you may wish to apply a few layers of gesso.) Once the gesso is dry, you have a primed "canvas" that is ready for stamping and painting on!
To create a custom mask for your photo's main subject, simply grab some white copy paper and a soft colored pencil, then layer the paper over your photo and lightly trace an outline of the main image. Cut out the shape, making sure to have extra paper hanging past the edge of the photo. You can hold both your photo and the mask in place with some repositionable glue before you get stamping and painting!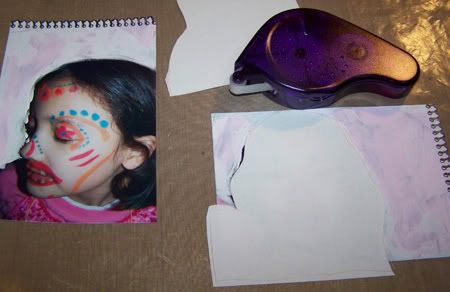 Grab some fun stamps and a mix of acrylic paints and ink pads to decorate your image, adding some freehand doodle-painting as you see fit!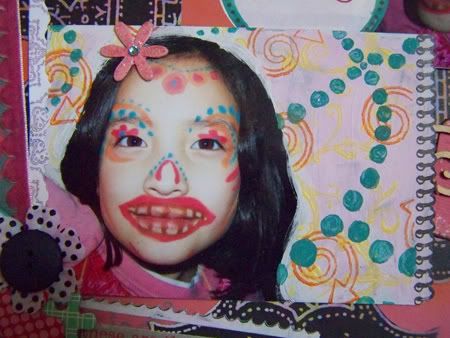 In no time, you'll have a very fun photo for an eclectic layout!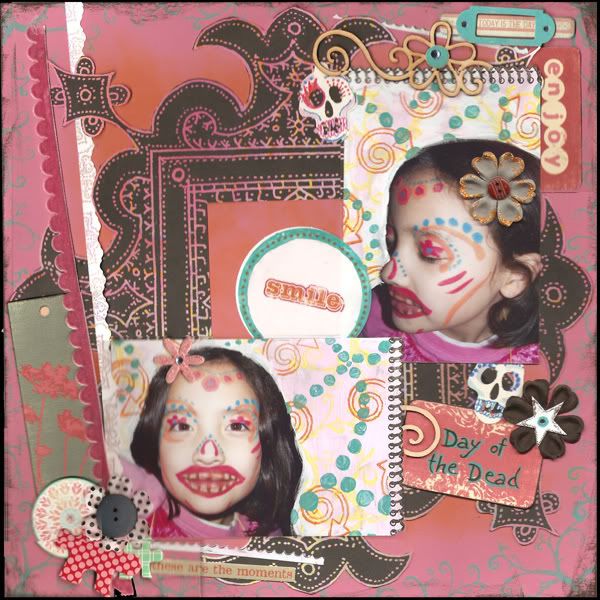 Certain themes call for a lot of whimsy! Painting my daughter up to be a Day of the Dead dancer is certainly one of them! To create a wild layout like this one, gather up a range of embellishments, paints, and ink pads in roughly the same color palette and find a coordinating solid plus at least one large bold print. Ink the center of the cardstock with another color from your palette, stamp along the edges with a third color, and ink the edges with your darkest color. Cut out a portion of your print and then layer up your page elements!
Supplies used:
Scrapbook Takeout: April 08 Graffiti Artist - Heidie Swapp Mini Chipboard Variety Set; June 08 Eclectica - American Crafts Treehouse Chipboard Shapes, American Crafts Scalloped Ribbon; July 08 Potpourri - Unmounted Stamps; August 08 Summer Splash - Prima Flowers; October 08 Scrap Harvest - My Minds Eye Cheerful Transparency, My Minds Eye Coastal "Celebrate" Chipboard Accessories, My Minds Eye Mellow "Happy" Assortment Tags, Kaiser Craft Wooden Button Flowers; Assorted Buttons and Prima Flowers, Kaiser Craft Rhinestones, Dream Street Bella Donna Mia Bella and Marisela Paper;
Club Scrap: Musical Interlude 12/05 - Ivory; To You With Love 2/04 - Pink;
Ranger: Adirondack Acrylic Paint Dabber in Pool; Adirondack Pigment Ink in Pitch Black and Sunset Orange, Claudine Hellmuth Studio Gesso and Paint in Yellow Pastel and Painterly Pink; Distress Stickles in Spiced Marmalade and Worn Lipstick; Glitz Stickles in Platinum; Ink Applicator Tool;
Sizzix: Sizzlits Charms, Halloween Set 655550;
Assorted Markers;